Home
About Us
News & Stories
Celebrating Latinx Terps: Natalie Guerra '15
Celebrating Latinx Terps: Natalie Guerra '15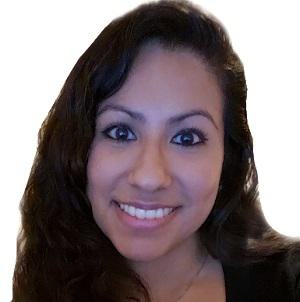 Join the UMD Alumni Association in celebrating Hispanic Heritage Month (September 15-October 15). Hear from fellow Terp leaders who share about their culture, experiences and connection to UMD.

This week we are pleased to introduce you to Natalie Guerra '15, a case administrator with U.S. Courts.

What is your family's heritage/background?
Bolivian and Guatemalan.
What does Hispanic Heritage Month mean to you?
For me, Latino Heritage Month means a celebration of cultures - whether it be traditions, languages, music, and one that you can't forget about, food! The feeling of goosebumps from hearing folkloric music to listening to stories passed down from generations is what makes it even more remarkable. We may all speak Spanish, but from Central to South America, one thing may be said a different way and it's a celebration of diversity!
What is your favorite tradition that honors your family's heritage?
We have many traditions, especially during the holidays. One that stands out is that the last meal and first meal of the New Year must not have wings - no chicken or turkey. In Bolivia, there is a saying that you don't eat anything with wings or your money will "fly away!" So instead, we prepare a Bolivian dish called lechon. And with all things "New Years," we eat 12 grapes at midnight, making a wish for each month of the year; sweep the floor to take out the old and bring in the new; take a piece of luggage and walk outside to be able to travel and wear color-coded underwear (red to find love, yellow for luck, etc.).
How did you stay connected to your roots while attending UMD?
I joined the Latino Student Union during my undergrad years and was connected with more students who identified themselves as Latino/a.
What advice do you have for a current student who identifies as Hispanic or Latinx?
My advice to you is if you ever feel left out, find an organization that identifies with your roots and get involved. Become a member, attend events. You are not alone, and consider yourself lucky to not fall into the typical stereotype that Latinos don't make it to college. You are here and already passing that barrier. Si se puede!
What is your favorite alumni event or experience?
It would have to be the Volunteer Leadership Conference. You get to meet other alumni who are involved in the Alumni Association as network leaders, hear the amazing events boards have put together, network and enjoy delicious food. I am being biased if I say the best one is where the Latinx Alumni Network (LAN) won the Network of the Year in 2020 during my time as President for LAN!
Visit the Latinx Alumni Network site and follow us on Facebook to learn more about events, programs and spotlights of Latinx Terps.
###
Publication of this article does not imply an endorsement of any interview subject's views by the Alumni Association. The Alumni Blog connects you with the latest at UMD. Check out articles on advancing your personal and professional goals, elevating your UMD pride, and celebrating Terp traditions, legacies and accomplishments. For even more content, follow the Alumni Association on Facebook, Instagram, Twitter, LinkedIn and YouTube.