Home
About Us
News & Stories
Celebrating Latinx Terps: William Ernesto Chavez '16, Esquire
Celebrating Latinx Terps: William Ernesto Chavez '16, Esquire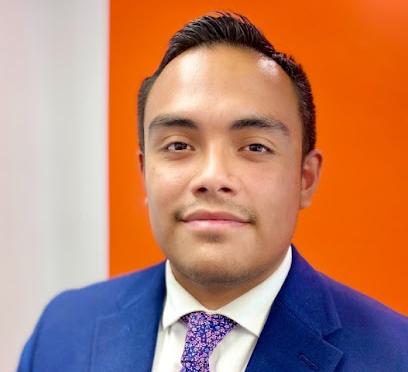 Join the UMD Alumni Association in celebrating Hispanic Heritage Month (September 15-October 15). Hear from fellow Terp leaders who share about their culture, experiences and connection to UMD.
This week we are pleased to introduce you to William Ernesto Chavez '16, Esquire, an attorney at the Employment Law Center of Maryland, and the current president of the Latinx Alumni Network.
The Employment Law Center of Maryland is a novel 501(c)(3) nonprofit organization serving workers in Maryland. I joined the center because of its mission to make civil rights representation more affordable for Maryland workers. I'm passionate about my work because I'm able to help people navigate serious employment issues such as discrimination, harassment and unpaid wages. I'm especially proud to be able to represent Spanish-speaking workers.

What is your family's heritage/background?
My family is from San Salvador, El Salvador.
What does Hispanic heritage month mean to you?
I view Hispanic Heritage Month as a time to celebrate the accomplishments of our communities and acknowledge the progress we've made in advancing the rights of Latinos in the United States. I also view Hispanic Heritage Month as an opportunity to reflect on where we stand today in terms of education, employment, and access to civil rights and justice. I believe there's no better way to honor those who came before us than to use this month to collaborate with one another and continue to work towards achieving a better future for Latinos.
What is your favorite tradition that honors your family's heritage?
My favorite family tradition is making Salvadoran tamales during the holiday season.
How did you stay connected to your roots while attending UMD?
I remained connected to my roots by earning a minor certificate in U.S. Latina/o Studies (USLT) through the College of Arts & Humanities. The USLT program is a multi-disciplinary program that provided me with the opportunity to critically study and engage with the histories and experiences of Latinos. As a result, I pursued a legal education and a career in civil rights.
How did your experience at Maryland shape who you are today?
My experience as a student at Maryland gave me the confidence to pursue a higher education and taught me critical skills I use on a daily basis as an attorney. I'll always be grateful to the people who shaped my experience for their mentorship, guidance and friendship.
What advice do you have for a current student who identifies as Hispanic or Latinx?
My advice for current students who identify as Hispanic or Latinx is to remain resilient when you're faced with challenges and to constantly seek out opportunities for growth. Lastly, make sure to seek out mentors and spend time with people who will help you grow into a person you're proud of.
What is your favorite alumni event or experience?
My favorite alumni events are the homecoming festivities. Go Terps!
Visit the Latinx Alumni Network site and follow us on Facebook to learn more about events, programs and spotlights of Latinx Terps.
###
Publication of this article does not imply an endorsement of any interview subject's views by the Alumni Association. The Alumni Blog connects you with the latest at UMD. Check out articles on advancing your personal and professional goals, elevating your UMD pride, and celebrating Terp traditions, legacies and accomplishments. For even more content, follow the Alumni Association on Facebook, Instagram, Twitter, LinkedIn and YouTube.