Home
About Us
News & Stories
Documenting the Wreckage
Documenting the Wreckage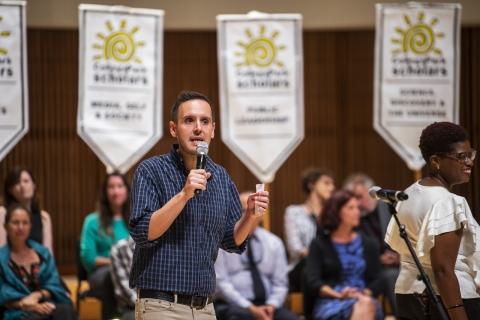 By Kimberly Marselas '00
In our "Student Spotlight" blog series we introduce you to current UMD students doing incredible things on campus, in their communities, and beyond. If you know of a student would we be a good feature for this blog series, please reach out to Lauren Norris.
It was June 1, and Ben Parks, Ph.D. '25 was angry and exhausted.
The assistant director for College Park Scholars was heartbroken by George Floyd's death and the riots that followed in Parks' native Midwest. But he found reason to hope in the larger peaceful protests and in the idea that many American institutions were facing a reckoning.
Parks had a platform to share his frustrations and inspirations.
He had recently started creating a weekly reading list of sorts for a couple dozen friends. The Black Lives Matter movement's new momentum — as well as the ongoing pandemic and its effect on his personal and professional lives — crystallized his vision for a structured newsletter.
The June 1 issue of Parks and Wreck was a call to action, exhorting readers to "care for ourselves and each other" and providing links to resources and stories about unfolding events and the people behind them.
"The idea of amplifying voices from a variety of sources is a galvanizing idea for me," Parks says. "There is so much transition happening… It (the newsletter) is sort of an archive of this period of our lives."
Parks and Wreck quickly gained traction on campus and beyond. At its core, the newsletter is about social justice, the pandemic and the role those factors play in the future of higher education.
A recent issue featured anti-racism links, reflections on "doom-scrolling," others' criticisms of university reopenings, and upbeat distractions including a baby panda at the National Zoo.
Parks came to the university in 2010 as a coordinator for Scholars, a living-learning program that serves about ¼ of incoming students. As assistant director, he focuses on students' mental health needs, diversity and inclusion efforts and community building. He is an advisor to Cambridge Community Queers & Allies and a facilitator for the Words of Engagement program on race, sexuality, gender, socioeconomic status and religion.
"I'm someone who likes to know what's going on in the world," says Parks, pursuing a doctorate degree in student affairs. "As I white man, I was also grappling with, 'What is my role in this?'"
He wants the newsletter to offer a range of perspectives and help build community even as people continue social distancing. In late August he started using Substack's thread feature, which allows participants to engage around a common question.
Click here to join the conversation.
###
The Alumni Blog connects you with the latest at UMD. Check out articles on advancing your personal and professional goals, elevating your UMD pride, and celebrating Terp traditions, legacies and accomplishments. For even more content, follow the Alumni Association on Facebook, Instagram and Twitter.