Home
About Us
News & Stories
The Power of Informational Interviews, with Hallie Schwartzstein '22
The Power of Informational Interviews, with Hallie Schwartzstein '22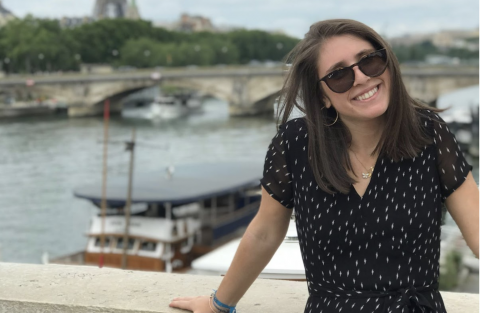 Post graduation, Hallie Schwartzstein '22 has her eyes set on a marketing career in the entertainment or sports industry. A few barriers stood in her way this past year, though—these industries are notoriously tough to break into, and many companies that could have provided her with valuable intern experience weren't hiring during COVID-19. That's when Schwartzstein's Student Alumni Leadership Council advisor, Lauren Norris '11, '16, suggested Schwartzstein create a Terrapins Connect account to chat one-on-one with experienced Terp veterans in her field.
Schwartzstein did just that, conducting informational interviews with fellow Terps to deepen her knowledge of the entertainment industry. "Terrapins Connect has been a great supplement to LinkedIn," says Schwartzstein. "People are so willing to talk with you and there's a great success rate of people that reach back. Informational interviews gave me more confidence and made me feel more comfortable when going into other interviews."
Taking this advice, Schwartzstein spoke with Ashley Neglia '06, a current employee at Hulu, to gain a new perspective on the company, its values and what they're looking for in a candidate. "Having this information helped so much when interviewing at Hulu for a live and licensed marketing internship last spring."
Although Schwartzstein didn't make the final cut, she plans to apply again for a full-time position at the company this spring. "While it did not go my way, I had an amazing experience and everyone I met there was so kind. It definitely made me excited about the prospect of working there."
Schwartzstein has connected with several additional professionals in the industry, all who assured her that she was ten steps ahead of other candidates from the insider knowledge and competitive advantage she gained from networking on Terrapins Connect.
"Being able to talk to individuals that specifically want to help you with your resume and cover letter are great resources. It's easy to leverage these tools in your interviews to move you forward in your career path."
Schwartzstein has used her new confidence and knowledge to land a marketing internship at Spritz, a marketing agency that combines interactive technologies with traditional marketing. "Talking to other people and hearing about their experiences and career paths is not something that can be taught in school."
Schwartzstein continues to use Terrapins Connect to gain valuable experiences that she plans to use when looking for her first job out of college.
"I really hope people use this resource because it can help you so much. It is so much easier than people think to reach out and network, but you have to take that step for yourself."
Terrapins Connect is an online platform that allows Terps access to each other for networking, job opportunities, industry specific guidance and insight. To learn more, click here.
###
The Alumni Blog connects you with the latest at UMD. Check out articles on advancing your personal and professional goals, elevating your UMD pride, and celebrating Terp traditions, legacies and accomplishments. For even more content, follow the Alumni Association on Facebook, Instagram, Twitter, LinkedIn and YouTube. Become a UMD Champion to receive monthly shareable pride points, news and more straight to your inbox.