Home
About Us
News & Stories
SALC: Transitioning to In-Person Programming
SALC: Transitioning to In-Person Programming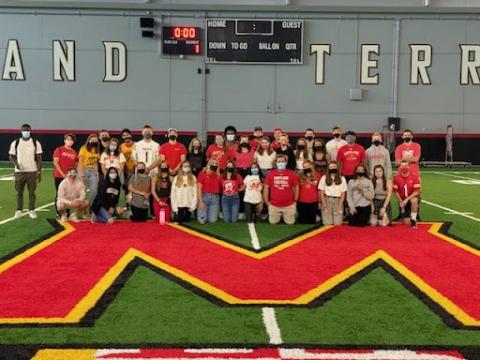 By Brian Spates '22
This semester is a time of transition - transitions back to the classroom and back to campus, but also back to in-person events and programming. Read this to find out more about how SALC is navigating through these exciting times!
After a year and a half of virtual backgrounds, breakout rooms and online seminars the university is back in person - and that means in-person events are back, too. For many Student Alumni Leadership Council (SALC) members this marks their first time ever planning things not on Zoom, while for upperclassmen this year signifies a return to the style of events we experienced prior to the pandemic.
Before we can talk about transition to in person-events, I want to highlight some of the difficulties our members felt online. Getting the word out to people about events was difficult without being able to talk to people easily. After a long day of classes on Zoom many students felt burnt out and didn't want to hop on another call – even if it was for something fun. Ethan Jenkins '23, SALC's VP of Campus Programming, which is largely responsible for organizing events across campus, emphasized that "it's hard to do campus programming when you're not on campus."
Despite these challenges, we pushed through and made the best of the situation, learning a lot of valuable lessons about how to connect and engage with people online, lessons that we can continue to draw from as we physically come back together. Natalie Knight-Griffin '24, a sophomore whose first experience with planning college events was over Zoom, said that the level of creativity for outreach was stronger than she'd seen with previous experiences, and that we had to think between the lines for new ways to reach and engage with people. Alisha Patel '22, a senior on the membership committee, shared a similar sentiment while reflecting on last year's virtual recruitment efforts and the new ways that we conducted outreach, including a stronger emphasis on social media and leveraging personal networks. This continues to be important as we're in the midst of recruitment this year, and with a large number of people looking to get back engaged with the university, having the tools to reach people – online and in person – is crucial.
Unfortunately an end to exclusively online events doesn't mean the pandemic has come to an end, a reality that we continue to grapple with as we plan events. All students have different levels of comfort towards gathering, and we have to continue to be mindful about how many people we have in one space, if we need to be inside or if we can stay outdoors, and offering alternatives for people who can't attend. These alternatives can include hosting hybrid events, and SALC looks towards the Alumni Association's ongoing Volunteer Leadership Conference as a model, combining virtual Q&A sessions with live streamed, in-person speeches and programming.
This year marks a fantastic opportunity for SALC to grow, both in our membership but also in the kinds of experiences we create for students and how we reach them. Ethan, for one, is looking forward to campus programming back on campus, and is excited for us to, "Give students what they've been missing away from College Park. We want to engage our widest audience ever to continue spreading Maryland pride!"
###
The Alumni Blog connects you with the latest at UMD. Check out articles on advancing your personal and professional goals, elevating your UMD pride, and celebrating Terp traditions, legacies and accomplishments. For even more content, follow the Alumni Association on Facebook, Instagram, Twitter, LinkedIn and YouTube. Become a UMD Champion to receive monthly shareable pride points, news and more straight to your inbox.