Home
About Us
News & Stories
Doing Good with Ashley Henyan '02
Doing Good with Ashley Henyan '02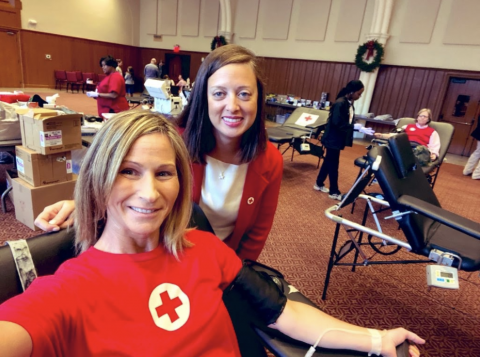 By Allison Eatough '97
As the nation's first Do Good campus, the University of Maryland aims to educate and inspire a Do Good generation of students to apply their education, skills and values to make an impact on the great societal challenges of our time. It is rooted in our land-grant mission of putting knowledge into practice for social and economic betterment. Click here to learn more.
***
Living in Los Angeles and working in fitness communications and marketing, Ashley Henyan '02 found her niche – or so she thought.
The former university diving coach and UMD diver had always loved athletics and writing, and her job was the perfect combination of both, she said.
But she also loved volunteering. In 2015, she began helping the American Red Cross run weekly blood drives at its Los Angeles headquarters, just down the street from her apartment.
"I went to blood drives every Saturday," Henyan said. "Sometimes I'd even go during the week. After a while, I started to see these regular donors come in every 56 days, roll up their sleeves and give a part of themselves for a stranger… It was inspiring."
That experience prompted Henyan to accept a digital communications job with the Red Cross. After working for the organization in California and Georgia, Henyan became the executive director of the Red Cross' Lowcountry South Carolina chapter in 2019.
As executive director, Henyan works to ensure Red Cross services are available to nine counties in the southern part of the state, alongside a staff of 12 and 600 volunteers.
"Red Cross is a lot more than just collecting life-saving blood," she said. "We help our nation's service members and families and veterans. Of course, we do these gigantic disaster response operations after hurricanes and wildfires. And we also help with local emergencies like home fires and floods. Then there's the whole training services side, where we teach lifesaving skills like first aid and CPR."
Last year, the Lowcountry South Carolina chapter helped more than 2,000 families in need. Henyan said she is most proud of her chapter's efforts to install smoke alarms in hundreds of homes and increase blood donations from Black and Latino populations across the state.
"Sickle cell disease affects about 100,000 people every year, and it disproportionately affects the Black community, those of African descent and the Latino community," she said.
About a third of Black and Latino donors have an antigen in their blood that helps people fighting sickle cell disease. By boosting the blood supply from these populations, more patients can receive essential blood transfusions.
This spring, Henyan will begin preparing the community for hurricane season, ensuring people have emergency kits in place and that shelter agreements are finalized.
"My passion is for helping people, and I think that in the Red Cross, you get to help more people than any other organization," she said. "We can literally help villages if we need to, cities upon cities at a time. It's an incredible feeling to know that this organization can do that much good and be there for the American people whenever we're needed."
###
The Alumni Blog connects you with the latest at UMD. Check out articles on advancing your personal and professional goals, elevating your UMD pride, and celebrating Terp traditions, legacies and accomplishments. For even more content, follow the Alumni Association on
Facebook
,
Instagram
,
Twitter
,
LinkedIn
and
YouTube
. Become a
UMD Champion
to receive monthly shareable pride points, news and more straight to your inbox.