Home
About Us
News & Stories
Easing the Pressure of Graduation, with Paige Gorodetzky '20
Easing the Pressure of Graduation, with Paige Gorodetzky '20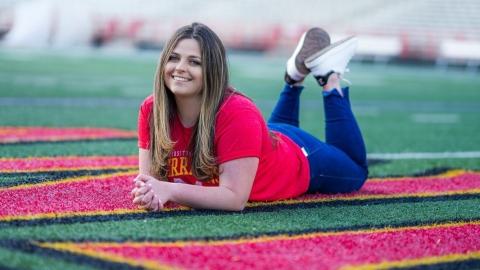 By Spencer Friedman '22
This class of 2020 alumna grew as a leader and a networker in her time at the University of Maryland. She uses those skills in her day-to-day life as a master's student and social work intern.
Why UMD?
Paige Gorodetzky '20 is from Weston, Fla., and knew she always wanted to go to college out-of-state. After traveling up north to visit Maryland, she abandoned her home in the Sunshine State for Maryland's unpredictable weather. However, she toured on a perfect day and fell in love with College Park's campus.
What clubs and organizations were you involved in at UMD?
One of Gorodetzky's most impactful experiences at UMD was working for Maryland Hillel's Birthright Israel program. She learned recruitment skills and networking techniques by recruiting Jewish students at UMD to commit to the program. She further grew her networking skills in her sorority, Alpha Epsilon Phi, where she made some of her best friends who are currently her post-graduation roommates.
Have you picked up any new hobbies or interests since graduation?
Over quarantine, Gorodetzky became really into fitness and working out. She says it has become a hobby that got her through the pandemic. Now working out is something she looks forward to doing every day.
Where do you currently work, and what's your job title?
Gorodetzky is currently studying for a master's degree at New York University's Silver School of Social Work. Additionally, she is a social work intern at a charter school, Harlem Village Academies, in New York. She provides one-on-one virtual counseling for middle school students. She says it's tough not being able to relate to her students in person, but the experience has also taught her what she does and does not want to do in her future as a social worker. "The best way to learn is putting everything into practice," she said.
What's your advice for current and recently graduated terps?
For students still at Maryland, Gorodetzky recommends, "Make sure you take advantage of everything Maryland has to offer. There's something for everyone." And to her peers and recent graduates she says, "The job market isn't easy. There's so much pressure with graduating, but you don't need to know exactly what you want to do right out of college. Take that time to find something that you love."
###
This 20-part series highlights successful University of Maryland alumni from the Class of 2020. Are you a Class of 2020 graduate? Reach out to Jessica Lee (jlee1021@umd.edu) to learn more about getting involved with your Alumni Association. The Alumni Blog connects you with the latest at UMD. Check out articles on advancing your personal and professional goals, elevating your UMD pride, and celebrating Terp traditions, legacies and accomplishments. For even more content, follow the Alumni Association on Facebook, Instagram and Twitter.