Home
About Us
News & Stories
EnTERPreneur Award: Lauren Foundos '06
EnTERPreneur Award: Lauren Foundos '06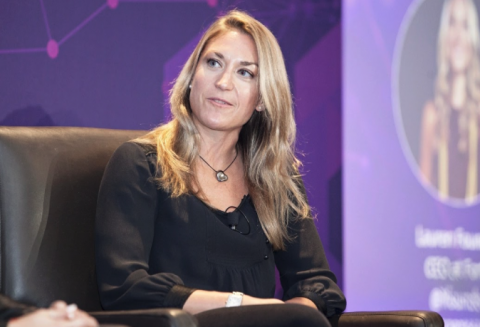 By Allison Eatough '97
Lauren Foundos '06, founder and CEO of Fortë, is not one to run from change. For the past seven years, she's sprinted toward it.
After graduation, the former UMD field hockey player built a successful career on Wall Street trading government bonds. While she enjoyed her job, it left her little time to pursue fitness, her lifelong passion.
"I'm not dreading that hour of the day when I can work out," said Foundos, a recipient of the Alumni Excellence EnTERPreneur Award. "I'm waiting for it."
So in 2015 she launched Fortë, a company that has revolutionized the fitness industry. Using Fortë's proprietary streaming hardware and software, gyms around the world create premium digital fitness offerings for their members through a website and app branded specifically for them.
Less than a year after the launch, Foundos left her broker job to focus on Fortë full time.
The business found early success with its initial product: a fitness marketplace where users could stream exercise classes onto their devices. Foundos received funding from several sources, including the Dingman Center Angels, and was featured on television shows like "Unicorn Hunters."
But in 2020, when the COVID-19 pandemic hit and businesses everywhere shut down, gyms realized they needed even more digital features to survive, Foundos said.
Foundos saw an opportunity to expand Fortë's initial marketplace concept.
"I realized the largest gym chains did not want to be a part of a marketplace but rather wanted their own platform that was branded and built for them," she said. "So we repurposed our current technology so that it was a scalable, software-as-a-service platform."
Companies of all sizes now use Fortë's "white label platform" to create their own virtual fitness services, including the YMCA, Under Armour and UFC GYM, an extension of the Ultimate Fighting Championship.
Missy Meharg, head coach of UMD's field hockey team, said she's not surprised Foundos and her company have found success. Meharg coached Foundos from 2002-05 and witnessed her perseverance, work ethic and passion firsthand.
"Lauren is just a winner, and winners win," Meharg said. "She was and will always be one of the bravest young women that I've ever coached… She is exceedingly savvy. In the social world, she can hang with any culture, any gender, any age, being a vibrant part of any conversation with any group."
Overall, Foundos said she hopes her company can inspire more people to become active.
"This is such a crucial time to be adding value to people's lives," she said. "On Wall Street, I didn't make everybody's life better. But with Fortë, we're creating these platforms that people get to use and really enjoy."
###
The Alumni Blog connects you with the latest at UMD. Check out articles on advancing your personal and professional goals, elevating your UMD pride, and celebrating Terp traditions, legacies and accomplishments. For even more content, follow the Alumni Association on Facebook, Instagram, Twitter, LinkedIn and YouTube. Become a UMD Champion to receive monthly shareable pride points, news and more straight to your inbox.