Home
About Us
News & Stories
Friday Five: "The David C. Driskell Papers"
Friday Five: "The David C. Driskell Papers"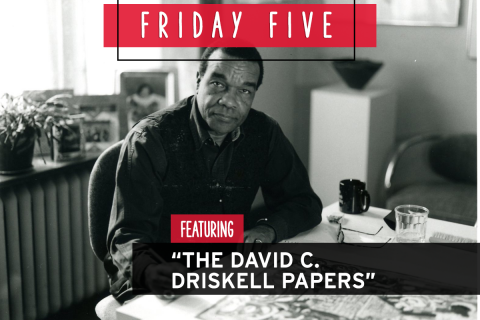 Welcome to the Friday Five, a roundup of the best your Alumni Association and other UMD communities have to offer. From the latest events to fun facts, here's essentials in five categories for you to check out this weekend.
1. Events You Can't Miss
- RIGGS TURNS 15
The Samuel Riggs IV Alumni Center turns 15 this year! Check out our "Joy Is Not Canceled" blog post to see how we're reimagining Riggs during 2020 and beyond, and check in on the Alumni Association's social media channels November 15 for a special Riggs' celebration surprise.
- COVID-19 TRAVEL PANEL - November 12 | 2 p.m. ET
Join the Alumni Association as we host a panel of experts for "Pandemic Travel Do's & Don'ts." Learn tips from alumni and Alumni Association partners on how to travel safely through the holidays and plan those important gatherings with family and friends. Resgister by November 11 for a chance to win a fabulous prize. REGISTER
- MILLION DOLLAR BRAND - November 10 | 2 p.m. ET
In this interactive workshop, learn how you can avoid top legal pitfalls that have cost seasoned entrepreneurs and celebrities millions of dollars and their businesses. REGISTER
- YOUR ONLINE DATA AND ALGORITHMIC BIAS - HOW IT AFFECTS YOU EVERY DAY - November 12 | 6 p.m. ET
Your personal data impacts what you see online and the products and services that are marketed to you. But you may be surprised by some of the other ways it affects your day-to-day life. How we are differentiated by data algorithms can be both damaging and helpful. Expert panelists will discuss these topics along with policy implications and practical tips to protect yourself. REGISTER

2. Quotables

- Predictions, Polarization and...Florida
"While ballot counting in battleground states on Wednesday kept the nation on edge and the presidential election undecided, UMD experts already found some takeaways from the 2020 fight for the White House." Liam Farrell, Maryland Today; Read More
- 10 for TEN: Eddie Osefo '06
"I launched The TKO Agency because I found that with the growing trend of social media entrepreneurs and creatives taking advantage of digital platforms such as Instagram, Tik Tok and SnapChat, the next wave of change makers and entrepreneurs no longer reside in traditional corporate environments." Ellie Geraghty, Alumni Blog; Read More
- COVID Stops Many Mothers, Espcially Black Mothers, from Working
"The majority of those working parents were women and people of color. And it quickly occurred to me that their pulling back on their careers could pose a major setback for organizations, especially those that have prioritized improved diversity, equity and inclusion among their executive ranks and corporate boards." Maryland Today Staff, Maryland Today; Read More
"The David C. Driskell Papers" exhibit contains roughly 50,000 items, including correspondences with Romare Bearden, Jacob Lawrence and Georgia O'Keeffe, photographs from Driskell's earliest solo exhibitions, and Driskell's notes on Two Centuries of Black American Art, his signature accomplishment as a curator. VISIT EXHIBIT
- Still Craving Spooky Content?
Check out these teaser photos of the infamous eerie Skinwalker Ranch, located in Utah's Uinta Basin. A full exhibition is planned for 2021.
PHOTO GALLERY
UMD researchers created Watson, an I.B.M. computer which beat famous Jeopardy champion Ken Jennings.
4. Let's Get Social

- Instagram Post of the Week
- The Alumni Blog Impact Stories
Let us know how your Alumni Association has helped you during your time at Maryland and beyond by sharing an Impact Story.
Was there a specific event we hosted that inspired you? Did one of our programs help you land a job? Perhaps you just want to let us know what the Alumni Association means to you.
Not only does it make us feel warm and fuzzy, but it helps us determine the type of content we should continue to host so we can help more Terps like you. Impact Stories are featured on the Alumni Blog as well as our social media and emails. Interested? Submit a brief summary of your Impact Story here. We select about four to six Impact Stories per semester.
5. Friendly Reminders
- UMD Champions
Become a champion to elevate your Terp pride. It's easy - just sign up, receive Terp news in your inbox, and click to share with your social networks. BECOME A CHAMPION
That's it for this week, Terps. Make sure to check back with us every Friday. Have a lovely weekend!
The Alumni Blog connects you with the latest at UMD. Check out articles on advancing your personal and professional goals, elevating your UMD pride, and celebrating Terp traditions, legacies and accomplishments. For even more content, follow the Alumni Association on Facebook, Instagram and Twitter.