Home
About Us
News & Stories
Friday Five: Doing Good with Audrey Awasom '18
Friday Five: Doing Good with Audrey Awasom '18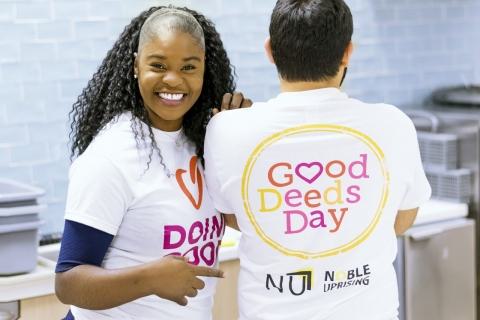 Welcome to the Friday Five, a roundup of the best your Alumni Association and other UMD communities have to offer. From the latest events to fun facts, here's essentials in five categories for you to check out this weekend.
The results are in: Netflix Recommendations from Terps (see below)!
1. What's Happening
- TERRAPIN LOVE WEEK - February 8-12
Celebrate love in all forms, from romance to self love, loving your career and bringing yourself through hardship. REGISTER
- SAY IT LOUD: A BLACK TERPSPECTIVE - February 18 | 7 p.m. EST
Filled with inspirational alumni and endless Terp Pride, the University of Maryland Alumni Association's inaugural Black Alumni Weekend is coming spring 2022. To help you prepare, the Black Alumni Weekend Steering Committee has planned several preview events for 2021.
Join us for our premiere event, Say It Loud: A Black TERPspective. Co-sponsored with the University of Maryland Black Terps Alumni Network, this social justice panel will uncover the past and present events that defined Black experiences at the University of Maryland. Highlighting Black Terps that blazed the trail for critical Black voices, such as the Black Student Union and Black Terps Matter, the panelists will provide stories of triumph and struggle through the decades. REGISTER
- POWER TERPS: FROM COLLEGE PARK TO CAREERS IN TECH - February 24 | 7 p.m. EST
Interested in how an English degree might translate to a research role with Google? Curious to learn how to balance a successful professional life with thriving personal relationships? Hoping to gain perspective on turning a failure into an opportunity for growth? Join us to hear the stories of three Power Terps who have landed careers with some of the biggest names in tech, and the journeys they navigated to get there. REGISTER
- SOUND ON SERIES - February 10 | 7 p.m.
Keeping the Spark Alive: Marriage and Dating During a Pandemic. Join us and relationship therapist Terps to answer your questions on navigating dating or maintaining a healthy relationship during the pandemic. You will also have a chance to share what has been working for you, helping us all better our relationships in the new year! REGISTER
- TERPS YOUNG SCHOLARS - July 11-30, 2021
Give your talented high school student a pre-college experience while earning three college credits at UMD. Alumni Association members receive a 20% alumni discount. APPLY NOW
2. Quotables

- Audrey Awasom '18 Combats Homelessness
"Audrey Awasom '18 grew up in Montgomery County, Md., one of the wealthiest counties in the United States. The Robert H. Smith School of Business graduate said she never saw homeless people in the county, sleeping on sidewalks or standing on street corners asking for money. But that doesn't mean they weren't there." Allison Eatough '97, Alumni Blog; Read More
- UMD Announces Partnership With Jordan McNair Foundation
"The University of Maryland and Jordan McNair Foundation are joining together on a series of initiatives to honor the life and legacy of the Maryland football player who died following a 2018 team workout." Maryland Today Staff, Maryland Today; Read More
- U.S. News Ranks Online Business, Engineering Programs Among Nation's Best
"The online MBA and Master of Engineering programs at the University of Maryland earned top slots in U.S. News & World Report's 2021 rankings of the best online graduate programs in the country." Gregory Muraski and Karen Dieso, Maryland Today; Read More
Get ready to cook up some Maryland pride with the first-ever University of Maryland Alumni Association cookbook! This collection of recipes features Maryland and family favorites, submitted by Terps across the country. It's our gift to you with a donation of $50 or more to the new Alumni Association Student Engagement Fund. GET COOKIN'
*Contributions to the Alumni Association Student Engagement fund are tax-deductible as allowed by law. Fair market value for the cookbook is $14. Please see your tax advisor for details.
-

Testudo Trivia - How Much Do You Know?
This week is Career Week. Here's a question on professional development: What's the #1 element employers look for in a new employee? Take a guess, and see the answer at the bottom of this post.
1. ROI
2. Low Salary Requirements
3. Years of Experience
4. Where You Went to College
- It's Friday - Netflix and Chill
It's official - "Spy Craft" and "One Day at a Time" were top Terp Netflix recommendations. Now get to watchin', and head on over to our Instagram Stories for our new Friday question.
4. Let's Get Social
5. Friendly Reminders
- Join #TerpBusiness
Submit your business' information to access a list of the Alumni Association's business resources during COVID-19 (and beyond), and for a chance to be featured on the Alumni Association's LinkedIn page. JOIN #TERPBUSINESS
That's it for this week, Terps. Make sure to check back with us every Friday. Have a lovely weekend!
Trivia Answer: ROI
The Alumni Blog connects you with the latest at UMD. Check out articles on advancing your personal and professional goals, elevating your UMD pride, and celebrating Terp traditions, legacies and accomplishments. For even more content, follow the Alumni Association on Facebook,

Instagram

and Twitter.