Home
About Us
News & Stories
Friday Five: Find the Perfect Gift for Your Terp
Friday Five: Find the Perfect Gift for Your Terp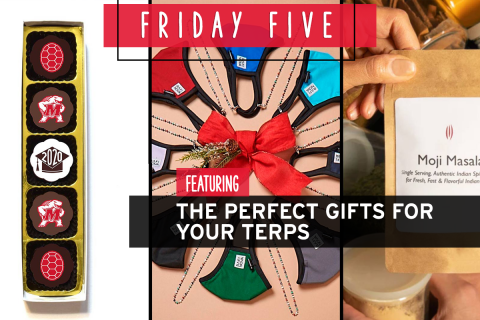 Welcome to the Friday Five, a roundup of the best your Alumni Association and other UMD communities have to offer. From the latest events to fun facts, here's essentials in five categories for you to check out this weekend.
1. Events and Programs You Can't Miss
- HOLIDAY TUNES WITH TERPS - December 16 | 6 p.m. EST
Join us for a cozy night of music, dancing and Terp cheer. Baltimore-based Terp and power-vocalist Amanda Lynne '10 will sing holiday tunes and well-known classics with her duo partner Don Wolcott. Professional dancers will also lead a tutorial to keep you grooving. Sing along, dance along, and relax and enjoy the holiday season with fellow Terps. SIGN UP
- TERP COOKBOOK
Spread some Terp love this holiday season with a gift to the Alumni Association Student Engagement Fund and receive a copy of the first-ever University of Maryland Alumni Association cookbook! GET COOKIN!
*Contributions to the Alumni Association Student Engagement fund are tax-deductible as allowed by law. Fair market value for the cookbook is $14. Please see your tax advisor for details.

- FESTIVAL OF NINE CAROLS - December 11 | 8 p.m. EST
Six virtual choral ensembles bring the joy of the holiday season to life with carols, hymns and spoken word that epitomize hope and goodwill. Program highlights include Francis Poulenc's "Quatre motets pour le temps de Noël" and Zoltán Kodály's "Veni Emmanuel." Then sing along at home to archival recordings of the beloved David Willcocks carols. VIEW DIGITAL PROGRAM
- UMBA FIRESIDE CHAT WITH PRESIDENT PINES - December 15 | 7 p.m. EST
Join the University of Maryland Black Alumni network for an exclusive virtual conversation with President Darryll J. Pines for Black Terps. Learn more about President Pines, gain insight on the current and future state of the university, explore his plans to improve Diversity and Inclusion, and discuss the important role Black alumni play in the continued growth and advancement of the university. The conversation will include an introduction from UMBA Board President, Cassie Duah '05, and a moderated Q&A session with Erica Garnett, Manager of Alumni Volunteer Programs. Alumni can submit questions ahead of the event during the registration process. REGISTER

2. Quotables

- 6.8M Gift Extends Opportunities to Underserved Montgomery County Students
"A nearly $7 million gift from a Boston couple will significantly increase the size and long-term impact of a University of Maryland program that supports promising students from selected areas of the state." Lauren Brown, Maryland Today; Read More
- When Terrapins Connect
"They both attended high school in Africa – Nhantumbo in Mozambique and Light in neighboring Zimbabwe. And they both attended UMD. Yet their paths never crossed until July, when they met through Terrapins Connect, UMD's networking and mentorship platform." Allison Eatough '97, Alumni Blog; Read More
- Portraits from a Pandemic
"Like the characters in Albert Camus' novel "The Plague," we all began to eat the "same sour bread of exile." The void was first filled by ventilators and PPE, tiger kings and sourdough recipes, unemployment rates and beer deliveries, shortages of Lysol and ground beef." Maryland Today Staff, Maryland Today; Read More
A Terp Gift Guide for spreading cheery during a difficult year. CHECK IT OUT
- Fun Fact, Holiday Edition
"Jingle Bells" was the first song ever played in space by an American in 1965.
4. Let's Get Social
- Instagram Post of the Week
- The Alumni Blog Impact Stories
Let us know how your Alumni Association has helped you during your time at Maryland and beyond by sharing an Impact Story.
Was there a specific event we hosted that inspired you? Did one of our programs help you land a job? Perhaps you just want to let us know what the Alumni Association means to you.
Not only does it make us feel warm and fuzzy, but it helps us determine the type of content we should continue to host so we can help more Terps like you. Impact Stories are featured on the Alumni Blog as well as our social media and emails. Interested? Submit a brief summary of your Impact Story here. We select about four to six Impact Stories per semester.
5. Friendly Reminders
- UMD Champions
Become a champion to elevate your Terp pride. It's easy - just sign up, receive Terp news in your inbox, and click to share with your social networks. BECOME A CHAMPION
- Get Our Brand-New Member T-Shirt
One of our brand-new member T-shirts are yours for joining the Alumni Association. You can also lock in a special three-year membership rate of $108 when you join before Jan.1.
JOIN NOW
Already a member? Purchase your T-shirt
here
.
That's it for this week, Terps. Make sure to check back with us every Friday. Have a lovely weekend!
The Alumni Blog connects you with the latest at UMD. Check out articles on advancing your personal and professional goals, elevating your UMD pride, and celebrating Terp traditions, legacies and accomplishments. For even more content, follow the Alumni Association on Facebook, Instagram and Twitter.