Home
About Us
News & Stories
Friday Five: Jam Out to the Women's History Month Spotify Playlist
Friday Five: Jam Out to the Women's History Month Spotify Playlist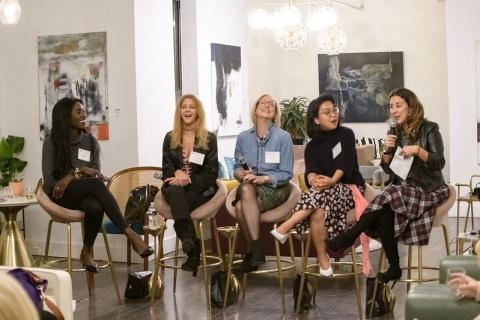 Welcome to the Friday Five, a roundup of the best your Alumni Association and other UMD communities have to offer. From the latest events to fun facts, here's essentials in five categories for you to check out this weekend.
1. What's Happening
- HOME 101 - March 21-29
You've been stuck in your home for a year now. It's time to give back to the place that has given you so much. Through this series of events, you will learn from home experts about enhancing your outdoor and indoor spaces, discover ways to make your home more sustainable and safe with the use of smart (and simple) technologies, get insights on remodeling, home renovations and more. This series is virtual, free, and open to all alumni, no matter where you live (or what you live in!). Whether you are a current homeowner or hope to be one someday, you will find something helpful to use along the way. REGISTER
- TERPS UNDER 30 - March 30 | 7 p.m. EST
Join the University of Maryland Alumni Association for Terps Under 30, an annual event designed to allow current students and alumni to connect, network, and share their fearless ideas. REGISTER
- ALUMNI CAREER DESIGN FELLOWSHIP - Starting April 10
Wondering what comes next for your career? Now's the time to make a plan. Whether you want more from your current role or you want to change careers entirely, the Fellowship will help you get there! The University of Maryland Alumni Association has partnered with the career design experts at Mission Collaborative to bring you this 30 day online program that will give you the clarity and confidence you need to create a fulfilling career that fits you. Whether you're early, mid, or late-career, the Fellowship provides the structure and accountability you need to make the breakthrough progress you've been struggling to achieve on your own (while fitting into your busy schedule!). REGISTER
OTHER EVENTS:
- Policy, the Juvenile Death Penalty, Tech and More: a Discussion with Jotaka Eaddy - March 24 | 12 p.m. EST
- Terp Young Scholars - July 11-30, 2021
2. Quotables

- How Alumni Association Scholarships Help Terps Achieve Their Goals
"That's why in 2020, the association awarded $60,000 in scholarships to 30 UMD students. While their backgrounds and goals vary, scholarship recipients are all continuing students who: maintain a 3.0 GPA or higher, show commitment to the university community through on-campus and/or off-campus involvement, and exhibit Terp pride. Click here to read how four recent recipients have benefited from the extra support.
- Accounting Expert: 4 Reasons to File Your Taxes Early
"The IRS started accepting and processing tax returns on Feb. 12, officially kicking off tax season. That's two weeks later than usual, giving the agency more time to create and test new systems for handling the second round of pandemic-related stimulus payments approved at the end of 2020. But those returns still must be postmarked by the usual April 15, meaning you get less time to file. Maryland Smith accounting lecturer and CPA Samuel Handwerger recommends that you get them done now." Karen Johnson, Maryland Today; Read More
- The Inaugural Career Week Recap
"The University of Maryland Alumni Association kicked off the new year by hosting its first-ever Career Week January 25-29, 2021. This virtual series engaged Terps of all career sectors, levels, affinities and industries, as well as graduates from a variety of UMD schools and colleges. Bita Riazi '19, a recent graduate, and Charlotte Wagner '90, an established executive, weighed in on the impact Career Week has had on them." Abby Humbel '21, Alumni Blog; Read More
- Women's History Month Spotify Playlist
In honor of Women's History Month, we've compiled a Spotify playlist of girl-power songs to inspire our women-identifying Terps. Check out the playlist here.
-
Testudo Trivia - How Much Do You Know?
Who was the assumed first woman to attend classes at Maryland? Take a guess, and then see the answer at the bottom of this blog post.
A. Grace B. Holmes
B. Elizabeth Hook
C. Flora Iris Darling
D. Adele H. Stamp
4. Let's Get Social
5. Friendly Reminders
- Tell Us Your Story
How has the Alumni Association positively impacted your life? Perhaps you've found a community with fellow Terps, used the Alumni Association's resources to help your professional goals, or maybe you love the benefits of being an Alumni Association member. Submit your experience for a chance to be featured on our Alumni Blog and social media. SUBMIT YOUR STORY
That's it for this week, Terps. Make sure to check back with us every Friday. Have a lovely weekend!
Trivia Answer: C. Flora Iris Darling
###
The Alumni Blog connects you with the latest at UMD. Check out articles on advancing your personal and professional goals, elevating your UMD pride, and celebrating Terp traditions, legacies and accomplishments. For even more content, follow the Alumni Association on Facebook, Instagram, Twitter, LinkedIn and YouTube. Become a UMD Champion to receive monthly shareable pride points, news and more straight to your inbox.