Home
About Us
News & Stories
How Alumni Association Scholarships Help Terps Achieve Their Goals
How Alumni Association Scholarships Help Terps Achieve Their Goals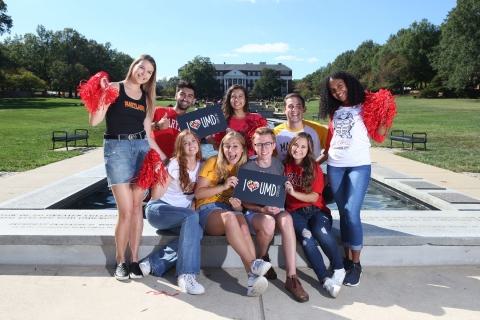 By Allison Eatough '97
Whether you're a current student or a graduate, the University of Maryland Alumni Association is dedicated to supporting Terps in their quest to stay fearless.
That's why in 2020, the association awarded $60,000 in scholarships to 30 UMD students. While their backgrounds and goals vary, scholarship recipients are all continuing students who:
Maintain a 3.0 GPA or higher.

Show commitment to the university community through on-campus and/or off-campus involvement.

Exhibit Terp pride.
Here's how four recent recipients have benefited from the extra support.
***
Alexia Ayuk '23
Ayuk, an operations management and business analytics major, is president of the Smith Undergraduate Student Association and helped launch the Inclusion, Accountability and Oversight Coalition (IAOC), which holds Robert H. Smith School of Business leaders to the practices of diversity and inclusion. Through these organizations, Ayuk hopes to create spaces for underrepresented students to achieve their goals.
"The scholarship has done a great job of taking off the (financial) burden. When a school accepts you, it shows they believe in you. But when a school gives you a scholarship, it's another affirmation that you matter to the school, that you are part of that community and that they care about you… That kind of affirmation, regardless of circumstance, is empowering."
Jacqueline Ford '20, M.P.P. '21
Ford, who received her bachelor's degree in public policy and is pursuing a master's degree in the field, is the 15th Terp in her family to graduate from UMD (her sister, Sophia will be 16th after she graduates in 2022). Her internship at the National Institutes of Health has solidified her interest in pursuing a public health policy career. Ford is also the founder and former president of Kappa Omega Alpha's Gamma chapter at UMD.
"I knew this last portion of my degree was going to be quite expensive. When I found out about the scholarship, I immediately knew I wanted to apply because I needed that financial aid… Coming from a long line of Terps, I also wanted to get more connected with the Alumni Association. You always hear about it as a student, but you don't really start thinking about it until you are either in your senior year or you've graduated. I'd like to be an active alum."
M Pease '22
M, who is majoring in psychology and minoring in Asian-American studies, public leadership and neuroscience, has spent several semesters researching how systems of oppression can contribute to mental health disparities. Along with working as a resident assistant, M is an executive board member for the Help Center at UMD.
"Knowing that my two siblings would also be pursuing university behind me was a major motivating factor to apply for this scholarship. I take comfort in knowing that I've contributed in a way to reduce my family's financial burden… The scholarship also allows me to be selective in the opportunities that I pursue. For example, I recently began working at the (UMD) Prevention Research Center, a public health group focused on LGBTQ+ research. The center is very closely aligned with my research interests and professional goals, and the scholarship helped give me the freedom to pursue that position."
Veeraj Shah '21
Shah is double majoring in biology and health policy and technology. After graduation, he will pursue a Ph.D. in public health at the University of Cambridge in the United Kingdom. He has volunteered extensively with UMD's Public Health Without Borders and is co-founder and CEO of Chat Health, a health information sharing platform for college students.
"The Alumni Association Scholarship essentially gives me the freedom to work on passion projects and do unpaid, health policy internships. My sophomore year, I worked with the Chief Health Administrator for Prince George's County... Now, I'm working under the U.S. Surgeon General in the Department of Health and Human Services. It was one of the coolest experiences ever because I got a pseudo-inside look at the federal (COVID-19) task force when it was constructed and saw how the Surgeon General was playing a role."
This year, 33 students will receive a total of $66,000 in UMD Alumni Association scholarships. Want to help ever more Terps stay fearless? Click here to make a donation today.
###
The Alumni Blog connects you with the latest at UMD. Check out articles on advancing your personal and professional goals, elevating your UMD pride, and celebrating Terp traditions, legacies and accomplishments. For even more content, follow the Alumni Association on Facebook, Instagram, Twitter, LinkedIn and YouTube. Become a UMD Champion to receive monthly shareable pride points, news and more straight to your inbox.