Home
About Us
News & Stories
Friday Five: The Red, Black and Gold
Friday Five: The Red, Black and Gold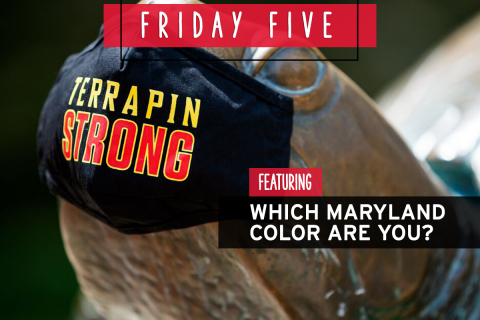 Welcome to the Friday Five, a roundup of the best your Alumni Association and other UMD communities have to offer. From the latest events to fun facts, here's essentials in five categories for you to check out this weekend.
1. Events You Can't Miss
- All Alumni - TERP TRIPS
Explore Balitmore, Frederick and D.C. (safely) through UMD-themed itineraries. Not in the area, or don't want to go outside? We've created an option for a cozy little staycation. REGISTER
- Networks - HOMECOMING PUMPKIN TOURNAMENT
It's the battle of the networks! Which one carves the most beautiful (or spookiest) pumpkins? Submit your designs before October 21st to enter our Pumpkin Tournament bracket, which will take place October 26-30 on your Alumni Asociation's Instagram. SUBMIT
- All Alumni - DIAMONDBACK DASH
Have you signed up yet? Lace up your running shoes and help us and the Office of Parent and Family Affairs raise money for student funds. REGISTER


2. Quotables

- Puzzling Greatness - UMD Turns Into Hub for Top Rubik's Cube Solvers
"A world-class 'cuber,' he's often solved the Rubik's Cube faster using just one hand."
Chris Carroll, Maryland Today; Read More
- Lifelong Health and Fitness - Alka Bhave '96 and Bhaskar Bhave's '01 Legacy
"Their mission is simple: to raise awareness and provide in the areas of exercise, nutrition, and overall well-being."
Cara Folk, Alumni Blog; Read More
- A 21st Century Connection in Art - Reopened Stamp Gallery Highlights Central American Paintings, Sculpture and Digital Media
"From the aftermath of civil war to the uncertainty of migration and the journey back to find family roots, works on display now in UMD's newly reopened Stamp Gallery explore the cultural and linguistic bonds of 21st-century artists of Central American heritage."
Sala Levin '10, Alumni Blog; Read More
The beloved red, black, white and gold. Where do you fall in the famous Maryland color scheme?
Take this quiz
to find out.
-
Fun Fact, Geography Edition

You can see the Washington Monument from the top of the Maryland Stadium.
- Travel Dreams
4. Let's Get Social

- Instagram Post of the Week
- The Alumni Blog Impact Stories
Let us know how your Alumni Association has helped you during your time at Maryland and beyond by sharing an Impact Story.
Was there a specific event we hosted that inspired you? Did one of our programs help you land a job? Perhaps you just want to let us know what the Alumni Association means to you.
Not only does it make us feel warm and fuzzy, but it helps us determine the type of content we should continue to host so we can help more Terps like you. Impact Stories are featured on the Alumni Blog as well as our social media and emails. Interested? Submit a brief summary of your Impact Story here. We select about four to six Impact Stories per semester.

- Dear Testudo

With everything that's been going on - the pandemic, politics, racism - it seems harder than ever to connect and feel the ground beneath your feet. Even before 2020, regular day-to-day life can be tough to navigate.

Dear Testudo is a space where you can drop us a line about anything. Want to tell us what you did last week? Want to vent a frustration? Want to leave us a message of hope and positivity? Have a bad joke to tell? We're listening. Let us know how you're doing here.
5. Friendly Reminders
- Alumni Survey
Tell us what we can improve and how we can best serve you, and also enter for a chance to win a $50 Amazon giftcard. TAKE SURVEY
- UMD Champions
Become a Champion to elevate your Maryland pride. Get first access to UMD news before it hits our social channels.
That's it for this week, Terps. Make sure to check back with us every Friday. Have a lovely weekend!
The Alumni Blog connects you with the latest at UMD. Check out articles on advancing your personal and professional goals, elevating your UMD pride, and celebrating Terp traditions, legacies and accomplishments. For even more content, follow the Alumni Association on Facebook, Instagram and Twitter.