Home
About Us
News & Stories
Friday Five: Travel Is On, Featuring Costa Rica and the Panama Canal
Friday Five: Travel Is On, Featuring Costa Rica and the Panama Canal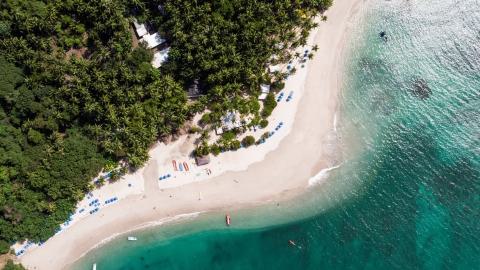 Terps After Maryland:

"Gregory Smith MBA '11 was a recipient of the 2020 Washington Business Journal 40 Under 40 Awards. He is administrative vice president and Greater Washington regional manager, business banking division, M&T Bank." From Terp Magazine's Class Notes
Welcome to the Friday Five, a roundup of the best your Alumni Association and other UMD communities have to offer. From the latest events to fun facts, here's essentials in five categories for you to check out this weekend.
1.

What's Happening




- Terpscape: A Virtual Night of the Arts -
May 13 | 7 p.m. EDT
The Black Alumni Weekend Steering Committee has brought together a talented group of Terps for a virtual night of the arts. Hosted by comedian Rick Younger '92, Terpscape will feature alumni musicians, dancers and spoken word artists.
REGISTER
- Member-Exclusive Maryland Masterclass: Money with Mac -
May 24 | Noon EDT
Mac Gardner '98, Terp alumnus and author of "The Four Money Bears" and "Motivate Your Money!," believes it is never too early or too late to start a conversation about money. Through his 20+ years of work as a certified financial planner and experience in the financial literacy industry, he is well-equipped to teach his fellow Terps tips how to build and preserve wealth. Join this interactive and exclusive member masterclass to learn how to make your money start working for you. REGISTER
Not a member? Join now to access this exclusive masterclass.

2. Quotables

- A Celebration to Remember
"The Alumni Association's marquee event, A Celebration of Terps: Featuring the Maryland Awards, was reimagined this year as a virtual gala on Friday, April 23, 2021. The celebration capped off a week of events for the inauguration of Darryll J. Pines, the 34th president of the university." Alumni Blog; Read More
- An Upgrade from Artifical Shade
"The University of Maryland faculty researcher figured Mother Nature could be a little more accommodating. His idea: Combine flowering plants with patio umbrellas to provide an eco-friendly form of shade, cooling and beauty." Graham Binder, Ted Knight and Samantha Watters, Maryland Today; Read More
- Dean Jennifer Rice Named UMD's Next Provost
"Education college dean Jennifer Rice will be the University of Maryland's next provost, university President Darryll Pines announced Monday morning. Rice will begin the role August 11, replacing interim provost Ann Wylie." Eric Neugeboren, The Diamondback; Read More

- #TerpTrips Fun Fact - Costa Rica
Tortuga Island (pictued), one of the islands that makes up Islas Negritos Biological Reserve off the Nicoya Peninsula in Costa Rica, welcomes travelers with white sand beaches and turquoise waters. Enjoy Costa Rican hospitality with refreshing drinks and fresh fruit, ride in a glass-bottom boat, kayak, or simply bask in the sun all day. This island is dotted with gorgeous rainforest, maintaining a natural beauty perfect for photos.
Want to go? You can visit Tortuga Island as part of our Passage Through the Panama Canal and Costa Rica trip, January 30 - Februay 7, 2022. Join this incomparable nine-day journey from the Costa Rican rainforest through the mighty locks of the Panama Canal. TRIP DETAILS
Interested in going somewhere else? See all trips.
- Celebrate the Class of 2021
Join your Alumni Association to celebrate and congratulate the Class of 2021. Share a sentiment and a single word of well wishes and/or advice to be shared with members of this spring's graduating class. SHARE HERE
- Weekend Fun - DBK Crossword
Solve a fun puzzle with latest crossword from The Diamondback. CHECK IT OUT
- Alumni Appreciation - Happy Birthday, May Terps!
For your notable alum, you share a birthday month with Boondock's creator Aaron McGruder '98. Check out Terp Magazine's profile on McGruder and the Boondocks here.
- Terp Deals - GEICO
The University of Maryland Alumni Association has teamed up with Geico to offer you a special alumni discount on car insurance. It's easy and takes just 15 minutes or less to get a quote.
4.

Let's Get Social
5.

Friendly Reminders
- Your Membership Impacts University Rankings
Did you know that Alumni Association memberships directly impact the University of Maryland's rankings? Because of our alumni support, Maryland has been recognized as No. 19 among national public universities in
U.S. News & World Report Best Colleges
.
Your membership makes it happen. Become a member by June 30 and your contribution will count towards the 2020-2021 rankings. Receive our gorgeous watercolor print of McKeldin Mall as our gift to you.
JOIN TODAY
This week's featured job posting from the
Terrapins Connect Job Board
:
SECU Credit Union, Maryland's leading credit union with a high emphasis on community support, is looking for a Data Analyst.
That's it for this week, Terps. Make sure to check back with us every Friday, and update your information in the alumni directory to always receive the latest from your Alumni Association. Have a lovely weekend!
###
The Alumni Blog connects you with the latest at UMD. Check out articles on advancing your personal and professional goals, elevating your UMD pride, and celebrating Terp traditions, legacies and accomplishments. For even more content, follow the Alumni Association on Facebook, Instagram, Twitter, LinkedIn and YouTube. Become a UMD Champion to receive monthly shareable pride points, news and more straight to your inbox.