Home
About Us
News & Stories
From Video Gaming to Marriage
From Video Gaming to Marriage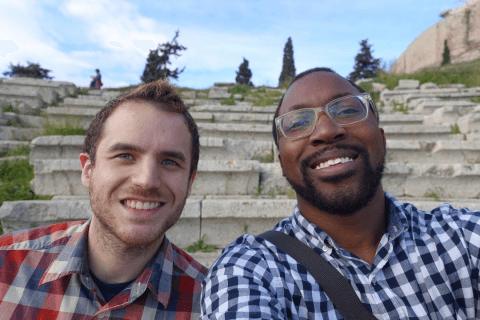 By Sala Levin '10
After several months of living together, getting to know one another's dishwasher-loading strategies and the exact degree at which they each liked the apartment's temperature kept, Jaison Cooper '11, M.Ed. '14 and Pano Papadatos M.Sc. '13 decided to make a deeper commitment: they opted to start dating.
"All our friends were like, 'You're doing everything in the wrong order!'" said Cooper. "We were friends, and then roommates, and then dating."
Cooper, who grew up in a Liberian-American family in Montgomery County, Md., and Papadatos, a native of Patras, Greece, met in 2011 at a mutual acquaintance's birthday dinner at the Cheesecake Factory in Columbia, Md. Soon, Papadatos, who had recently arrived in Maryland for graduate school, was a part of Cooper's circle, formed in groups like the Pride Alliance during Cooper's time as an undergraduate. When Cooper was looking for a new apartment in College Park after graduating, while temping at a law firm, he moved into Papadatos' place.
"We had a lot of time together" during that period, said Cooper. "We really just got to know one another." As they learned about the interests they shared—video games, baking and traveling, among them—they also discovered more to admire in each other.
The two share "a willingness to learn together," said Papadatos. Cooper agreed, saying, "We're both constantly teaching each other stuff."
The transition from roommates to couple was smoother than one might expect, the two said. "Something super important to me is being able to exist with the person, and we can totally exist together," said Cooper. Papadatos points to the pair's ease "having conversations analyzing topics and not getting bored of each other."
They also connect over a shared immigrant experience. Cooper, who came with his family to the U.S. as a six-month-old, said the two have both had the feeling of being an outsider to mainstream American culture.
Since marrying in 2014, the couple has settled into life in College Park. Papadatos works as a software engineer, while Cooper is an academic advisor in UMD's College of Information Studies. Papadatos sometimes lends his expertise in user experience to Cooper's students.
Their self-declared nerdy interests—playing video games like "Overcooked" and watching sci-fi or fantasy television series—occupies much of the duo's free time. "It's really liberating to be around (Pano) because he acts really freely," said Cooper. "He encourages me to be goofy."
###
The Alumni Blog connects you with the latest at UMD. Check out articles on advancing your personal and professional goals, elevating your UMD pride, and celebrating Terp traditions, legacies and accomplishments. For even more content, follow the Alumni Association on Facebook, Instagram, Twitter, LinkedIn and YouTube. Become a UMD Champion to receive monthly shareable pride points, news and more straight to your inbox.