Home
About Us
News & Stories
Game, Set, Match
Game, Set, Match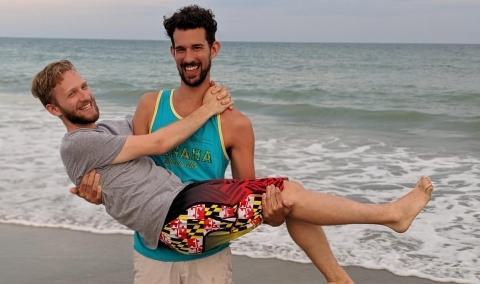 By Andrew Faught
Love, in many cases, can be a roll of the dice. Just ask Michael Shindledecker '16 and Colin Morrow '16.
"We love Dungeons & Dragons, Warhammer, and really any type of board game with friends," Michael says. "We're very big nerds."
The couple, who married in 2018 and live in Herndon, Va., had their own circuitous board game-like journey to exchanging nuptials. They both grew up in Harford County, Md., and they were in the same Boy Scout troop as kids. But the boys went to different high schools, didn't run in the same social circles and rarely interacted.
Flash ahead nearly a decade when, as Maryland sophomores, they encountered each other at an off-campus Pride party. Both planned to attend a Pride parade in Washington, D.C. "That's when we reconnected and said, 'let's spend more time together,'" says Michael, who was drawn to Colin's inner spirit. "What I saw in Colin then, and what I still see today, is that he's a joyful person with others, which is infectious."
Colin was drawn to Michael's passion: "He puts effort into basically every aspect of his life. It's fun to watch him talk about things. He's a civil engineer, and I'm not into engineering at all, but I enjoy listening to him tell me about his work."
Michael, who got his civil engineering degree at Maryland, helps transit agencies transition to electric and hydrogen vehicles. Colin earned an animal science degree and works at a research lab that considers mechanistic cognitive neuroscience – the physical mechanisms behind animal behavior.
The pair have maintained ties to the university since graduation: Colin, a campus tour guide during his student days, keeps up with fellow guides and occasionally sees university representatives at industry research events; Michael, in the meantime, has sponsored capstone projects for engineering, business and science students in the QUEST (Quality Enhancement Systems and Teams) Honors Program.
Outside work, the men support LGBTQ causes. Colin attended rallies in 2012 in support of Maryland's Question 6, a referendum to legalize same-sex marriage. When the Supreme Court in 2015 overturned the Defense of Marriage Act – requiring states to recognize same-sex marriages – Michael and Colin joined a group of Maryland students in Washington to celebrate the development.
As for their own marriage, Michael proposed to Colin on Christmas Eve 2016, bringing levity to the moment by presenting his new fiance a Ring Pop. The couple took engagement photos at UMD, and then wed at Gramercy Mansion near Baltimore.
On the home front, the couple enjoy preparing meals together, among them brie and pear grilled cheese sandwiches, with a "spin-off" Waldorf salad. "I would say like most suburban people, we enjoy a weekend on the deck grilling, gardening and hanging out," Michael says.
As for keeping their marriage vibrant, Colin offers this advice: "Communication is key. We touch base with each other pretty often, and we don't keep secrets from one another. We talk about any aspect of our lives, any time. When problems arise, because problems are always going to arise, it is us versus the problem, not one of us versus the other."
Adds Michael: "I'm an engineer, so I'm a problem solver. The fact that I have a partner, somebody who I can work with and not against, is very effective when we recognize a problem."
In that department, at least, there will be no games.
###
The Alumni Blog connects you with the latest at UMD. Check out articles on advancing your personal and professional goals, elevating your UMD pride, and celebrating Terp traditions, legacies and accomplishments. For even more content, follow the Alumni Association on Facebook, Instagram, Twitter, LinkedIn and YouTube. Become a UMD Champion to receive monthly shareable pride points, news and more straight to your inbox.