Home
About Us
News & Stories
Getting Professional, with David Rosenstein '20
Getting Professional, with David Rosenstein '20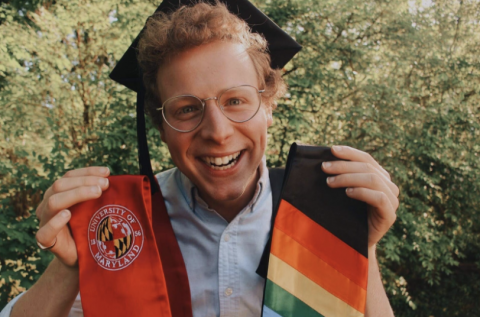 By Spencer Friedman '22
This class of 2020 alumnus bolstered his resume in his time at UMD, and now helps others do the same. When the start date for his job offer out of college was pushed back, he continued working on his capstone project, helping prepare students for their careers.
Why UMD?
David Rosenstein '20, from New Rochelle in Westchester, NY. was looking for a university with a top business school that was driving distance from home. He said, frankly, that he wanted to choose a school in which he looked best in its colors. Red it was, as Rosenstein committed to the Robert H. Smith School of Business at the University of Maryland.
What clubs and organizations do you feel you benefited most from?
In his first semester at UMD, Rosenstein was part of the College Park Scholars program for Business, Society and Economy (BSE). This provided him a solid community right away, which he liked coming from out-of-state. BSE ultimately led David to the QUEST Honors Program, which he says, "Opened so many opportunities within the business school." He then became Vice President of Sussa and President of UMD's American Marketing Association, an award-winning chapter. In addition, Rosenstein became involved early as a UMD tour guide. He had an excellent tour guide who influenced his commitment to Maryland, so he wanted to have the same impact on other prospective students.
Have you picked up any new hobbies or interests since graduation?
Rosenstein said he now has a lot of more time to watch TV shows and read books. He said he loves to 'nerd out' about anything relating to psychology-based leadership. Additionally, he is training to run a half-marathon in the near future.
Where do you currently work, and what's your job title?
Rosenstein's job offer to work at LinkedIn in San Francisco was pushed back to July 2021 due to the pandemic. In the meantime, he launched a career-coaching company that started as his capstone project senior year. Rosenstein helps students with career clarity and making jobs they desire more attainable. This includes building students' LinkedIn profiles, professionalizing their resumes, leading workshops and rekindling his efforts with the American Marketing Association. He plans on doing this full-time until July, when he will move to the West Coast to start his job with LinkedIn.
What's your advice for current and recently graduated terps?
"Horizontal networking is more important than vertical networking," Rosenstein says, "When we are in college, we're so focused on vertical networking - trying to climb up a ladder. It's really important to maintain and cherish the relationships you have with your peers. You're either going to hire them, or they're going to hire you."
###
This 20-part series highlights successful University of Maryland alumni from the Class of 2020. Are you a Class of 2020 graduate? Reach out to Jessica Lee (jlee1021@umd.edu) to learn more about getting involved with your Alumni Association. The Alumni Blog connects you with the latest at UMD. Check out articles on advancing your personal and professional goals, elevating your UMD pride, and celebrating Terp traditions, legacies and accomplishments. For even more content, follow the Alumni Association on Facebook, Instagram and Twitter.