Home
About Us
News & Stories
Going Beyond Your Limits, with Adam Reisfield '20
Going Beyond Your Limits, with Adam Reisfield '20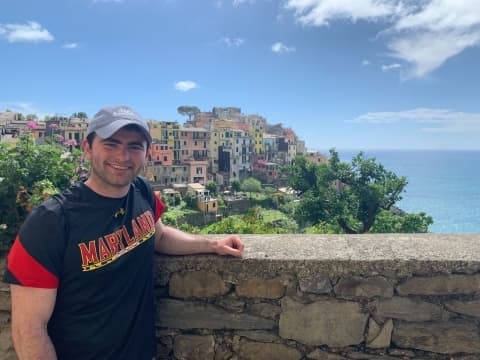 By Spencer Friedman '22
This class of 2020 alum is teaching himself something new every day. He uses skills he learned in the Robert H. Smith School of Business in addition to newly acquired skills to help grow a startup company.
Why UMD?
Adam Reisfield '20, from Ramsey, NJ, always grew up loving sports. He essentially only decided between large state schools with renowned sports programs. Fitting that description to a tee, he committed to the University of Maryland. He also noted that the location near Washington, D.C. was important when comparing Maryland to other Big Ten schools.
What clubs and organizations were you involved in at UMD?
Reisfield paid homage to the Greek community at UMD by serving as president of his individual fraternity, Zeta Beta Tau, and as president of Order of Omega, which recognizes the top 3% of Greek life. He will be honored with a brick on fraternity row with his name on it to recognize his efforts.
He was also involved in the Robert H. Smith School of Business as a teaching assistant for a career strategies class. He learned how to make a stellar LinkedIn profile and how to network efficiently.
Lastly, he boosted his confidence and improved his public speaking skills by working as a campus tour guide.
Have you picked up any new hobbies or interests since graduation?
Reisfield used a lot of his free time to teach himself about a Bubble.io software called NoCode. Coming out of college, he only had a basic understanding of coding, but now he uses this software to empower the skills he already has.
To stay physically active he plays tennis, disc golf and goes on hikes.
Where do you currently work, and what's your job title?
Reisfield is a growth associate at a startup company called Parabola. He is focused on becoming a master of the company's software. He answers support tickets and helps customers one-on-one to build them different automations for their business. Reisfield is also helping develop the startup's sales division by negotiating with current customers. He is excited to relocate to San Francisco this summer to begin working for Parabola in person.
What's your advice for current and recently graduated terps?
Reisfield urges students that, "You don't need permission to begin doing what you're interested in working on." Adding, "You're capable of a lot more than you think you are with today's technology."
###
This 20-part series highlights successful University of Maryland alumni from the Class of 2020. Are you a Class of 2020 graduate? Reach out to Jessica Lee (jlee1021@umd.edu) to learn more about getting involved with your Alumni Association. The Alumni Blog connects you with the latest at UMD. Check out articles on advancing your personal and professional goals, elevating your UMD pride, and celebrating Terp traditions, legacies and accomplishments. For even more content, follow the Alumni Association on Facebook, Instagram and Twitter.