Home
About Us
News & Stories
Incoming Board President Shares His Vision of Terp Connectedness
Incoming Board President Shares His Vision of Terp Connectedness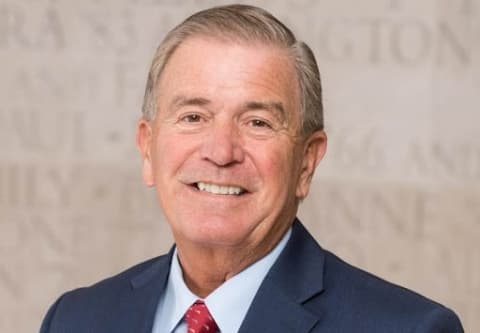 By Sala Levin '10
After over a year of remote programming and distanced interaction, Jeffrey Rivest '75 is beginning his term as president of the University of Maryland Alumni Association's Board of Governors just as things are "kicking into high gear," he said. "There's a lot of energy."
Rivest is eager to use that energy to fuel a renewed community of Terps, one that's prepared to provide the best support it can to UMD and its students.
"To quote our university president, Dr. Darryll Pines, 'the strength of a university is defined by the success and loyalty of its alumni,'" said Rivest.
Terps don't come much more loyal than Rivest. Born in Washington, D.C., and raised in Prince George's County's District Heights neighborhood, his "early family life was all Maryland-centric," he said. He played in a number of county-wide youth basketball tournaments held in Reckord Armory, and participated in several regional science fairs hosted on campus.
"Add to that my deep interest in Maryland basketball from a very young age, and everything pointed me toward Maryland," Rivest said. "It was really the only place I wanted to attend for college."
Once on campus, Rivest majored in biological sciences and joined the Phi Delta Theta fraternity, eventually becoming president. But one college experience stands apart from the others for Rivest: meeting his future wife, Michelle (Mickie), on the steps of the math building (now Kirwan Hall), where they were introduced by a friend.
"It was the best day of my life," said Rivest.
Rivest and his wife, Mickie, at Rivest's graduation in 1975
Rivest planned to be a doctor, but eventually switched gears to work in hospital administration. "It was really the people in that environment and the excitement of that environment" that drew him to the field, he said. After college, Rivest earned a master's degree in hospital administration and financial management from The George Washington University. After beginning his career at The Johns Hopkins Hospital, he went on to become chief operating officer of the Children's Hospital of Philadelphia, and president and CEO of the University of Maryland Medical Center.
Right around the time of Rivest's retirement in 2016, an acquaintance from the Alumni Association reached out to encourage his involvement. "It was perfect timing," he said. "I really enjoyed it. I enjoyed being a mentor to students, helping sustain and make a connection, doing things that I think helped elevate Maryland's image."
A key priority for Rivest's tenure as president is to "build that loyalty and that community of Terp alums," he said. One way he plans to do that is by continuing virtual-friendly programming. "Certainly we've learned in the last year that we can do a lot more Zoom than we ever imagined, and I think we're going to take advantage of what everybody's learned on that," he said, allowing Terps across the country to stay connected.
Rivest urges new or prospective Alumni Association members to look into the more than 50 volunteer networks that match their professional, personal or geographic affiliations. "You can connect to a group you identify with and that are all Terp alums," he said. "The energy of the people in these groups is a lot of fun, and everybody has a common bond."
For many Alumni Association members, Rivest said, the greatest perk is having a reliable network of professional contacts. "Lots of Terp alums in certain career paths are very, very open to be helpful to others," he said. "That's a rewarding thing to see."
###
The Alumni Blog connects you with the latest at UMD. Check out articles on advancing your personal and professional goals, elevating your UMD pride, and celebrating Terp traditions, legacies and accomplishments. For even more content, follow the Alumni Association on Facebook, Instagram, Twitter, LinkedIn and YouTube. Become a UMD Champion to receive monthly shareable pride points, news and more straight to your inbox.