Home
About Us
News & Stories
Inspiring Terp Alums Share Experiences at Terps Under 30
Inspiring Terp Alums Share Experiences at Terps Under 30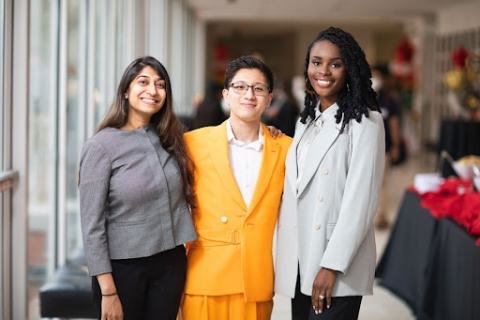 By Athena Sackleh '22 and Amir Kalantary '22
On April 6, current Terps and Terp alums gathered together for the Student Alumni Leadership Council's (SALC) fifth annual Terps Under 30 hallmark event. Terps Under 30 is a national award-winning event that aims to connect students and alums through a TED talk-style program featuring keynote alum speakers all under the age of 30. The event kicked off with a networking portion that included light hors d'oeuvres, followed by an inspirational program from our proud Terp speakers, then finished off with a moderated Q&A with the audience. Read on to learn more about this year's speakers.
Jaime Martin Ko Atilano '20 (he/she/they)
Jamie graduated from the University of Maryland with a degree from the Smith School of Business in 2020. Jaime spoke about their experience growing up in an immigrant household from the Philippines, and stressed the importance of community and leaning into the people whom you "worked in the trenches with in the library" when embarking on your professional path. Atilano left the group with three key takeaways: ean into your community, have an agenda ready to prepare you for success, and know your "why."
Sarah spoke about her experiences growing up in Denmark and then moving to the United States with her single mother. Once in the United States, she faced an incredible amount of adversity when finding out her family had overstayed their visa and were classified as undocumented immigrants, forcing her to pay for her tuition completely out of pocket, coupled with a house fire which forced her to finish school from a hotel room. Also being a Black woman, Oke recounted how she felt the odds were stacked against her, and how she could tell many felt she was only there as a "diversity statistic."
In spite of all this, Oke was able to graduate from the University of Maryland in 2018 with a bachelors in bioengineering and biomedical engineering. Using this experience, Oke implored the audience to never give up on your hopes and dreams, and founded the AWISE (Advancing Women in Science & Engineering) network to help other young women advance their careers in STEM and overcome obstacles she had had to face alone.
Ashmi Sheth '14 (she/her)
Ashmi is a candidate running for the United States House of Representatives from New York's 10th district, encompassing parts of west Manhattan and Hell's Kitchen. A daughter of South Asian immigrants, Sheth shared the day-to-day, non-glamorous side of running a political campaign. "It's not just door knocking and shaking hands, it's the exhaustion and fatigue… for those of us who have to do it on our own." Sheth also shared her advocacy for those with disabilities and the challenges that come with that.
Each speaker shared their diverse and unique stories, but one thing they all had in common was their ability to overcome adversity and their passion for the University of Maryland.
Visit the SALC website and follow us on Instagram to learn more about all of the current SALC ambassadors, and how to apply to become a member.
###
The Alumni Blog connects you with the latest at UMD. Check out articles on advancing your personal and professional goals, elevating your UMD pride, and celebrating Terp traditions, legacies and accomplishments. For even more content, follow the Alumni Association on
Facebook
,
Instagram
,
Twitter
,
LinkedIn
and
YouTube
. Become a
UMD Champion
to receive monthly shareable pride points, news and more straight to your inbox.