Home
About Us
News & Stories
Inspiring Terps Under 30
Inspiring Terps Under 30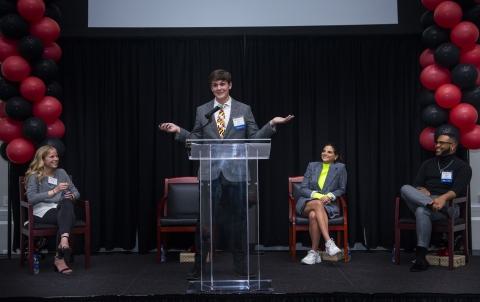 By Athena Sackleh '22, Ally Johnson '20 and Edom Mesfein '20
University of Maryland students and alumni are full of Fearless Ideas. In industries like business, government and politics, health care, marketing, entrepreneurship and others Terps are developing their fearless ideas and finding ways to implement them in the world.
On April 3rd, more than 150 Terps gathered for the Student Alumni Leadership Council's (SALC) hallmark event of the year, Terps Under 30: a TED talk-style program that provides students and alumni the opportunity to connect, network, and share their fearless ideas. This year's speakers, all proud Terps under the age of 30 included:
Although working in different disciplines and on different career paths, the speakers each shared their stories in hopes of inspiring the audience to follow their own curiosities. The boldness exemplified by the speakers encouraged students and alumni alike to discover their passion and give back to their community.
Terps Under 30 is just one example of many events hosted by SALC that aim to connect students, alumni and donors while strengthening the Terp community.
###
The Alumni Blog connects you with the latest at UMD. Check out articles on advancing your personal and professional goals, elevating your UMD pride, and celebrating Terp traditions, legacies and accomplishments. For even more content, follow the Alumni Association on Facebook, Instagram and Twitter.