Home
About Us
News & Stories
Joel '70 and Barbara Buschek '72: Golden Terps
Joel '70 and Barbara Buschek '72: Golden Terps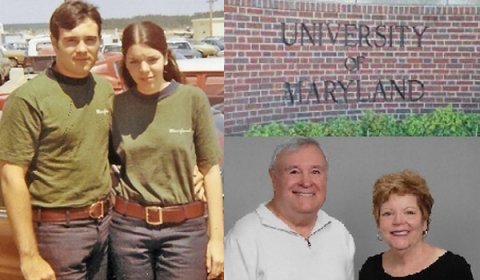 Kimberly Marselas '00
Joel Buschek '70 decided to attend the University of Maryland after he was selected as an alternate to the U.S. Air Force Academy, and his dreams of flying were temporarily dashed.
Over the next four years, he would discover a new path to flight, develop the fundamentals needed for a lifelong career — and find a very special copilot for a journey that has spanned more than half a century.
Buschek was a senior when he bumped into sophomore Barbara Heckman 72' at a Ritchie Coliseum dance during the spring of 1970.
Joel never wore a slide rule on his belt and wasn't exactly an introvert, but he had a fondness for the mathematics library and often got tagged as a "nerd" by virtue of being an engineering major.
Barbara, on the other hand, was an education major minoring in fine arts, a fan of the day's short skirts and flashy bell bottoms who had recently modeled for a fellow student's photography exhibit.
Barbara also had a boyfriend on their first meeting. And by the time she was ready to go out with Joel, he was preparing for graduation and a Navy enlistment.
"Some people thought we were an unlikely couple, but we sure showed them!" says the now-Barbara Buschek. "We always had fun at Maryland, but it was better after we met."
In 1970, anti-Vietnam protests sent the campus into routine lockdowns. The couple watched in awe as the world shifted, feeling out a new relationship amid such tumultuous times.
Joel worked and commuted to campus for his first two years, putting himself through school after his parents retired to New Mexico. But once he moved on campus, he became more involved, tutoring fellow engineering students and heading on ski club trips.
"The engineering that I studied was top notch," said Joel, who served more than four years in the Navy before eventually earning a master's degree in international commerce and founding his own company. "I was able to, as a student and in my job on campus, learn a lot of the technology of the time."
The technological revolution taking place was almost as dramatic as the shifting culture. Engineering was moving from motors to transducers, from analog to digital. The university was also investing heavily in computer science at the time.
Barbara came from nearby Chevy Chase, and sharing a dorm room in "boisterous" Denton Hall and large lectures with hundreds of classmates were eye-opening experiences.
Always outgoing, she accepted Joel's offer for a first date not long after they'd met at Ritchie. They went to a discotheque in Georgetown called The Attic and had a terrific time. But Barbara was hesitant knowing Joel was set to report to the Navy in a few months.
"I felt that most likely I would never see him again," she recalls. "It didn't matter. We fell in love."
They stayed in touch through letters, payphone calls during which they spent many a quarter, and shared vacations. During Barbara's senior year, Joel was transferred to the Pentagon as a naval aviation and intelligence officer.
He proposed, and in the summer of 1971, the couple married and moved to an apartment in Greenbelt so Barbara could finish her degree.
She ended up student teaching at an elementary school in Laurel, where the principal had once taught Joel. Barbara would teach five years before starting a family — the couple has two children and four grandchildren — and returned to it over the years in different capacities when not assisting Joel with his company.
Now officially retired, the couple lives in Orlando but still has an affinity for Maryland, the place where their story began all those years ago.
They are truly Golden Terps.
###
The Alumni Blog connects you with the latest at UMD. Check out articles on advancing your personal and professional goals, elevating your UMD pride, and celebrating Terp traditions, legacies and accomplishments. For even more content, follow the Alumni Association on Facebook, Instagram, Twitter, LinkedIn and YouTube. Become a UMD Champion to receive monthly shareable pride points, news and more straight to your inbox.