Home
About Us
News & Stories
Legacy Award: John C. Ford '64 and Sandra Sollod Poster '64
Legacy Award: John C. Ford '64 and Sandra Sollod Poster '64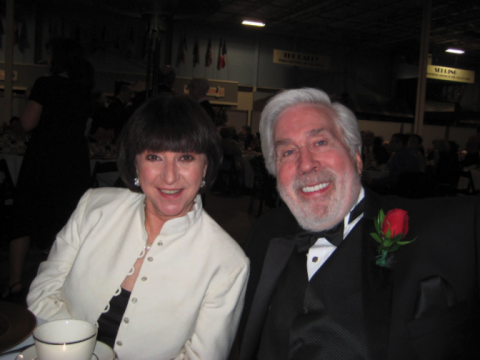 By Allison Eatough '97
Fellow Terps and philanthropists John C. Ford '64 and Sandra Sollod Poster '64 have been married for 28 years. But their history with UMD dates back to 1960, when they were both freshmen radio and television students.
"We met when we both auditioned for the production of 'South Pacific,'" Ford said. "She worked crew, and I ended up playing a Seabee."
From there, their friendship and involvement on campus grew. They ate lunch together in the dining halls. They both hosted their own radio shows on WMUC, the campus radio station. And they gleefully participated in the Flying Follies, a performance group that entertained members of the U.S. military.
"You had so many choices at the university," Poster said. "It was a big school with big opportunities and big horizons."
After graduation, Ford and Poster went their separate ways. Ford began a successful communications career, working for companies like CBS, ABC and HBO before forming his own leadership consulting company. Poster earned her Ph.D. and became an esteemed professor and dean at Borough of Manhattan Community College, her academic home for 50 years. She also earned an Emmy award for script writing and still works as a communications consultant for nonprofits and corporations.
Even though their lives took different paths, Ford and Poster stayed in touch with each other, as well as with Tom Aylward, former head of speech communications at UMD.
In the mid-1970s, when Ford was director of education and training at CBS, Aylward invited him to speak with a group of students interested in radio and television careers.
"When I got together with Tom, before the presentation, he said, 'Have you thought about becoming more active with the university?' I said, 'I've thought about it.'"
Aylward's response: "Well, we would love to have you not only volunteer but also have your dollars. By the way, you and Sandy still friends? Have you ever thought about maybe being more than friends?'"
In 1993, Ford and Poster married, with Aylward in attendance at the wedding.
When the couple reunited, they realized they wanted to do more for the university that had given them so much.
"Sandy and I feel enormously grateful for having had a superb education at Maryland," Ford said. "Both of us often talk about how lucky we were to have had a state university education that was so excellent."
"To me, the greatest gift you can give to someone is education," Poster added. "People from all over the world come to the United States to pursue an education like the one the University of Maryland can give. It changes lives. It changes generations."
In 2003, the couple helped establish the Dorothy Madden Dance Scholarship in honor of the founder and first chair of UMD's Department of Dance. Then in 2009, they established the Meriam Rosen Scholarship for Excellence in Dance in honor of a former Department of Dance professor. Ford's will also establishes an endowed professorship and scholarships in the TDPS program.
Additionally, he serves as the chair of the School of Theatre, Dance and Performance Studies (TDPS) Board of Visitors, where he worked with Leigh Smiley, TDPS associate professor emerita and former director.
To recognize their ongoing dedication to UMD, the UMD Alumni Association has awarded the couple with an Alumni Excellence Legacy Award.
"John and Sandy are marvelous ambassadors for our work, and they demonstrate the strength of the education they received at UMD," Smiley said. "I am beyond grateful to have had their friendship and advice as a leader and am delighted that UMD is honoring their many contributions to the fabric of this extraordinary university."
###
The Alumni Blog connects you with the latest at UMD. Check out articles on advancing your personal and professional goals, elevating your UMD pride, and celebrating Terp traditions, legacies and accomplishments. For even more content, follow the Alumni Association on
Facebook
,
Instagram
,
Twitter
,
LinkedIn
and
YouTube
. Become a
UMD Champion
to receive monthly shareable pride points, news and more straight to your inbox.