Home
About Us
News & Stories
Legacy Award: Jonathan Claiborne '77
Legacy Award: Jonathan Claiborne '77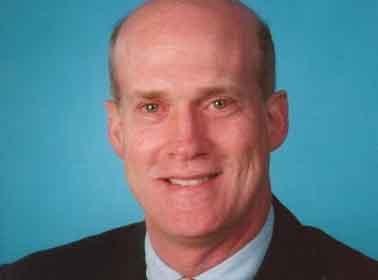 By Allison Eatough '97
When Jonathan Claiborne enrolled at UMD, he had no intention of playing football – even though his father was the newly hired coach of the Terps' football team. He wasn't even sure he wanted to attend the university at all.
But after working out with a friend and fellow athlete the summer before his freshman year, Claiborne changed his mind.
"I'd been playing sports my whole life, and I thought, 'It really would be neat to see what college football is like,'" he recalled. "I sat down with my dad and said, 'Hey, would you mind if I walked on and went out for the football team?'"
"Sure, if that's what you want to do," his father replied. "But on one condition. You can't quit."
"It's a standard condition of our household," Claiborne said. "He didn't mean I could never quit. He meant I had to finish the season."
Claiborne didn't just finish the first season. The walk-on athlete went on to become a first-string safety for the team and a two-year starter. He also played on three bowl teams and joined Omicron Delta Kappa (ODK), a nationally recognized leadership honor society, and Beta Alpha Psi, an honor and service organization for financial and business information students. And he was a two-time winner of the George C. Cook Award, given to the Terp varsity football player with the highest grade point average.
Claiborne graduated magna cum laude in 1977 with degrees in business and history and has been giving back to UMD ever since.
"I thoroughly enjoyed my time at Maryland," Claiborne said. "I appreciate how strong of an academic education I received and how much fun I had there. I'd like to think I have shared that appreciation with others."
Claiborne, a recipient of this year's Alumni Excellence Legacy Award, has served as president of UMD's former Young Alumni Organization and the M Club. He also helps fund the C. D. Mote, Jr. Incentive Awards Program (IAP), a scholarship and leadership program for local high school students with financial need. The program began for students in Baltimore, where Claiborne worked for more than three decades as a law partner with Whiteford Taylor Preston.
"It's a great program," he said. "Between 15 and 25 students a year become a part of this group that has social organizations and mentoring. It's really a total package to help you through the college experience."
Claiborne is not only a champion for IAP but also for its students, said Michelle Packer, chief development officer, Office of Undergraduate Studies.
"Jonathan regularly engages with current and prospective students vying for a spot in the IAP," Packer said. "If he could find a way, he would undoubtedly want us to select even more IAP scholars each year… What makes him so remarkable is his humility and kindness. We, in the Office of Undergraduate Studies, are most grateful that this dedicated alum was selected to receive the Legacy Award."
###
The Alumni Blog connects you with the latest at UMD. Check out articles on advancing your personal and professional goals, elevating your UMD pride, and celebrating Terp traditions, legacies and accomplishments. For even more content, follow the Alumni Association on
Facebook
,
Instagram
,
Twitter
,
LinkedIn
and
YouTube
. Become a
UMD Champion
to receive monthly shareable pride points, news and more straight to your inbox.