Home
About Us
News & Stories
Loving the Language of Numbers
Loving the Language of Numbers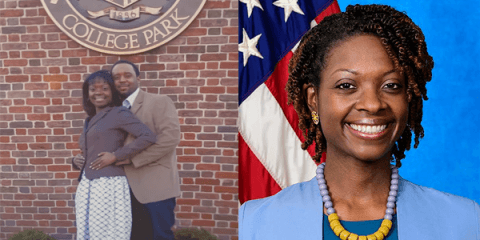 By Allison Eatough '97
With three degrees in mathematics, there's no question Calandra Tate Moore M.S. '03, Ph.D. '07 excels in numbers.
The Louisiana native spent more than a decade working as a mathematician and math professor before becoming a data scientist for the U.S. Department of Defense in 2016.
But the inspiration for her current post and research interests began in an unexpected place: the Parisian suburb of Wissous, France. At age 16, Moore traveled to the town as a foreign exchange student.
"It was a game-changing moment for me," she said. "It sparked my interest in language."
That interest grew in 1999, when Moore earned a graduate fellowship sponsored by the U.S. Department of Defense Army Research Laboratory. Along with attending classes at UMD, she solved complex language problems as a member of the lab's multilingual computing team.
"There's actually a lot of math," she said. "In the simplest sense, in order for you to know that 'bonjour' means 'hello,' usually you're calculating some sort of probability. What's the probability based on how many times I've seen the words 'bonjour' and 'hello' together in parallel French-English translations?"
After earning her Ph.D., Moore taught math at the U.S. Military Academy at West Point and the College of Staten Island.
"I got a Ph.D. because I wanted to be an academic," she said. "I was going to be a college professor and, eventually, I wanted to be a university president."
While she enjoyed teaching, Moore welcomed the opportunity to return to government work – especially for a job that combines her love of math, computers and language.
At the Defense Department, Moore supervises a team of human language technology researchers.
"We're called VISTA research, so video, image, speech and text analytics," she said. "We both look at existing techniques and create new ones to figure out how you best process a variety of foreign language data (for) research and mission purposes."
"It's a service at the end of the day," she added. "It's like I'm contributing to a mission, which is protecting and defending our nation."
Still, she hasn't ruled out a future in the classroom.
"I could definitely see myself going back to teaching," she said. "I also realize there aren't a lot of people with deep technical experience who do sign language, so I say a retirement goal I have is to learn sign language and become a technical sign language interpreter."
When she's not conducting research, Moore enjoys spending time with her husband, Eulus Moore M.S. '05, and their two daughters. She is also an active volunteer as a delegate to the Montgomery County Council of PTAs and the NAACP Parents Council.
###
The Alumni Blog connects you with the latest at UMD. Check out articles on advancing your personal and professional goals, elevating your UMD pride, and celebrating Terp traditions, legacies and accomplishments. For even more content, follow the Alumni Association on
Facebook
,
Instagram
,
Twitter
,
LinkedIn
and
YouTube
. Become a
UMD Champion
to receive monthly shareable pride points, news and more straight to your inbox.