Home
About Us
News & Stories
Making College Meaningful, with Sara Pohland '20
Making College Meaningful, with Sara Pohland '20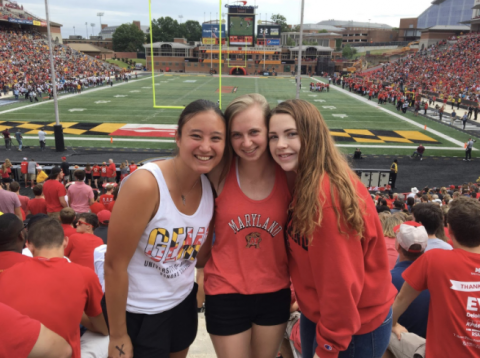 By Spencer Friedman '22
This 2020 alumna used her time at UMD to branch out. As an engineering student and gymnast, she made meaningful relationships with people of many different backgrounds during her four years in College Park.
Why UMD?
Sara Pohland '20 always sought a bigger school feel because she knew it would offer diverse opportunities and different types of people she was never exposed to at home in Odenton, Md. She also says she appreciated the unique club opportunities at the University of Maryland.
What clubs and organizations were you involved in?
The Gemstone Honors Program stood out to Pohland, and she considers it to be one of the best organizations on campus. Through this four-year program, she lived with the same peers every year of college. Sara said Gemstone taught her how to be a leader, and provided her with an everlasting friend group.
Gymkana, a gymnastics and acrobatics group, is another program Pohland enjoyed at UMD. The program required several hours of practice per week and got her into good physical shape. During quarantine she said she has practiced more dance than gymnastics, because dance is more practical for her to do at home.
Where do you currently work, and what's your job title?
Pohland just started her Ph.D. studies in electric engineering and computer science at UC Berkeley. Right now, her studies consist of daily video calls at home. Pohland's end goal is to land a job doing research in controls emission learning to combine her interests in science, communication and educating K-12 students.
Simply put, Pohland describes controls emission learning as, "A system that takes various inputs, then outputs something in particular to do that function."
What advice do you have for current students and recently graduated Terps?
Pohland recommends Terps,"Get involved in activities that maybe don't pertain to your major, because it makes college more meaningful and you make diverse connections."
###
This 20-part series highlights successful University of Maryland alumni from the Class of 2020. Are you a Class of 2020 graduate? Reach out to Jessica Lee (jlee1021@umd.edu) to learn more about getting involved with your Alumni Association. The Alumni Blog connects you with the latest at UMD. Check out articles on advancing your personal and professional goals, elevating your UMD pride, and celebrating Terp traditions, legacies and accomplishments. For even more content, follow the Alumni Association on Facebook, Instagram and Twitter.