Home
About Us
News & Stories
Marching On, After a Year Like No Other
Marching On, After a Year Like No Other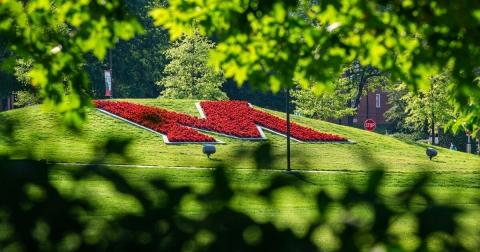 By Kimberly Marselas '00
On March 7, 2020, more than 200 business-minded Terps gathered at the Samuel Riggs IV Alumni Center for the inaugural EnTERPpreneur Conference. They were greeted with big ideas and little bottles of hand sanitizer, as a novel coronavirus began to spread across the U.S.
Days later, the campus and the state shuttered their doors, creating a pause in programming unlike anything in the Alumni Association's 31-year history.
Instead of being discouraged by social distancing mandates, the organization found new ways to help alums and students engage with each other, find meaningful career and social support and embrace their university.
"Within two weeks, we pivoted to webinars on how to work at home, and it was exciting to see how many people we were able to engage," says Amy Eichhorst, assistant vice president of Alumni Relations for the University of Maryland and executive director of the Alumni Association. "Terps wanted to connect with their alma mater — not a bunch of strangers."
That instant shift to virtual platforms was a boon in COVID-19's early days, but staff recognized quickly they would have to roll out more robust opportunities to stay relevant.
"We had a great lineup to help alums navigate the pandemic," says Jeffrey S. Williams, the Alumni Association's managing director and chief outreach officer. "Alumni just ate it up. The tricky part was to keep that momentum going."
Two months into the pandemic, Williams and his team created Camp Diamondback, a six-week virtual summer camp to help entertain and educate Terps of all ages. More than 250 children from 150-plus families and another 100 alums aged 21-plus participated in themed weeks, with alumni, staff and faculty teaching lessons in music, crafting and more. To close the camp, Eichhorst hosted a virtual campfire from her backyard.
That summertime success was followed by "one innovation after another," says Williams.
New initiatives inspired (or necessitated) by COVID-19 included an alum cookbook to tap into the culinary boom of 2020; theme weeks that combined virtual and real elements, such as Love Week's online dance lessons and at-home wine tasting; and tailored Terp Trips, with self-guided itineraries highlighting Terp-owned businesses in Baltimore, Washington, D.C., and Frederick, MD.
Those efforts were successful in many intangible ways, but they also produced valuable data showing just how in-demand Alumni Association offerings became. In 2020, the number of first-time event attendees outpaced the two previous years combined; more alums joined the Association than in any year since 2016; and the Association beat its lifetime membership goal by more than 50%.
The Council for Advancement and Support of Education, or CASE, also recognized high-quality programming with three national awards honoring the Association's creativity and resourcefulness during a period of sustained uncertainty.
Keeping Terps in Business
One overarching focus of efforts in 2020 and 2021 was supporting the entrepreneurial spirit the university and its graduates have come to be known for.
Starting last April, as it became clear that small businesses were being disproportionately affected by shutdowns, the Association launched a #TerpBusiness campaign to drum up support across social media channels. More than 100 alum-run companies have been promoted to encourage loyalty.
In addition, the Maryland Small Business Development Center at the University of Maryland offered extended support to entrepreneurs, and business profiles have been shared online.
The Terrapins Connect job board featured more than 1,600 postings — representing triple-digit growth during COVID — making alums aware of opportunities ranging from entry-level jobs to C-suite leadership. That success led to the creation of a new business directory, the Terp Referral Exchange, which will allow alums to create new business partnerships in-network with fellow Terps.
A September survey indicated Terps most want the Association to help them find jobs, build industry-based networks and improve professional skills. To that end, the Association plans to build on the success of a Career Boot Camp and is adding more career development staff to respond to the demand.
"COVID really reinforced the value and the importance of relationships," Williams says. "We're in the business of creating and strengthening relationships, and we want our alumni to know we're here for them."
Of course, university business carried on too, most notably with the installation of new President, Darryll J. Pines in late April 2021. Over several weeks, Pines introduced himself to alums via email videos, hosted small groups on live broadcasts accompanied by Eichhorst, and attended a virtual Q&A session with members of the Northern New Jersey Terps Alumni Network. In all, he met with thousands of people despite campus remaining closed.
"We were able to step up for him, and people could ask questions that they might not have been able to do without Zoom," says Eichhorst, underscoring the silver lining of virtual events. "Alumni feel connected to him in a way they might not have been otherwise."
Reflecting and Refocusing
Pines is looking forward to meeting in person with students and alums, with campus set to reopen widely to vaccinated students and staff on Aug. 2. He's not the only one anticipating a return to normalcy.
Starting Sept. 7, the Association and other university organizations will return to hosting large-scale, live events, welcoming the Roaring 20s to campus with Homecoming tailgates; hosting regional events such as crab feasts; and resuming the Association's popular travel program with a BIG10 Alaskan cruise.
What won't disappear, though, are robust virtual offerings that can help keep alums connected no matter where they live or what their professional or personal interests are.
"The future is in-person. The future is hybrid, where you're not just watching something but some people are in person and some are remote and you're actually able to engage with each other. And at times, the future will still be purely virtual," Eichhorst says. "Doing all three is the challenge, but we're totally up for it."
The Association now has access to Zuddl, an event-hosting platform that accommodates large groups but also supports small break-out rooms to foster more personal connections. Meanwhile, Pines has stocked up on special turtle pins that he will only hand out to alums he meets in person.
No matter individuals' comfort level as the nation emerges from the pandemic, the Association remains ready to adapt and offer new ways to bring graduates under the shell.
"We can't wait to have you back, whether you come to campus or a regional event or participate online," Williams says. "By being an engaged member of our community, you make the entire Terp network stronger and more dynamic."
###
The Alumni Blog connects you with the latest at UMD. Check out articles on advancing your personal and professional goals, elevating your UMD pride, and celebrating Terp traditions, legacies and accomplishments. For even more content, follow the Alumni Association on Facebook, Instagram, Twitter, LinkedIn and YouTube. Become a UMD Champion to receive monthly shareable pride points, news and more straight to your inbox.