Home
About Us
News & Stories
Mazi Mutafa '06, Founding Executive Director of Words Beats & Life
Mazi Mutafa '06, Founding Executive Director of Words Beats & Life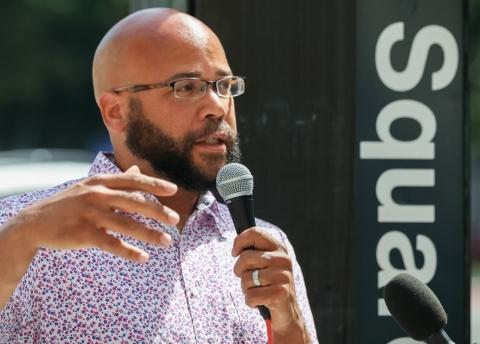 By Sonya Brown '02
Mazi Mutafa '06 is founding Executive Director of the non-profit, Words Beats & Life. He shares how he remained active, nurtured his passions and fostered connections during undergrad. And later, he used those same ingredients to create a successful non-profit company that enriches the community.
Were you active in any activities or organizations on campus?
I was highly active during my time on campus. I worked at Nyumburu Cultural Center, co-founded four student groups: Brothers in the Struggle, Sisters in the Struggle, United in the Struggle and the Black Student Leadership Council. I also served as the Black Student Union president from fall 2000 through spring 2001. After becoming a brother of Phi Beta Sigma Fraternity Incorporated, I served as president of the Epsilon Psi chapter from fall 2001 through spring 2002.
What is your favorite memory from UMD?
My greatest memories were those where I worked with fellow Terps Clayton Walton M. Ed '02 and Toby Jenkins M. Ed '01 on student programming. Both of them were pursuing their masters while I was an undergraduate student. Because of their perspective as graduate students, Clayton and Toby were able to engage the students in a way that inspired me.
What inspired you to start Hip-Hop Week on campus while you were in undergrad?
I was encouraged by Saafir Rabb '07 to found Hip Hop Week after being inspired by a grad student who held a smaller version the year prior. I created a weeklong event that included conferences, volunteer events and many guest speakers. I credit the success of this event to my all-inclusive approach. Focusing on all student body minority communities versus only the African American demographic, this approach helped build support and connection, and ultimately grew the success of the annual event. This is my greatest strength as a leader - to build things that every community wants to be a part of, not just the African American community.
Was there a faculty or staff member at UMD that had a significant influence or impact on you?
Dr. Clyde Woods was a professor who later became my thesis advisor. I was drawn to him for his connection to hip hop and the way he approached academia. Another noteworthy faculty member was Eva George. At the time, she was the professor of African American Studies 202: Blacks and Popular Culture. During a gap year after graduating from high school, a friend invited me to sit in on the class. This class and professor were pivotal in my decision to attend the University of Maryland. There were many people that influenced me during my time at UMD through my active involvement with them outside of the classroom. These are two.
What is a lesson that you learned while at UMD?
The most important lesson I have learned during my time at UMD was that the impression you make on others stays. The truth is the image that others perceive is a part of who you are, but not all of who you are. Reflecting back, when I first came to UMD I had the nickname "Militant Mazi". People saw me wearing my military fatigue jacket, black power fist necklace and other Afrocentric stylings and assumed I was a militant black man. Although this was part of me, this was not all of me. Understanding that helped shape me into the man I am today.
What advice do you have for Black Terps?
For current students, take advantage of all the opportunities, connections and resources the university has to offer. Get involved in student groups, make connections with other students, faculty and staff. This is the time for you to grow your network. There are so many resources that you have access to at the university as a student. Failure to make use of your time and opportunities will only hinder your success once you enter the working world. As for alumni, make sure you maintain the relationships you built while attending UMD. If that means reaching back and reconnecting through social media or through old friends, these connections help grow the UMD community and keeps it strong. Another ask is for alumni to return to campus, once it is ok post COVID. Especially since racial tensions are high, we will need an all-inclusive approach to help move forward, offer support to one another and create change.
###
The Alumni Blog connects you with the latest at UMD. Check out articles on advancing your personal and professional goals, elevating your UMD pride, and celebrating Terp traditions, legacies and accomplishments. For even more content, follow the Alumni Association on Facebook, Instagram, Twitter, LinkedIn and YouTube. Become a UMD Champion to receive monthly shareable pride points, news and more straight to your inbox.