Home
About Us
News & Stories
Meet 2021 SALC Vice President of Administration, Athena Sackleh '22
Meet 2021 SALC Vice President of Administration, Athena Sackleh '22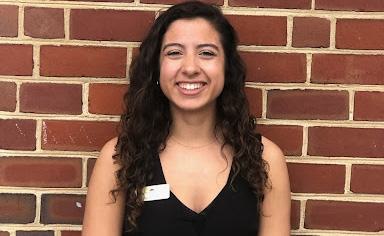 By Abby Humbel '21
Athena Sackleh '22 is a neurobiology and human physiology major originally from Hereford, Maryland. She is a Terp legacy and shares a passion for Maryland with her father who graduated in '78. She originally found out about the Student Alumni Leadership Council (SALC) at an alumni dinner during family weekend in 2018 and was encouraged by her father to branch out and join the organization. Sackleh joined and later served as the vice president of alumni programming and held a chair position for the Terps Under 30 alumni panel event. This year she is stepping into another leadership role as the vice president of administration.
"SALC has introduced me to so many opportunities and people that I wouldn't have gotten the exposure to without. SALC has become one big family and has allowed me to grow as both an individual and a leader on the UMD campus," Sackleh said.
Over her time in SALC, Sackleh's favorite project was working on the Built To Be Bold series where "bold" alumni spoke at an event modeled after Vogue's 73 Questions, a video series where celebrities are asked 73 rapid fire questions. This event came to light after Terps Under 30 was cancelled due to COVID-19 in the spring of 2020.
"I was determined to still engage both students and alumni even in unprecedented times and in a virtual environment. The event itself was very rewarding and we were able to host a second one virtually when we got back in the fall. I hope that this series can continue on in SALC as more members take on the role of VP Alumni Programming," Sackleh said.
Sackleh is excited to work in her new role of VP Administration which is more technical and administrative than her past, more programming-based role. Seeing how the behind-the-scenes of administration works has given her a new perspective on the organization and she is looking forward to engaging with all members of SALC rather than just one specific committee.
Sackleh's Fearless Idea "Inspires others to find their passion so they can use their abilities to give back and make a difference," just as she hopes to do.
Sackleh's favorite spot on campus is fraternity row. She loves lying out there to do homework and playing games like spikeball with her friends. And her favorite Maryland tradition? Rubbing Testudo's nose for good luck and making sacrifices during finals.
###
This series highlights the Student Alumni Leadership Council's (SALC) 2021 Executive Council. These students reveal how SALC has formed their experiences as student leaders and the goals they have for the future of the organization. For more information about visit salc.umd.edu. The Alumni Blog connects you with the latest at UMD. Check out articles on advancing your personal and professional goals, elevating your UMD pride, and celebrating Terp traditions, legacies and accomplishments. For even more content, follow the Alumni Association on Facebook, Instagram and Twitter.