Home
About Us
News & Stories
Meet 2021 SALC Vice President of Alumni Programming, Emily Leo '22
Meet 2021 SALC Vice President of Alumni Programming, Emily Leo '22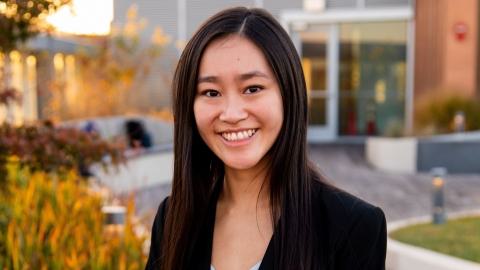 By Abby Humbel '21
Emily Leo '22 is a bioengineering major from Potomac, Maryland. Leo has strong roots to the University of Maryland with 27 Terp alumni (and counting) in her family. Leo said her Terp legacy makes being a part of the Student Alumni Leadership Council (SALC) so much more personal and special.
Leo joined SALC in January 2020 as a sophomore and was a member for one year before taking on the new role of VP of Alumni Programming.
Leo first fell in love with alumni relations programming as the alumni chair of the STEM sorority, Alpha Omega Epsilon, when she was a sophomore. In that position, she facilitated a mentor program and planned networking events, brunches, tailgates and other alumni events.
"I loved interacting with alumni and felt passionate about keeping them engaged with current students. Shortly after I started the position, I stumbled across the SALC instagram by chance and was blown away by the fact that there existed an organization for alumni-student relations for the whole campus! I knew I wanted to get involved and it was perfect timing because I found the instagram right when applications were open," Leo said.
Leo enjoyed the process of putting together the Terps Under 30 alumni panel event which occurred March 30, 2021. She said she did not realize all of the things that went into planning an event like this as a general member, and she appreciates seeing the moving parts involved with the event-planning process. "I get to use my creativity and organizational skills to put it all together," Leo said.
In her SALC role, Leo's main duties include logistical planning and organizing of alumni events. She was honored to be a part of the planning for Terps Under 30 because it is one of SALC's award-winning events, and this year is the first time it has gone virtual.
"One goal I have for SALC is to make the most out of this virtual environment and to continue to bring our positive energy and presence all over campus. For my committee, I hope that we can bond more and get to know the new members," Leo said.
Leo's Fearless Idea "empowers women to pursue their dreams in engineering and STEM and instills confidence in future and current students." As a Maryland legacy, Leo's favorite tradition is the pride Terps have in our mascot. She also loves the Testudo offerings during finals season because they are so unique to UMD.
"Pre-COVID I loved spending time in The Clarice. I would have dance classes and rehearsals in the spacious studios and would go extra early to study in the library that is there. Just like how dance is my outlet from school, The Clarice felt like a space for me to take a break from the craziness! I also love finding little nooks on campus to study outside when it's warm," Leo said.
###
This series highlights the Student Alumni Leadership Council's (SALC) 2021 Executive Council. These students reveal how SALC has formed their experiences as student leaders and the goals they have for the future of the organization. For more information about visit salc.umd.edu. The Alumni Blog connects you with the latest at UMD. Check out articles on advancing your personal and professional goals, elevating your UMD pride, and celebrating Terp traditions, legacies and accomplishments. For even more content, follow the Alumni Association on Facebook, Instagram and Twitter.