Home
About Us
News & Stories
Meet 2021 SALC Vice President of Marketing and Communication, Ninsiima Mugamba '23
Meet 2021 SALC Vice President of Marketing and Communication, Ninsiima Mugamba '23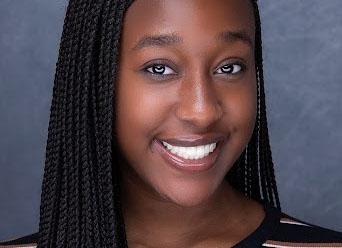 By Abby Humbel '21
Ninsiima Mugamba '23 is a public relations major with a minor in innovation and entrepreneurship. She is a first-year member of the Student Alumni Leadership Council (SALC) and is already taking on a leadership role as VP of Marketing and Communication. Although she is a new member, Mugamba said her experience in SALC has been amazing.
"Being surrounded by a great group of supportive and driven people is wonderful. I joined for the purpose of getting more involved in UMD traditions and culture that will last long after I leave the university," Mugamba said.
Her favorite SALC project so far is the New Member Spotlight post on Instagram. She said it gave her an opportunity to be creative and find a way to shine the spotlight on SALC's new members. She was able to use some design skills she obtained from her internship for this project and working on it helped her to get to know the other new members better.
Mugamba's role as VP of Marketing and Communication is to manage the SALC brand across all social media platforms, advertise SALC events and maintain an updated budget for the committee.
"One goal I have is implementing a creative social media series that can be replicated after my time as VP is over. I also want to create a safe environment within the committee that everyone is excited to be a part of," said Mugamba.
Mugamba said her Fearless Idea is "using my strengths to inspire others to strive for success beyond any boundaries imaginable."
The Coffee Bean is Mugamba's favorite spot on campus and her favorite tradition is shaking the Diamondback newspaper at basketball games.
###
This series highlights the Student Alumni Leadership Council's (SALC) 2021 Executive Council. These students reveal how SALC has formed their experiences as student leaders and the goals they have for the future of the organization. For more information about visit salc.umd.edu. The Alumni Blog connects you with the latest at UMD. Check out articles on advancing your personal and professional goals, elevating your UMD pride, and celebrating Terp traditions, legacies and accomplishments. For even more content, follow the Alumni Association on Facebook, Instagram and Twitter.