Home
About Us
News & Stories
Meet 2021 SALC Vice President of Membership, Shannon Cleary '22
Meet 2021 SALC Vice President of Membership, Shannon Cleary '22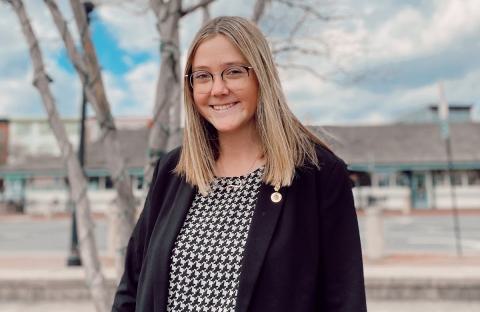 By Abby Humbel '21
Shannon Cleary '22 is from Orange County, California and studies public policy with a concentration in nonprofit leadership and a minor in arts leadership. She is serving as the 2021 VP of Membership for the Student Alumni Leadership Council (SALC) and previously served as the VP of Campus Programming in 2020.
Cleary has been a member of SALC since her freshman year. She wanted to find opportunities at UMD to grow as a leader and SALC has given her a multitude of opportunities to do so.
During her time in SALC, her favorite project she has worked on is the Member New Member (MnM) program where the newest SALC members are paired with older members to mentor them and help with the transition into the organization.
"When I first joined SALC, I was very timid and afraid to speak in meetings and professional settings. SALC has helped me grow into a stronger leader and I have been able to hold two executive council positions where I lead my peers and I have had opportunities to speak with University officials as well as Maryland Legislators. I love getting to work on the MnM program because I get to help the next generation of SALC leaders find their way through our organization and grow professionally," Cleary said.
In her role as VP of Membership, Cleary's main duties are to plan internal development events and lead recruitment initiatives. "I am really looking forward to finding new and effective strategies to recruit new members into SALC next fall. I am hoping to bring in another strong, diverse and passionate group of individuals," Cleary said.
Overall, Cleary has goals of executing a strong internal development plan to connect members personally and professionally. "Especially as we continue to work in the virtual setting, I hope to find opportunities that are very engaging and strengthen our organization," Cleary said.
Cleary has a strong sense of Maryland pride despite her Californian roots. With a passion for the arts, Cleary's Fearless Idea is, "to make arts education more accessible to vulnerable communities," and her favorite spot on campus to study and grab coffee is the Edward St. John Learning & Teaching Center. Her favorite UMD tradition is tailgating before football games. "I love getting the opportunity to come together with students and alumni to cheer on the Terps," Cleary said.
###
This series highlights the Student Alumni Leadership Council's (SALC) 2021 Executive Council. These students reveal how SALC has formed their experiences as student leaders and the goals they have for the future of the organization. For more information about visit salc.umd.edu. The Alumni Blog connects you with the latest at UMD. Check out articles on advancing your personal and professional goals, elevating your UMD pride, and celebrating Terp traditions, legacies and accomplishments. For even more content, follow the Alumni Association on Facebook, Instagram and Twitter.