Home
About Us
News & Stories
Meet the Board of Governors: Marguerita "Rita" Cheng '91, '93
Meet the Board of Governors: Marguerita "Rita" Cheng '91, '93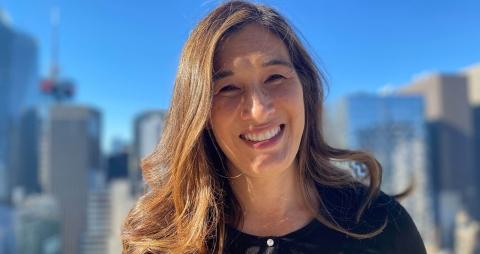 By Allison Eatough '97
The first time Marguerita "Rita" Cheng '91, '93 set foot on the University of Maryland campus was for freshman orientation.
"Can you imagine applying to a school and never going there except for orientation?" asked Cheng, who moved to the state at age 16. "I didn't know anybody, but I knew that Maryland was big and it could be overwhelming."
Determined to make the campus more intimate, Cheng began participating in extracurricular activities and clubs. Among them: Alpha Phi Omega, a co-educational national service fraternity. Cheng and fellow fraternity members raked leaves and painted walls at the Ronald McDonald House, sorted food for the Capital Area Food Bank and collected and recycled aluminum cans found on Fraternity Row to benefit St. Jude Children's Research Hospital.
Those experiences strengthened her connection to the school and set in motion a life of service, which includes her role on the University of Maryland Alumni Association Board of Governors.
Along with studying at the University of Maryland, Cheng studied abroad in Japan through a MEXT Scholarship – a Japanese Ministry of Education, Culture, Sports, Science and Technology scholarship that helps foreign students enroll in Japanese universities.
She graduated with a bachelor of arts degree in East Asian languages from the College of Arts and Humanities and a bachelor of science degree in finance from the Robert H. Smith School of Business.
"University of Maryland will always be special to me because I am the first one on my mom's side of the family to graduate from a four-year university," she said.
Cheng went on to build a successful career as a financial advisor and launched her own financial planning company, Blue Ocean Global Wealth, in 2013.
But in 2000, while reading an article about the Smith School, she learned the university needed new members for its Smith School Alumni Chapter Board.
Cheng applied, was accepted and served on the board for five years.
As a board leader, Cheng helped roll out the chapter's mentorship program. She also spoke with students about her experience as a woman in finance and the range of career options available for finance majors.
"They wanted the board to reflect the diversity of its students," she said. "I feel very proud of the work I did for the business school."
While her time on the board ended in 2005, Cheng's commitment to service continued in 2012 when she became an ambassador for the Certified Financial Planners Board of Standards. In the following years, she helped launch and direct 261 Fearless, a global non-profit organization dedicated to empowering and uniting women through running, and served as president of the Financial Planning Association of the National Capital Area.
Still, Cheng wanted to do more for her alma mater – especially since two of her three children with husband Joseph T. Haryanto '88 are also Terps.
"I'm an alum," she said. "I'm married to an alum. And at that time, I had a young alum and a current student at Maryland. I wanted to support Smith, as I always have, but I also want to support the university community as a whole."
So in 2019, Cheng proudly joined the University of Maryland Alumni Association's Board of Governors.
In the future, Cheng would like to see the Alumni Association grow its membership and expand its networking and scholarship programs. She also encourages both students and alums to share their views on the university with the board.
"The reason I think it's so important to support the university with our time, talent, treasures, networks and connections is because we're all Terps," she said. "When we make it better, it's better for everyone."
###
The Alumni Blog connects you with the latest at UMD. Check out articles on advancing your personal and professional goals, elevating your UMD pride, and celebrating Terp traditions, legacies and accomplishments. For even more content, follow the Alumni Association on Facebook, Instagram, Twitter, LinkedIn and YouTube. Become a UMD Champion to receive monthly shareable pride points, news and more straight to your inbox.