Home
About Us
News & Stories
Memories From (Virtual) Summer Camp
Memories From (Virtual) Summer Camp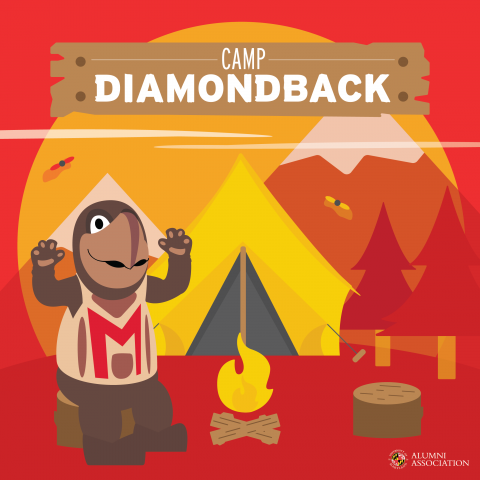 By Mary Bathon
Future Terps and University of Maryland alumni got to participate in a one-of-a-kind experience this summer: Camp Diamondback. The Alumni Association's engagement and outreach team knew this COVID-19 era summer would bring greater challenges to parents as children would be home all day without school or traditional summer camps to keep them occupied. The team put together an entirely virtual summer camp that included over 60 live events over 6 weeks, including numerous other pre-recorded videos and downloadable activities. Campers could participate in one or more of the themed weeks, including Music & Dance, Science & Engineering, Animals and more.
"Thank you so much for making this program available. The entire family had fun with the activities. The way you organized the content to allow access at any time was invaluable this summer!" - UMD alum and Camp Diamondback parent
This program would not have been possible without participation from across campus. Professors from the A. James Clark School of Engineering and the College of Computer, Mathematical, and Natural Sciences - many who work primarily with graduate students - lent their time to break down complex concepts into fun lessons for children ages 5-12. Materials Science Professor Isabel Lloyd was excited to participate in Camp Diamondback because her goal was to inspire a future generation of Terp engineers.
"My son LOVED Camp Diamondback last week. It was the STEM-focused week. Thanks to the association for coordinating this!" - Allison Eatough '97
Over 20 UMD students also participated by providing programming for camp. Clark School Ambassadors recorded easy-to-follow experiments and students at the Central Maryland Research & Education Center gave campers an inside look at the dairy herd responsible for the delicious ice cream at the Maryland Dairy. Students also showed off their outside the classroom skills by teaching campers how to skateboard, juggle and draw.
"I was impressed with the variety of events… ALL the counselors were so phenomenal and patient!! Each person was the right person for the job. It was also a great feeling to be included despite being far from home. My daughter loved it and cried on the last day, she did not want it to end. Thank you so much!" - UMD alum and Camp Diamondback parent
Our alumni community was integral to the success of Camp Diamondback, and many volunteers shared their careers and passions with campers. Some of the most popular sessions were led by PJ Galant '20 who graduated this May with a degree in Elementary Education. Camp Diamondback gave her an opportunity to jump into teaching before the school year started. Annapolis Terps Alumni Network board member Emily Brown '99 reached out to the reigning American Honey Bee Queen (and Princess) and taught a session about the importance of bees. NASA Aerospace Engineer Russell Werneth '64 shared exclusive photos and talked about his role in the Hubble Space Telescope program. And all the way from Orange County, California, Michael Bass '12 took campers out on a "pack walk" with his dog-walking company, OC Pup Scouts. For several alumni, Camp Diamondback was their first time volunteering with the Alumni Association. DaRyus O'Neil '07, '08 had been searching for a way to give back to his university, and he was able to share his creativity with campers by leading a dance class and two science experiments.
"[It] was a really great camp in the flexibility that it allowed, price, and offerings. Kudos to the Alumni Association." - Melissa Del Rios, Assistant Director, Carillon Communities
Over 170 families (including more than 280 children) participated in Camp Diamondback this summer and provided overwhelmingly positive feedback. Be on the lookout this fall for more family-friendly programming brought to you by the Alumni Association.
"This was a great way for our family to be introduced to the Univ. of Md. It's been 20 years since I graduated and I'm delighted to see the creative thinking from our Alumni Association to provide timely, cost effective, and compelling programming for younger children. It made me proud of our Alma Mater. Thank You!" - UMD alum and Camp Diamondback parent
###
The Alumni Blog connects you with the latest at UMD. Check out articles on advancing your personal and professional goals, elevating your UMD pride, and celebrating Terp traditions, legacies and accomplishments. For even more content, follow the Alumni Association on Facebook, Instagram and Twitter.