Home
About Us
News & Stories
Michael Kurlander '99: Risk, Reward and Going Public After 20-Plus Years on Wall Street
Michael Kurlander '99: Risk, Reward and Going Public After 20-Plus Years on Wall Street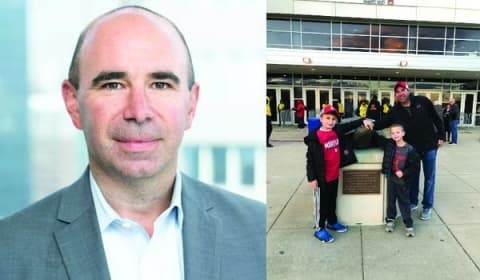 Kimberly Marselas '00
Michael Kurlander '99 was drawn to business school by the straight-forward nature of accounting and his own comfort with numbers.
That comfort level remained whether he was delving into case studies in class, interning at a public accounting firm or launching a career with a Big Five firm before joining the executive track at Goldman Sachs.
"I like when there's a problem to solve and you know you can get to the correct answer," says Kurlander, whose early investment banking career survived the financial crisis of 2008. After having a front row to the collapse of other banking goliaths — spending weekends at the federal reserve working with policymakers as they sought desperately to right the U.S. economy — Kurlander thrived.
His acumen helped him advance to chief operating officer for GS Bank USA by 2016. Then, in 2017, he transitioned to Citadel, one of the nation's largest asset managers, and became deputy global treasurer of a $350 billion portfolio.
But after all those years in the upper echelon of financial decision-making, Kurlander was craving a job that played into his long-held desire to solve problems.
Enter Pagaya Technologies.
When a former co-worker went to work for the five-year-old fintech company as chief people officer, she talked Kurlander into taking a look, too.
In his new role as Chief Financial Officer, Kurlander is helping a firm that is working on addressing old-school and often antiquated lending practices.
"Legacy underwriting systems are historically siloed, inefficient and leave people behind" explains Kurlander. "Pagaya has developed proprietary A.I. technology which helps our Partners create better outcomes for their consumers. It is a really exciting business."
And the company is growing significantly - partners in the Pagaya network processed over 17 million applications in the last year. Network volume increased by nearly 200%, and Pagaya's annualized year to date revenues grew by 300% through Q2 2021.
On Sept. 15, Pagaya announced it is going public through a merger with a special-purpose acquisition company, putting the company's value close to $9 billion.
For his part, Kurlander says being at the helm of a "hyper- growth company" and ultimately influencing the way it operates is just as meaningful, if not more so, than having stayed at Goldman Sachs and made partner.
"Sometimes, the riskiest thing you can do in your career is stay where you are," says Kurlander, recalling conversations he had with his wife, Danielle, about the implications. "Going to a start-up, there's a lot of risk. It could not work out. But I'm 43. I may not have the energy or the ability to do this 10 years from now."
After finding his footing in the start-up world, Kurlander is reconnecting with his alma mater and hoping to open doors for fellow Terps.
Having visited campus often with sons, Dylan, 12 and Blake, 10, for athletic events, Kurlander has also spoken several times over the last two years to students of Robert H. Smith School Clinical Professor David Kass, Ph.D., about his experiences.
"I've really always liked the idea of being a mentor to students," says Kurlander. "I like to share my Wall Street experiences and living that life for 20 years and surviving the financial crisis."
Because, clearly, there is life on the other side.
###
The Alumni Blog connects you with the latest at UMD. Check out articles on advancing your personal and professional goals, elevating your UMD pride, and celebrating Terp traditions, legacies and accomplishments. For even more content, follow the Alumni Association on Facebook, Instagram, Twitter, LinkedIn and YouTube. Become a UMD Champion to receive monthly shareable pride points, news and more straight to your inbox.