Home
About Us
News & Stories
Mike Luzio '98: One of UMD's Loudest Cheerleaders
Mike Luzio '98: One of UMD's Loudest Cheerleaders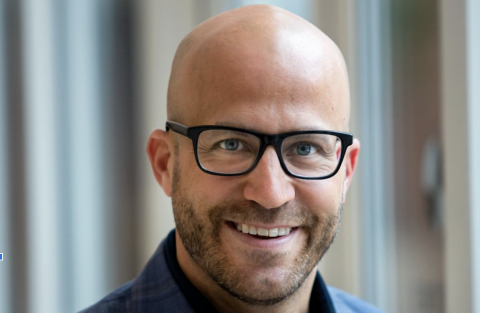 By Sala Levin '10
Mike Luzio '98 doesn't just say he loves the University of Maryland — he displays his boundless zeal for all things Terps throughout his family's New Jersey house, from the proud red decorations on their Christmas tree to the basement bar and bocce court decked out in Maryland colors and paraphernalia.
"Every single (Christmas) gift is something Maryland," said Luzio, a member of UMD's Board of Trustees. "Everything's Maryland."
Raised in Matawan, N.J., Luzio, the son of an FBI agent and a schoolteacher, was drawn to UMD when his older sister, Cate Luzio '97, began attending the university. "I visited and just kind of fell in love with it," Luzio said. At Maryland, Luzio studied government and politics, and met his future wife, Danielle, through Greek life. He was also inducted into the Omicron Delta Kappa (ODK) leadership honor society. The induction ceremony was "a defining moment in my life," he said. "I remember saying to myself in my head, 'I'm going to prove to my parents why I deserve to be on that stage.'"
After college, one of Luzio's mentors suggested he should try sales. "He said, 'I want you to go sell copiers for one year,'" said Luzio. "It's the hardest sale in the world because no one wants a copier." But surprisingly, Luzio did well that year, and returned to his mentor, who helped connect him in the tech industry.
Eventually, Luzio and a partner founded Industry Retail Group, a provider of broadband network services. Thirteen years later, they sold the company for $60 million, and Luzio began focusing on investing. Now, he is co-founder and managing director of the LVE Group, an angel investment organization.
As a member of the board of trustees, Luzio is full of "energy and excitement," he said. "I will say anything in the meeting. I have no problem speaking my mind." His main focus is on touting the university's outstanding former students, from Google co-founder Sergey Brin '93 to Epic Games CEO Tim Sweeney '93, telling the world "what tremendous talent has come through the University of Maryland."
Luzio's own children, twins Mackenzie and Maximillian, and younger daughter Scarlett, are already on their way to Terphood. "They go to everything" from football and basketball games to other UMD events, said Luzio. "My kids are going to Maryland."
###
The Alumni Blog connects you with the latest at UMD. Check out articles on advancing your personal and professional goals, elevating your UMD pride, and celebrating Terp traditions, legacies and accomplishments. For even more content, follow the Alumni Association on
Facebook
,
Instagram
,
Twitter
,
LinkedIn
and
YouTube
. Become a
UMD Champion
to receive monthly shareable pride points, news and more straight to your inbox.