Home
About Us
News & Stories
On a Mission for a New Career, with Z. Jalloh '01
On a Mission for a New Career, with Z. Jalloh '01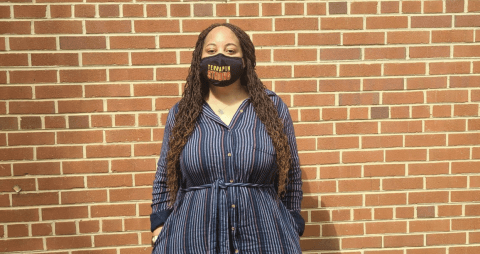 By Allison Eatough '97
As a marketing and communications specialist for a hospital in Prince George's County, Maryland, Z. Jalloh '01 spent most of spring 2020 just trying to catch her breath.
It was the start of the COVID-19 pandemic, and hospitals across the country were pushed beyond their limits.
"There was a lot of work, especially in the beginning of the pandemic with not knowing who the virus was affecting," Jalloh recalled.
So when she received an email from the University of Maryland Alumni Association detailing its online alumni career design fellowship with Mission Collaborative, she didn't give it much thought.
But four months later, when Jalloh lost her job due to a hospital merger, the fellowship resurfaced in her mind. Ready to explore other careers, she applied.
"I figured that I would have to pivot," said Jalloh, a former English major. "I went into it with the intention of being open to another career path and seeing what was available for me."
Jalloh also wanted to improve her interview skills.
"I've interviewed many healthcare professionals, but when it comes to a job interview, it's just not my thing," she said.
Mission Collaborative accepted Jalloh for the fellowship and awarded her with a scholarship to help cover costs.
Jalloh met with a team of fellow Terps once a week for four weeks, gaining new perspectives on finance, graphic design and information technology recruiting careers.
"I liked the diverse backgrounds that we had in the group," she said. "We got to share information about ourselves, receive feedback and make different connections… Most of us were mid-career and wanting a change."
On her own time, she watched videos from career design experts and participated in assessments to identify her strengths, values and transferable job skills.
"Connectedness, empathy, futuristic, which is just like being a visionary, strategic and analytical are some of the strengths and values that came up for me," Jalloh said. "This gave me some language to use during interviews when interviewers say, 'Tell me about yourself.'"
Jalloh also worked one-on-one with an accountability partner, a fellow Terp assigned to her at the start of the Mission Collaborative program, who worked as a fire prevention engineer.
"Even though we had different career paths, our strength and values assessments and personalities were similar," Jalloh said. "We talked once a week, and she helped me flesh out my skills. She also gave me another way of looking at things."
By the end of the fellowship, Jalloh identified two new careers to explore: public relations specialist and user experience (UX) designer. She also learned about education and certifications available for these careers.
While Jalloh is still searching for her next job, she said she would recommend the association's Mission Collaborative fellowship to anyone considering changing careers.
"I can even see some elements of this helping students before they get to this point in life," Jalloh said. "Learning what's available, literally looking at your skills and seeing what's transferable. Sometimes we just don't know what's available to us. It's not as simple as Googling. Having this concentrated module helps you to dive deeper."
To learn more about the next University of Maryland Alumni Association and Mission Collaborative fellowship, visit missioncollaborative.com/umdfellowship. Interested in our next Mission Collaborative Fellowship? Express your interest here.
###
The Alumni Blog connects you with the latest at UMD. Check out articles on advancing your personal and professional goals, elevating your UMD pride, and celebrating Terp traditions, legacies and accomplishments. For even more content, follow the Alumni Association on Facebook, Instagram, Twitter, LinkedIn and YouTube. Become a UMD Champion to receive monthly shareable pride points, news and more straight to your inbox.