Home
About Us
News & Stories
On the Same Page: Alums' Online Book Group Expands Nationally
On the Same Page: Alums' Online Book Group Expands Nationally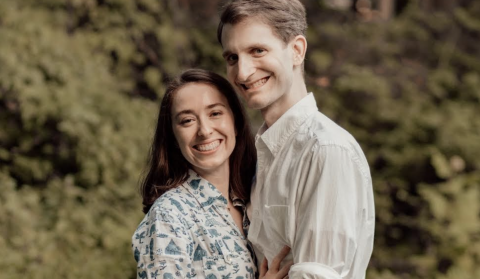 By Sala Levin '10
When Zach Rubin '12 wanted to start a business, he turned to books to learn how to tackle the ambitious endeavor. It was fitting: after all, the company he hoped to start was a professional book club.
Now, with more than 250 universities using the Professional Book Club (PBC) Guru after a pilot run at the University of Maryland, Rubin is able to share his enthusiasm for books and professional development with a wide range of readers across the country.
"It's all about getting people engaged, connecting them together and having important and interesting conversations around timely topics," Rubin said.
It all started when A. James Clark School of Engineering graduates Rubin and Chris Williams '14 were working together at an multinational civil engineering company. "We liked reading books about how to be a better communicator and a better leader and manager, and time management books," Rubin said. So the pair started a book group to share with their colleagues what they were learning.
They started with classics of the professional and personal development genre, books like Dale Carnegie's "How to Win Friends and Influence People" and Stephen Covey's "The 7 Habits of Highly Effective People." The group was a hit with Rubin and Williams' colleagues, and soon the two began to think, as Rubin put it, "maybe there's a business opportunity here to create a company that manages book club programs for other organizations."
With advice from books like "The Lean Startup," "Traction," "Essentialism" and more, Rubin and Williams began exploring how to start their own business. They turned to friends and acquaintances, asking if they'd be interested in bringing a book club to their workplaces as a trial run, and the idea soon took off. Along the way, someone suggested that university alumni associations might be a natural fit for the project, and in 2016, Rubin reached out to his and Williams' shared alma mater, the University of Maryland, to launch a pilot program; some 200 people signed up.
Based on the success of the pilot run at UMD (the chapter now has some thousand members), PBC Guru expanded to include roughly 250 institutions. They work on the technical aspects of the program and select books based on the interests of the group at each school. Participants read one book every two to three months, then come together in an online forum to discuss what they've read under the facilitation of a PBC Guru book club manager. Some groups focus on management and leadership, others on social justice, fiction or a range of other topics.
With 15 employees across the country, PBC Guru has expanded significantly. Rubin hopes that it will continue to be a haven for those who "want to read regularly, get new ideas for books, and have a community that's easier to keep up with than a more traditional book club."
###
The Alumni Blog connects you with the latest at UMD. Check out articles on advancing your personal and professional goals, elevating your UMD pride, and celebrating Terp traditions, legacies and accomplishments. For even more content, follow the Alumni Association on Facebook, Instagram, Twitter, LinkedIn and YouTube. Become a UMD Champion to receive monthly shareable pride points, news and more straight to your inbox.