Home
About Us
News & Stories
One Cook, Many Kitchens
One Cook, Many Kitchens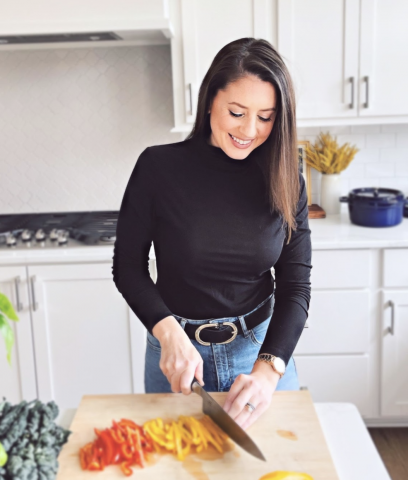 By Allison Eatough '97
Using her cooking skills, vibrant photography and social media savvy, self-taught chef Kristen Rosania '15 has turned her hobby into a thriving business.
Rosania is owner of forlemonsake, a meal prep and recipe development service that focuses on "real food with real ingredients," she said.
"Honestly, everything has been such a whirlwind," Rosania said. "This has always been a dream of mine, but it all came so fast."
The idea for Rosania's business started back in December 2019, when her husband relocated to Memphis for his job. Rosania, a former elementary school teacher, stayed behind in Baltimore for a month and began cooking for family and friends.
"Because I've always loved to cook and never had time to pursue that dream while I was full-time teaching, I just took that time off to do it for fun," she said.
Since Rosania was moving to Memphis in the middle of the school year, she decided to offer meal prep services part time while she looked for a full-time job. She used her Instagram account to promote her dishes and services before she even set foot in Tennessee.
"I targeted who my audience would be in Memphis," she said. "For example, I was tagging the Memphis Mom Collective on Instagram… Right when I got there, they actually asked me to cater their writers' luncheon in exchange for some press on their blog about my services."
A day later, several Memphis moms wanted to hire her.
As a meal prep chef, Rosania cooks for about three clients each week. Here's how it works: At the start of every week, Rosania develops a custom menu tailored to her clients' dietary wants and needs. Clients select meals from the menu, and then Rosania shops for the ingredients. Once she has everything she needs, Rosania begins cooking in clients' kitchens. Clients can reheat meals at their convenience.
"For a lot of people, the benefit is the added time they get to spend with their families, instead of doing what most would consider to be a chore," she said.
Rosania's clients are "all over the board," ranging from a mom who is a vegetarian to "a meat and potatoes family," she said.
Rosania is also using her teaching skills with REMIXED, her new virtual meal prep cooking series with fellow meal prep chef Elia Wolberger.
"I definitely love instructing others, and this is a really great outlet for me," she said. "It's meal prep on a budget. We're teaching our students how to cook these super simple and basic recipes and then remix them into more unique meals that you can eat throughout the week."
To learn more about Rosania, visit https://forlemonsake.com. And to check out her recipe for "Coconut and Panko Crusted White Fish with Pineapple Salsa and Creamy Avocado Sauce," click here.
The Alumni Blog connects you with the latest at UMD. Check out articles on advancing your personal and professional goals, elevating your UMD pride, and celebrating Terp traditions, legacies and accomplishments. For even more content, follow the Alumni Association on
Facebook
,
Instagram
,
Twitter
,
LinkedIn
and
YouTube
. Become a
UMD Champion
to receive monthly shareable pride points, news and more straight to your inbox.
Spotlights connect you with your Maryland community and campus, celebrating achievements from alumni, students, faculty and staff.