Home
About Us
News & Stories
Rising Terp Award: Akash Magoon '18
Rising Terp Award: Akash Magoon '18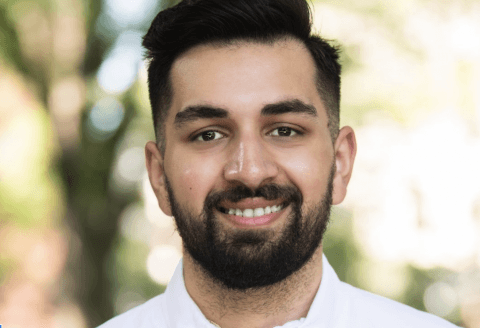 By Allison Eatough '97
"Terps turn fearless ideas into groundbreaking innovations."
That's the phrase Akash Magoon '18 remembers seeing the first time he visited UMD's computer science program. It's also the phrase that convinced the then-high school student that UMD was the place for him.
"When I was looking for schools to go to, I knew I wanted a school with a really strong computer science program, but I also wanted to be on a campus that fostered entrepreneurship and turning ideas into reality," Magoon said.
As a college student, Magoon studied computer science and was active with the Hinman CEOs Program. He developed several of his own fearless ideas, including software to manage blood and urine-based drug tests for some local labs. The idea became a product, which he eventually sold to a larger company.
After graduating, Magoon joined Enigma Technologies, where he created ways to improve data delivery to health insurance companies.
But his most fearless idea came in 2019—the year he co-founded Nayya, a company that helps employees choose and enroll in health benefits and then engage with their health plans.
Workforces are diverse, and the insurance plans and benefits companies offer their employees are becoming more and more complex, Magoon said.
"Health care is the biggest line item in every family's balance checkbooks each year by far, unless they happen to buy a house that year," he said. "Most Americans are entering these decision-making processes with very little clarity and transparency and trusting the system. ... We wanted to give Americans a better consumer experience."
Nayya's first product is called Nayya Choose, a platform that uses artificial intelligence (AI) to simplify the enrollment experience. Here's how it works: Employees share personal information, including their location, household demographics and lifestyle, on the platform. Minutes later, they receive plan options provided by their employers that match their budgets and needs.
"Our customers now refer to Nayya Choose as the TurboTax for benefits," Magoon said. "When you come to Nayya, in an eight-minute journey, our software learns about you, your family, your medical background, your financial footprint, your consumer preferences."
Nayya's second product is called Nayya Use, an AI-powered, benefits concierge that helps consumers save money via proactive cost-savings opportunities throughout the year as they receive care, pick up prescriptions, file claims and pay for their care.
Nayya's customers and partners include Guardian Life, Unum and American Public Life, and it has alliances with eight of the 15 largest national benefit firms in the United States. The company reaches tens of millions of people through its various partners and integrations, and its team has grown tenfold since 2020.
Nayya has raised about $50 million in venture capital from leading funds, including ICONIQ Growth, Silicon Valley Bank and Felicis Ventures.
In recognition of Magoon's efforts, the UMD Alumni Association recently named him a recipient of the Alumni Excellence Rising Terp Award.
Stan Smith, venture investment manager for UM Ventures and the Dingman Center for Entrepreneurship, said Magoon is exactly what investors look for in an entrepreneur.
"What impressed me was his demonstrated understanding of what it takes to build and grow a successful venture," Smith said. "It's about having a vision and then the ability to execute and persevere in the face of adversity."
###
The Alumni Blog connects you with the latest at UMD. Check out articles on advancing your personal and professional goals, elevating your UMD pride, and celebrating Terp traditions, legacies and accomplishments. For even more content, follow the Alumni Association on
Facebook
,
Instagram
,
Twitter
,
LinkedIn
and
YouTube
. Become a
UMD Champion
to receive monthly shareable pride points, news and more straight to your inbox.