Home
About Us
News & Stories
Rising Terp Award: Audrey Awasom '18
Rising Terp Award: Audrey Awasom '18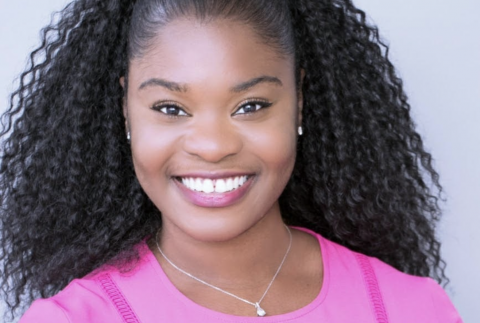 By Allison Eatough '97
Audrey Awasom '18 launched her nonprofit Noble Uprising in 2018 to empower women experiencing homelessness.
A finalist in the Do Good Accelerator's Scale Your Impact Program, the organization helped women develop career readiness skills like critical thinking, professional writing, time management and problem solving for two years. Noble Uprising also provided training for workplace tools, including Microsoft Office. And to round out the career readiness experience, Noble Uprising provided a shopping spree for its inaugural group of participants.
But when the COVID-19 pandemic hit in 2020, Awasom took a step back and realized she could do—and wanted to do—more.
"It's hard to focus on getting a job when you don't have the basic fundamental needs met already," said Awasom, a graduate of the Robert H. Smith School of Business. "Employment is definitely one of the major reasons why individuals experience homelessness or poverty. However, we also have to be mindful that there are other, more basic needs like food, housing and health that must be met before individuals can focus on pursuing a career or getting into the workplace."
Last year, Noble Uprising established a new, three-pronged framework known as "SEE People" to serve, educate and empower women experiencing homelessness, poverty and overall hardship.
The three prongs feature programs to improve accessibility to basic welfare resources like food, health care and housing assistance; educate women through basic adult literacy, tutoring, computer literacy and immigrant immersion experiences; and empower women to build sustainable careers through technical skills training and apprenticeship programs.
For example, Noble Uprising is establishing a network of Maryland food pantries for women in need. Known as the "Noble Pantries," the network includes pantries established by Noble Uprising and existing ones throughout the community.
"We recently launched a Noble Pantry with the Prince George's County Family Justice Center," Awasom said. "We are bringing essential resources directly to those women who need them in a convenient manner. Our focus is to provide ease, accessibility and assistance to the multitude of people being served by (the center) so that individuals who stop by can literally just go to the pantry and get whatever it is they need before they leave."
Once a month, Noble Uprising team members restock the pantry with nonperishable food items and hygiene products.
Another project under development is Noble Plus, a subscription box program that provides quarterly shipments of nonperishable food and hygiene items for women in need. Participants, whom Awasom affectionately calls "Noble Women," apply for the free, yearlong program. Once they are accepted, Noble Plus "fills the gap in areas where welfare assistance programs are not adequately meeting the needs of the women who use their services," Awasom said.
To recognize her efforts, the UMD Alumni Association named Awasom a recipient of the Alumni Excellence Rising Terp Award. It's an honor that's well deserved, said Kaitlin Ahmad, manager of communications for the Do Good Institute.
"Audrey's passion, energy, and leadership are truly inspiring," she said. "She has remained steadfast in her efforts over the last five years, constantly looking at how to best support the women in her program to truly transform their lives."
###
The Alumni Blog connects you with the latest at UMD. Check out articles on advancing your personal and professional goals, elevating your UMD pride, and celebrating Terp traditions, legacies and accomplishments. For even more content, follow the Alumni Association on
Facebook
,
Instagram
,
Twitter
,
LinkedIn
and
YouTube
. Become a
UMD Champion
to receive monthly shareable pride points, news and more straight to your inbox.