Home
About Us
News & Stories
SALC Member Spotlight: Sarah Clement '23
SALC Member Spotlight: Sarah Clement '23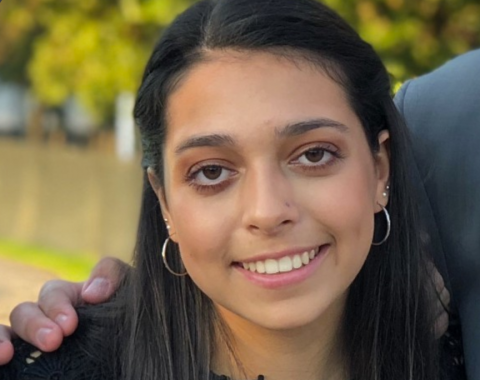 By Abby Gorun '21
In our "Student Spotlight" blog series we introduce you to current UMD students doing incredible things on campus, in their communities, and beyond. If you know of a student who would we be a good feature for this blog series, please reach out to Lauren Norris.
Sarah Clement '23, from Bethesda, Md., is currently in her second year at the University of Maryland. She loves attending a great school close to home, and dove right into our incredible business program. As of right now, she is majoring in business, but the word on the street is that accounting may be in her future. Sarah has already set her sights on being the best student, in and out of the classroom. Sarah has already achieved so many great things during her first two years at UMD, including being involved in College Park Scholars and serving as a tutor for DCTutoring.
One of her personal goals is to become more involved in her community by researching and participating in volunteering efforts in both the greater College Park and Bethesda areas. With the shift to online learning creating more free time for everyone, Sarah is choosing to spend hers learning to bake. When she's not baking, volunteering or studying, Sarah also participates in intramural sports and is a member of the jogging club on campus.
As if she's not busy enough, Sarah serves as the internal development chair for the Student Alumni Leadership Council (SALC) within the membership committee. She originally joined because of SALC's outward presentation as a great professional organization, but quickly realized how fun it is to network and make deep personal connections with all of the other members. Her vision for her time in SALC is to be as involved as possible. Her chair position has recently led her to collaborate on several diversity and inclusion initiatives for the future, including a workshop led by Dr. Green from the Office of Diversity and Inclusion.
Overall, Sarah is an outstanding Terp who has really made her mark on the SALC and in our campus community - we can't wait to see what else she has in store during her time as a student.
The Alumni Blog connects you with the latest at UMD. Check out articles on advancing your personal and professional goals, elevating your UMD pride, and celebrating Terp traditions, legacies and accomplishments. For even more content, follow the Alumni Association on Facebook, Instagram and Twitter.