Home
About Us
News & Stories
Sharing Lessons Learned On and Off the Field
Sharing Lessons Learned On and Off the Field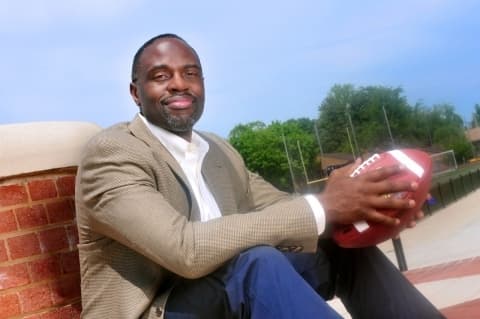 By Allison Eatough '97
Azizuddin Abdur-Ra'oof '87 says there's beauty in playing football, but it's not because of his many athletic achievements, including scoring 10 touchdowns as a wide receiver for the Terps and being drafted by the Kansas City Chiefs in 1988.
It's because of the lessons learned through the sport.
"When you play on a football team, whether it's eight or 100 people, they're not all the same, but we come together for a common goal: to practice, represent your team and win," he said. "You learn how to work with other people, you develop leadership qualities and you learn how to compete."
For nearly a decade, Abdur-Ra'oof (best known as "Ziz") has worked as a performance coach and public speaker, sharing those lessons and more with scholars, athletes and business leaders.
"I think athletics and sports, in general, are great tools," he said. "The challenge is how do you take those tools and transfer them into the other areas of your life. The individuals who do that are successful in both sports and in life."
Abdur-Ra'oof grew up in Pasadena, Md. and earned an athletic scholarship to UMD. After graduation, the speech communications major spent almost two years with the Kansas City Chiefs.
While some athletes have a hard time transitioning out of professional sports, Abdur-Ra'oof was able to quickly apply the skills he learned on and off the field to his career. He worked in sales and then at UMD as executive director of the M Club and director of student welfare and career development before launching his coaching business, 4.3 Forty, in 2013. The company is named after his time in the 40-yard dash, which is used to evaluate a football player's speed and acceleration.
"I've always been in that role of support, help or encouragement," the father of three said. "I love walking alongside people, watching them develop and grow. It's fulfilling for me to be able to coach, advise or simply help them look at something with a different perspective."
###
The Alumni Blog connects you with the latest at UMD. Check out articles on advancing your personal and professional goals, elevating your UMD pride, and celebrating Terp traditions, legacies and accomplishments. For even more content, follow the Alumni Association on Facebook, Instagram, Twitter, LinkedIn and YouTube. Become a UMD Champion to receive monthly shareable pride points, news and more straight to your inbox.