Home
About Us
News & Stories
Student Spotlight: Daniela Marciano '21
Student Spotlight: Daniela Marciano '21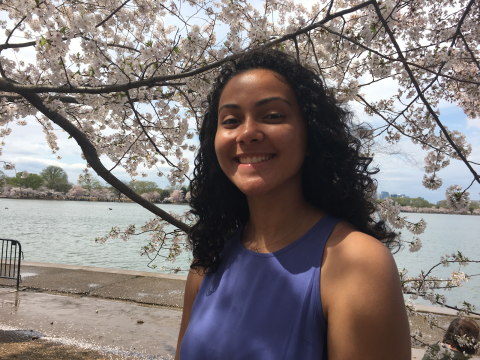 By Megan Berry '21
In our "Student Spotlight" blog series, we introduce you to current UMD students doing incredible things on campus, in their communities, and beyond. If you know of a student would we be a good feature for this blog series, please reach out to Lauren Norris.
Daniela Marciano '21 is a general biology student on the pre-professional track at the University of Maryland. In light of the recent university closures due to COVID-19, she, like other college students across the globe, had to acclimate to at-home learning. While other students found different ways to fill their free time, Daniela was persistent on using her time at home to give back to her community. Despite having a full STEM course load and doing daily practice tests for the GRE, Daniela decided to learn how to sew masks to give to people working in healthcare and other essential workers.
For the past several weeks, Daniela has gathered fabric and supplies and set up her own sewing station in her room. Having no previous sewing experience, Daniela relied on YouTube videos to teach herself how to make masks and how to operate her mother's sewing machine. She also contacted the Anne Arundel Medical Center about guidelines they require for donated masks and proceeded with their recommendations. Daniela shares what led her to start this project and the impact she hopes to make moving forward:
What inspired you to start making masks during your time in quarantine?
Several things! The first inspiration is my family: one of my cousins who is a medical student in France ended up contracting COVID-19 while working (before mass closures). She made a full recovery, but the realness of the effects of the virus set in. In my immediate family, my mother is high-risk for contracting a number of illnesses. Making masks for my family first was essential in order to be able to get groceries, go to work and do small out-of-the-house tasks (before the stay-at-home order) without putting my mother at a greater direct risk. As cases began to rise, the need for masks became clear and I shifted my focus from family and friends to frontline workers (but particularly, hospital workers).
How did you decide who you would donate to?
When we were first advised to only wear a mask if sick, I was not sure whether I wanted to donate masks to hospitals or to other frontline workers (or both). While hospitals treat the known COVID-19 cases, it was frightening to read articles about grocery workers dying of COVID-19 contracted from asymptomatic individuals. Thankfully (although it was not immediate), the CDC advised everyone to wear a mask and then Governor Hogan made it mandatory - grocery chains were giving their workers masks! I feel at this point that the greatest need is still hospitals, but if other frontline workers need masks, I will happily divert my focus towards them. Since I am not able to mass produce them, it is easiest for me to focus on creating masks for one respective community at a time, although this may change as I get faster.
Do you plan to continue this project in the future?
I've never been a pro-crafter, but I love making things - even if they look like a 3rd grade art project. It's difficult to purchase materials currently, but I will definitely make masks until I run out of materials! And if there's still a need when I run out, I'll do my best to find a way to make more. I've repurposed some of my T-shirts so far to make a few. I have a surplus of T-shirts that I would be willing to repurpose if I can't find a thicker cotton material.
###
The Alumni Blog connects you with the latest at UMD. Check out articles on advancing your personal and professional goals, elevating your UMD pride, and celebrating Terp traditions, legacies and accomplishments. For even more content, follow the Alumni Association on Facebook, Instagram and Twitter.