Home
About Us
News & Stories
Student Spotlight: Gabby Christopher '21
Student Spotlight: Gabby Christopher '21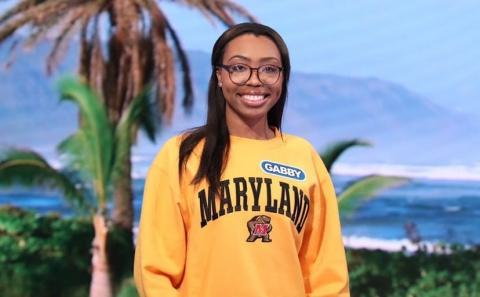 By Lade Gbolade '21
In our "Student Spotlight" blog series we introduce you to current UMD students doing incredible things on campus, in their communities, and beyond. If you know of a student would we be a good feature for this blog series, please reach out to Lauren Norris.
Gabby Christopher '21 is a proud Terp who loves to be active in the UMD community. In addition to her double major in sociology and government and politics, she is the membership chair of her pre-law fraternity, a team member on the UMD club field hockey team, a sociology peer advisor in the undergraduate sociology department and much more.
If she seems familiar to you, it might be because Christopher had the unique opportunity to represent UMD during College Week on "Wheel of Fortune"in March 2020.
I had the chance to ask this fellow terp some questions and get the inside scoop on "Wheel of Fortune." Here is what she had to say:
What was your "Wheel of Fortune" experience like?
It was really cool to go to Photo Studio. I really liked getting my makeup done and being coached. Overall, it was a really fun experience and I'm glad I had the chance to go. (Read more about her time on Wheel here.)
Why did you apply to be a contestant on "Wheel of Fortune"?
I applied just for fun. I watched "Wheel of Fortune" when it came on before "The Bachelor" and I just thought that it would be a funny thing to send in a video and see what happens.
What did you include in your submission video and what was the application process like?
My home video was mostly just me introducing myself and two months later I got an email invitation for an audition in Virginia. There were about 100 people at the audition and I was the only college student. We were given practice problems including 16 puzzles and a written quiz. Many months later I received an email that my film date was the following month, and just about two weeks later I was flown out to California for the show!
Was being on the show what you thought it would be like?
They sent me a lengthy packet in the mail leading up to my film date so, when I got there, it was what I expected, although there were still things I had to get used to. For example, trying to look at all the different screens at the same time while trying to solve the puzzle and smile.
Now moving on to some more general questions, why did you choose to attend UMD?
I actually started my journey at Kent State University in Ohio then transferred to UMBC and in fall 2018 landed at UMD. Even though I started somewhere else, UMD was always my goal growing up and I always wanted to go here!
What is your favorite thing about UMD?
I have to say the school spirit. I like how involved students can get in sports and other activities and how there is always something to do on campus.
What, if any right now, are your plans after graduation?
I am hoping to get a Ph.D. in political policy, political science or sociology. I would then like to work on Capitol Hill and do research on social issues and civil rights or become a professor to teach sociology.
What have you done so far to keep you active and entertained during this quarantine period?
I made the goal of becoming TikTok famous! I post one TikTok every day so I can keep myself entertained, and hopefully other people as well.
What is your go-to quarantine snack?
Recently, I have been eating a lot of Garlic bread!
What is your fearless idea?
My fearless idea is to not be afraid of taking chances and putting yourself out there.
###
The Alumni Blog connects you with the latest at UMD. Check out articles on advancing your personal and professional goals, elevating your UMD pride, and celebrating Terp traditions, legacies and accomplishments. For even more content, follow the Alumni Association on Facebook, Instagram and Twitter.