Home
About Us
News & Stories
Student Spotlight: Victoria Nefflen '20
Student Spotlight: Victoria Nefflen '20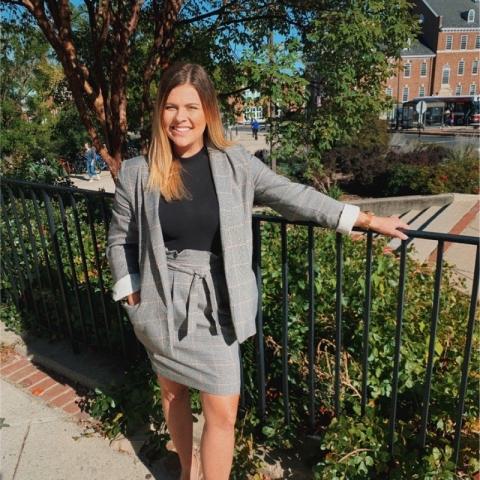 By Evan Oberthaler '22
In our "Student Spotlight" blog series we introduce you to current UMD students doing incredible things on campus, in their communities, and beyond. If you know of a student would we be a good feature for this blog series, please reach out to Lauren Norris.
Victoria Nefflen '20 is a government and politics major, minoring in global terrorism and international development and conflict management whograduated this past May. I first met Victoria (Tori) in the fall semester of my first year through Phi Alpha Delta, the pre-law fraternity on campus, when she became my mentor. Her passion and drive for social change and advocacy were immediately evident to me in everything she was involved with and had accomplished. She's a person who I would say utilized her time at the University of Maryland to the best of her abilities: she joined many organizations of which she was elected to leadership roles in, took advantage of competitive academic programs on campus and created a large community of fellow terps to spend her time with. I know that her relationship with the university will remain strong as she transitions into an alumna.
Why did you choose to attend UMD?
I knew that I didn't want a small school and loved the opportunities and resources that a big school had to offer. The sheer amount of people to meet and network with drew me closer to the university, and being in-state was definitely a factor that swayed my decision. And of course, being so close to DC was such an enticing part of the decision as well.
What were you involved with on campus?
I've been a part of a lot of different organizations while here at UMD. In Phi Alpha Delta I served as VP, and in SGA [the student government association] I was a legislator and created a subcommittee on renters rights. Also in SGA, I served on the finance, sexual misconduct prevention and government and civic affairs cCommittees.
What is your favorite thing about UMD?
That's a really tough question but I'd definitely have to say the community that I've been able to build and be a part of. I have a sense of belonging that I've never had before. Being able to be engaged in student issues and tackle issues within our community has been rewarding. Being a part of a greater whole is very rewarding.
As a new graduate, what are your plans for this summer and beyond?
I'm currently weighing my options. I'm hoping to do a volunteer corps but everything with COVID-19 has somewhat uprooted these plans. After that, I want to go back to school and study international relations, hopefully somewhere in New York City.
What is your Fearless Idea?
What first comes to mind is that Instagram should let you delete individual pictures that you post in a slide. My more serious Fearless Idea is to make an app to connect people with their local candidates for office. You would put in your zip code and get background information on candidates as well as major points of their campaign. The outcome would be to create more informed voters and to place a stronger emphasis on local elections.
What advice would you have given your first-year self?
I would definitely say put yourself out there in places you normally wouldn't have- I wish I explored more and tried new things sooner. SGA was something I kind of fell into my senior year, and I loved every moment of my involvement. It never occured to my freshman year self to search "how to join SGA?" although I wish it had.
What song do you think describes your time at UMD? Why?
"Fluorescent Adolescent" by Arctic Monkeys.
Note from interviewer: this is a fun, upbeat song about enjoying simple times with old friends. It has a nostalgic feel as the song turns to the bridge where the singer asks "where did you go?" I can definitely understand why Victoria feels as though this is a strong representation of her time at UMD as she reflects on the past 4 years.
As a recent graduate, what has been your favorite memory from UMD?
Over the summer my friends and I were living in College Park. We were watching a Caps game and after they won we ran from Cornerstone to the ODK fountain and we all jumped in and looked up and watched the stars. We were all so happy to be around each other, the feeling of being free and being happy was so strong.
Victoria will be greatly missed after she graduates, but the excitement in her voice about her plans for the future lead me to understand that she's well prepared for anything that comes her way. Good luck, Victoria! We're all rooting for you!
###
The Alumni Blog connects you with the latest at UMD. Check out articles on advancing your personal and professional goals, elevating your UMD pride, and celebrating Terp traditions, legacies and accomplishments. For even more content, follow the Alumni Association on Facebook, Instagram and Twitter.