Home
About Us
News & Stories
Terp Time Warp - Love Edition - Part One
Terp Time Warp - Love Edition - Part One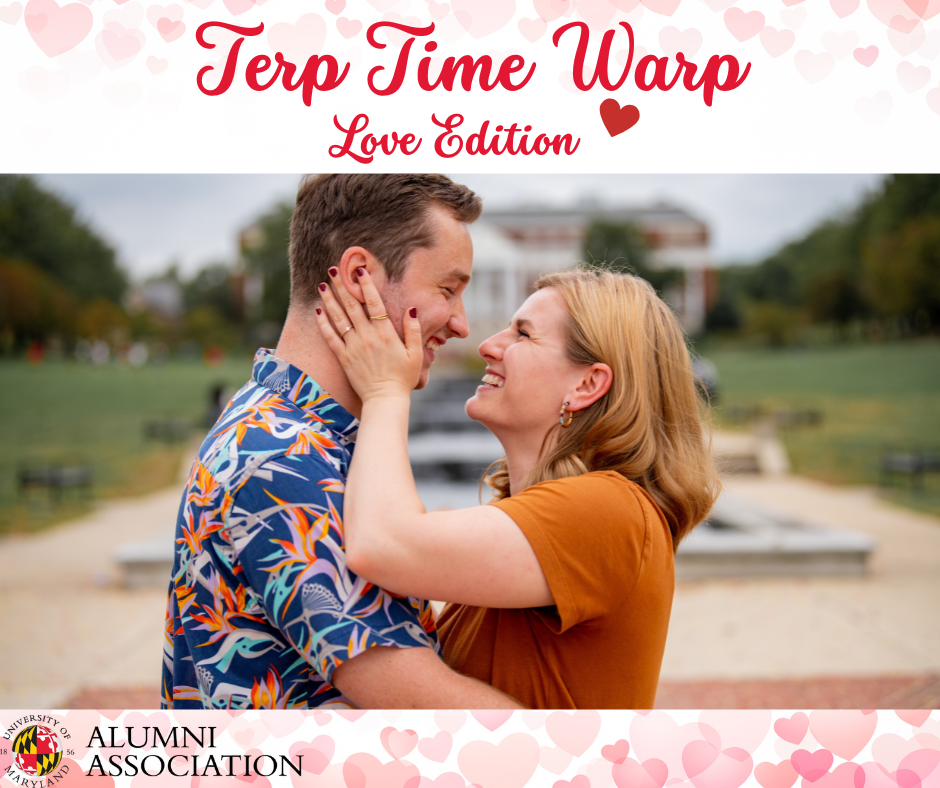 Thank you to everyone that submitted their Terp love stories for our Terp Time Warp - Love Edition. We loved them all!
Check out some of these heartwarming and fun memories in this look back at our favorite Terp couples, and be on the lookout for part two coming out later this week.
Go Terps!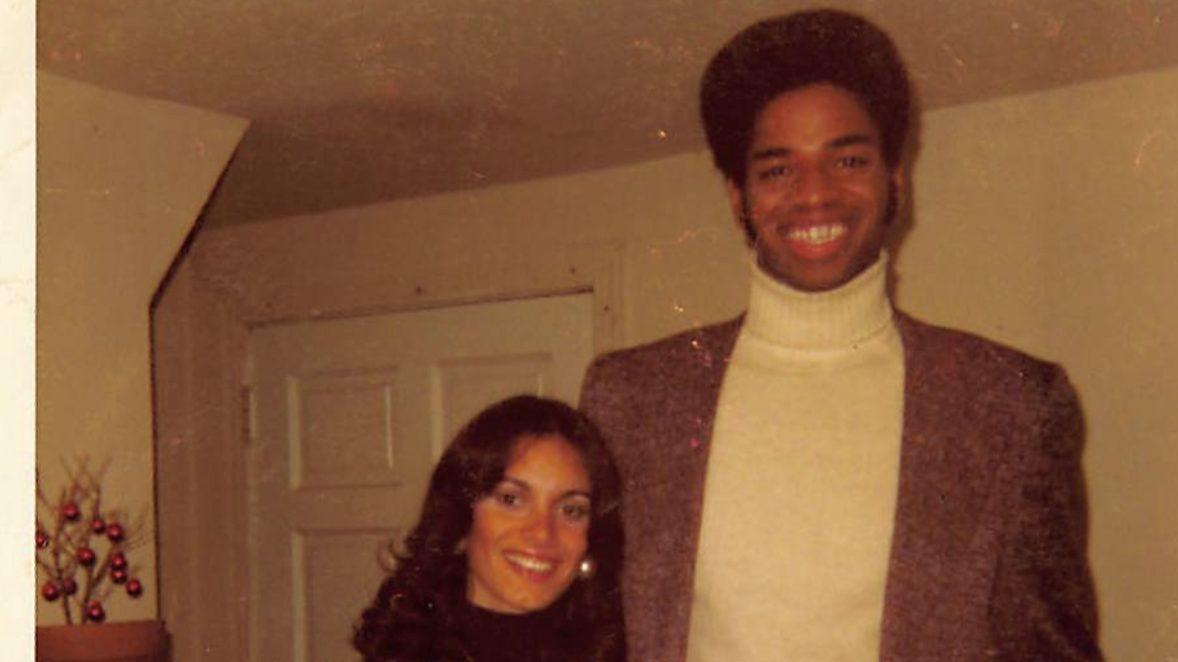 Leonard "Len" Elmore '74 and Gail (Segal) Elmore '75
Leonard "Len" Elmore and his wife Gail (Segal) Elmore have been huge supporters of the Alumni Association for years.
"We began dating in April of 1973 after a Stephen Stills concert at the Cole Fieldhouse. Our courtship lasted 14 years before we were married in 1987, as we both navigated family and social obstacles as well as pursued careers." - Leonard Elmore.
Gail was a Montgomery County school teacher first, then with her BA in Business followed by a Masters in International Management from the American Graduate School of International Management ("AGSIM"), where she ultimately rose to Managing Director for Bank of America's Emerging Markets Division before retiring a few years after the arrival and during the growth and development of our two Ivy-educated sons, Stephen (Princeton, The Citadel Graduate School) and Matthew (Columbia and Columbia Business School).

Len's career after UMCP took him through 10 years of professional basketball in both the American Basketball Association ("ABA") and then the National Basketball Association ("NBA"). From there he received a JD from Harvard Law School in 1987, passed the NY Bar and embarked on several journeys as a prosecutor, senior counsel and partner in several law firms, college and pro basketball network TV announcer, business enterprise leader for several companies, director on several publicly traded company boards and currently a professor in Columbia University's Sports Management program.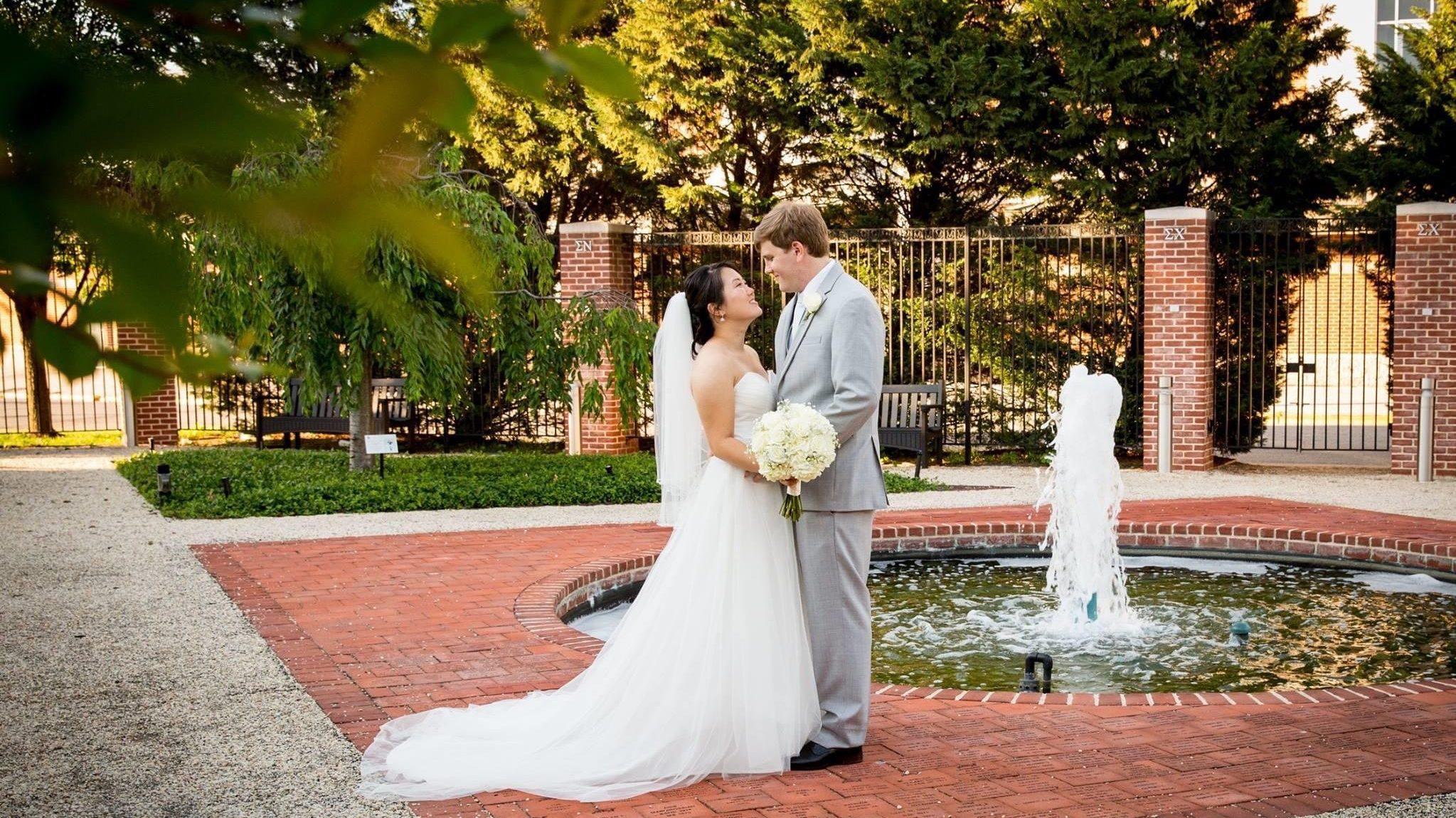 Ian Bacon '14 and Grace (Kim) Bacon '14
Ian and Grace met during their freshman year in Centreville Hall and then got married at Memorial Chapel. They held their reception at the Samuel Riggs Alumni Center in 2017. 
"Our love for all things Maryland & the Terps still hold true today because without Maryland, there would be no us." - Grace (Kim) Bacon.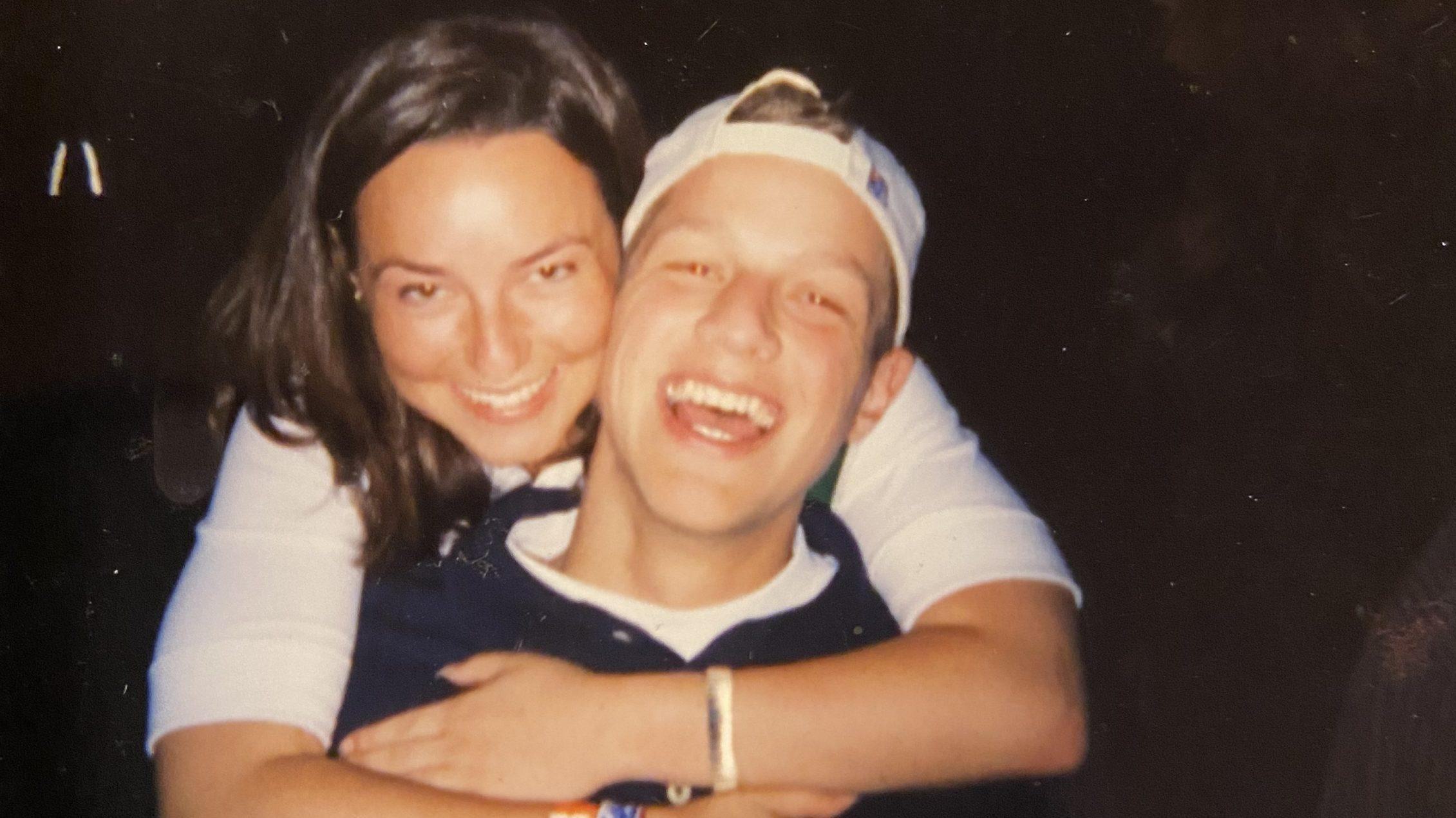 Jason Emala '00 and Ashley Emala '01
Jason and Ashley met a few hours after Ashley's parents left on move-in day in the Fall of 1997. They both lived on Ellicott 7 at the time.

"He was a sophomore and told me he didn't date freshmen. This Fall we'll celebrate 19 years of marriage!" - Ashley Emala.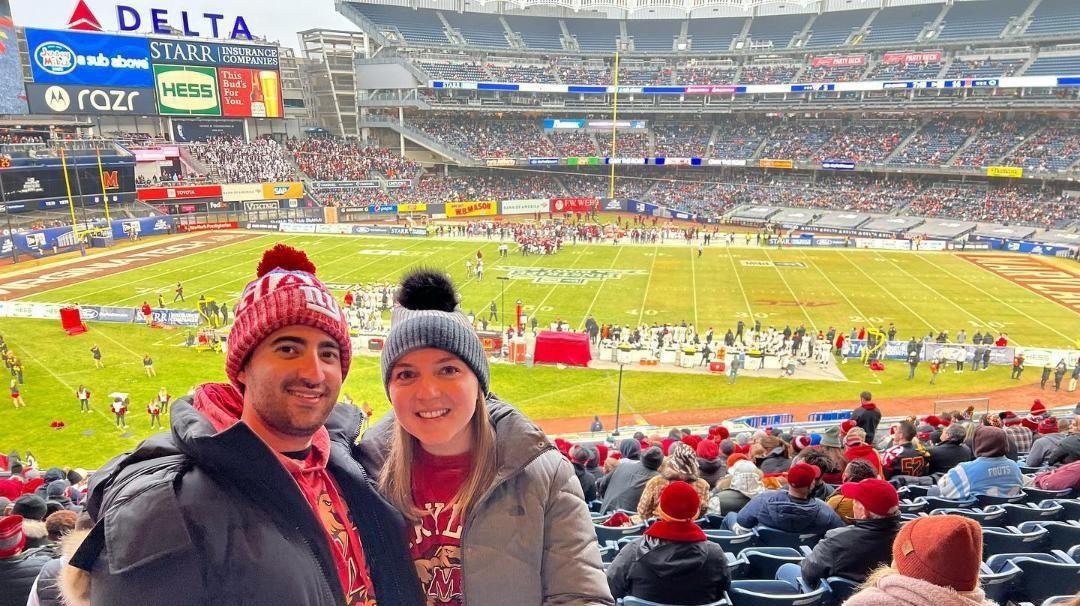 Alison Pastor '14 and Jeffrey Magid '13
Alison (Pastor) Magid '14 and Jeffrey Magid '13 met in Fall 2012 when their Greek chapters were paired together for Homecoming week.

"We love cheering on the Terps together, as we were season tickets for both football and basketball when living in the DMV area after graduating, and have stayed connected through the Alumni Association as lifetime members since we moved to NYC in 2018 (married in November 2019).
Go Terps!" - Alison (Pastor) Magid.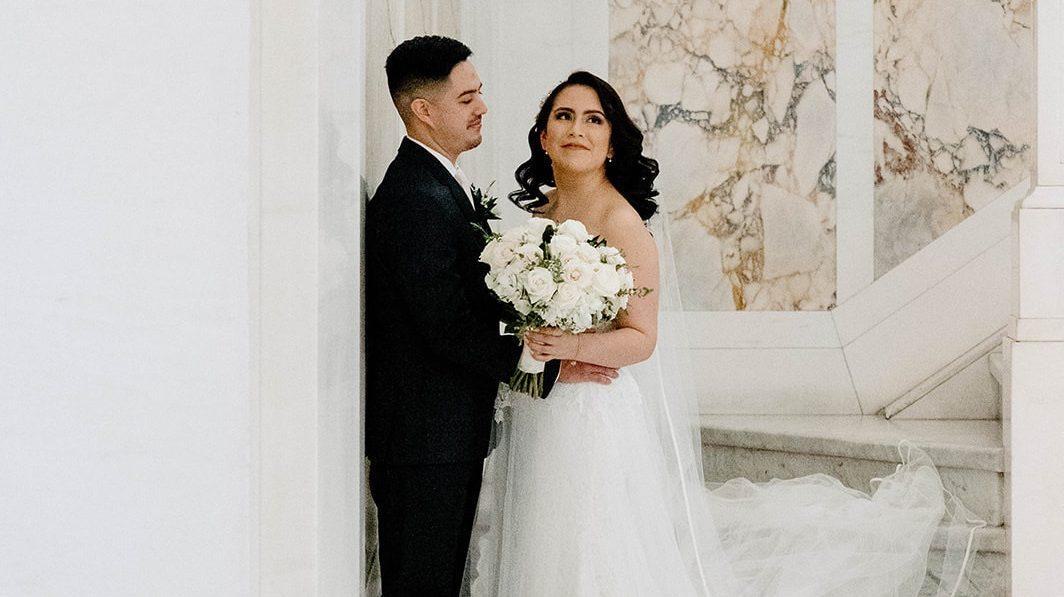 Amy Beltran '19 and Ben Beltran '17
Amy Beltran '19 and Ben Beltran '17 met through their masters program at UMD. 
"Our wedding was filled with lots of Terp alum love - including our best man, multiple groomsmen, tons of guests, and even our photographer. We had our wedding in Baltimore because we wanted to celebrate our love in the state where it all began - Maryland!" - Amy (Andrade) Beltran.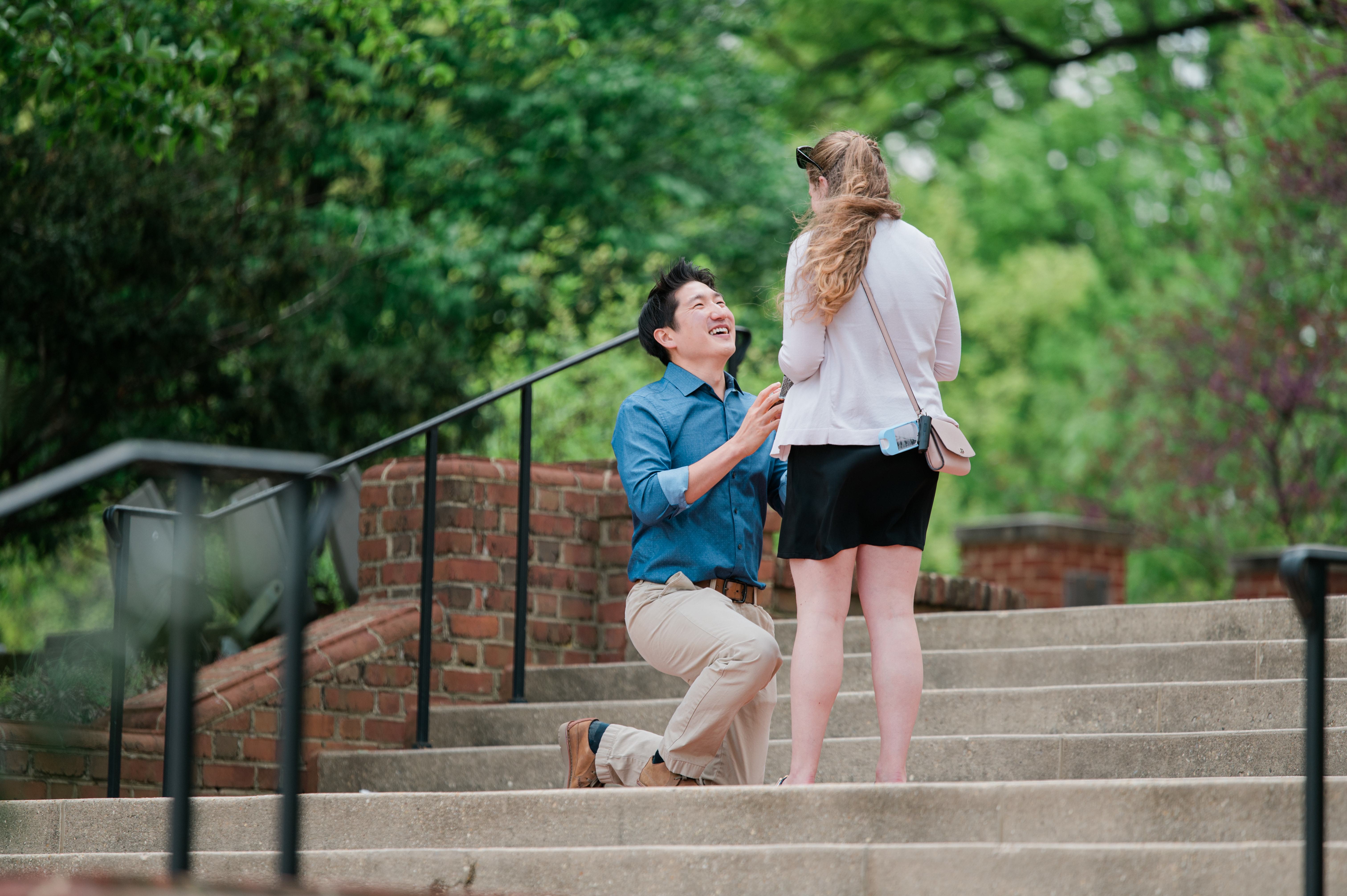 Morgan Flaherty '19 and Jooik Chung '19
Morgan and Jooik met in grad school at UMD and would take walks after dinner before going to class and studying as dates when they were too busy for real dates.

"Those turned into long COVID walks on an empty campus and a proposal in front of the chapel in April 2021." - Morgan Flaherty.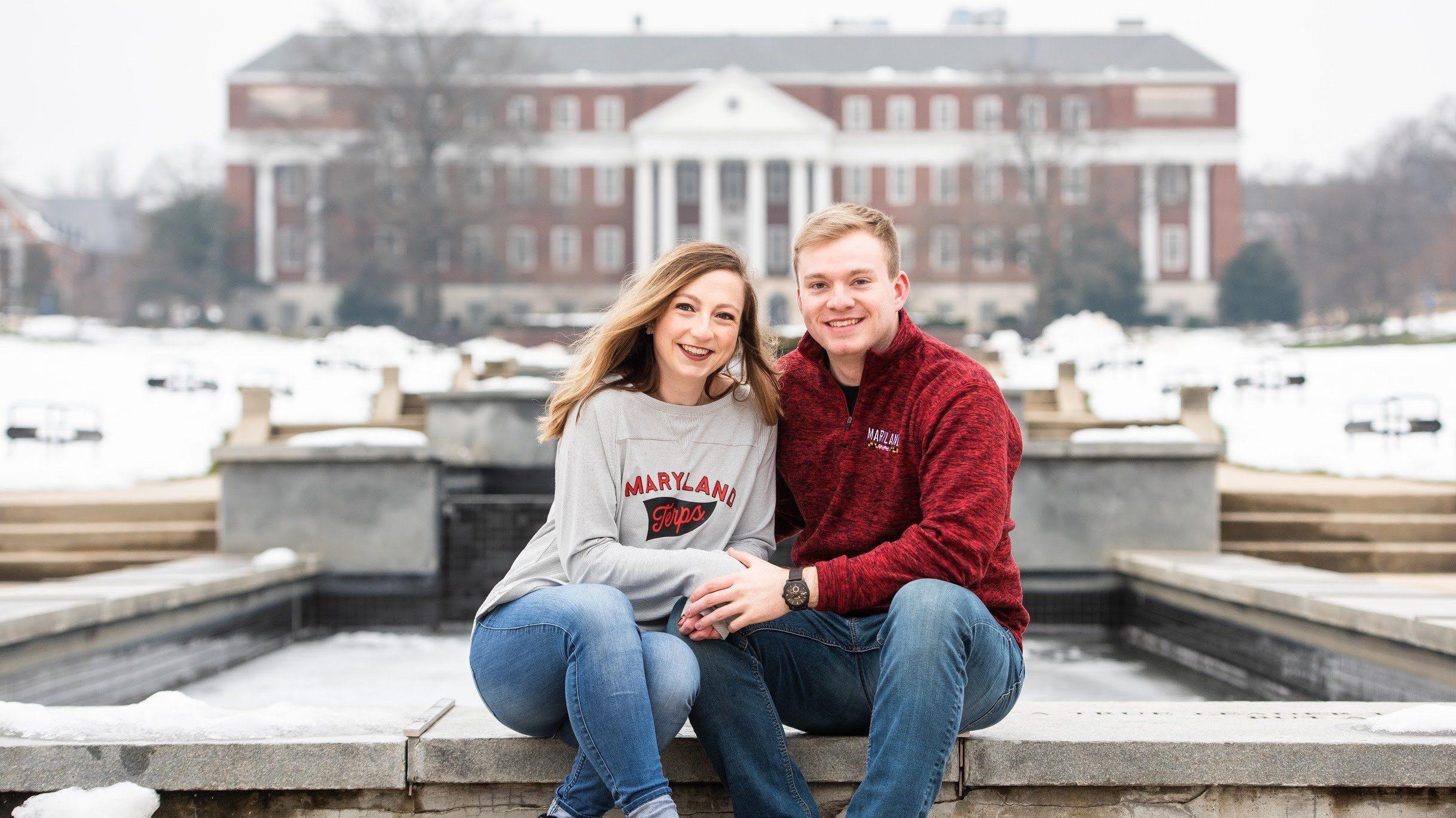 Justin Derato '18 and Cierra O'Keefe '16
Justin Derato '18 and Cierra O'Keefe '16 met at UMD in 2016. Justin owns "By Accident Photography," and has taken many graduation photos for Terp seniors. Cierra hired him to take her graduation pictures in 2016, and the rest was history! 
They were engaged on Dec. 19, 2023.
"We love the Terps and love the new wine as well—we tried it at Homecoming!"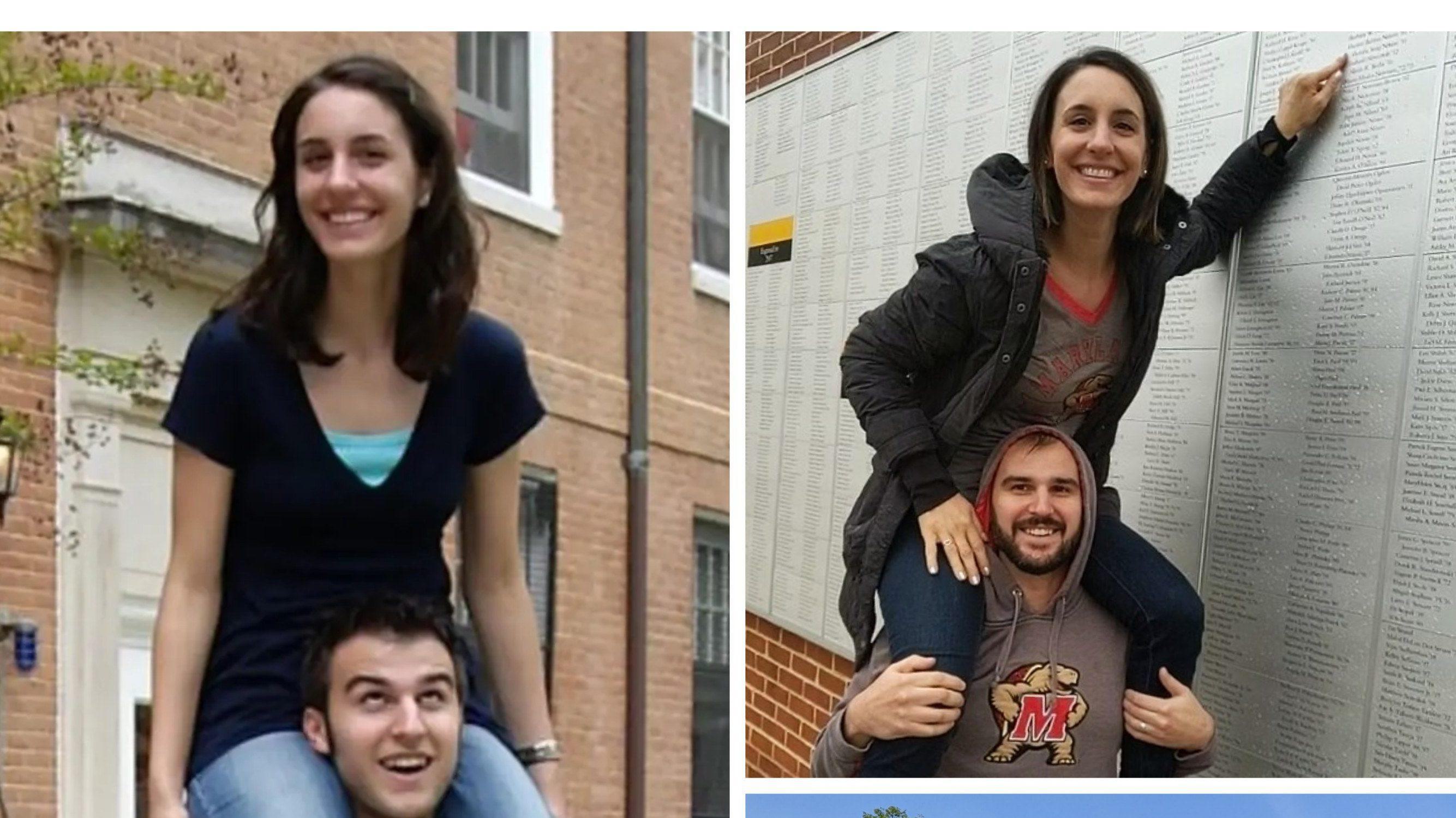 Victoria and Hunter Nelson
Victoria Nelson '10 and Hunter Nelson '10 met the night before classes started their freshman year in Chestertown Hall.
"16+ years later, with our personal and professional lives set on course by UMD, our Maryland pride stays strong as we raise a new generation of Terps!"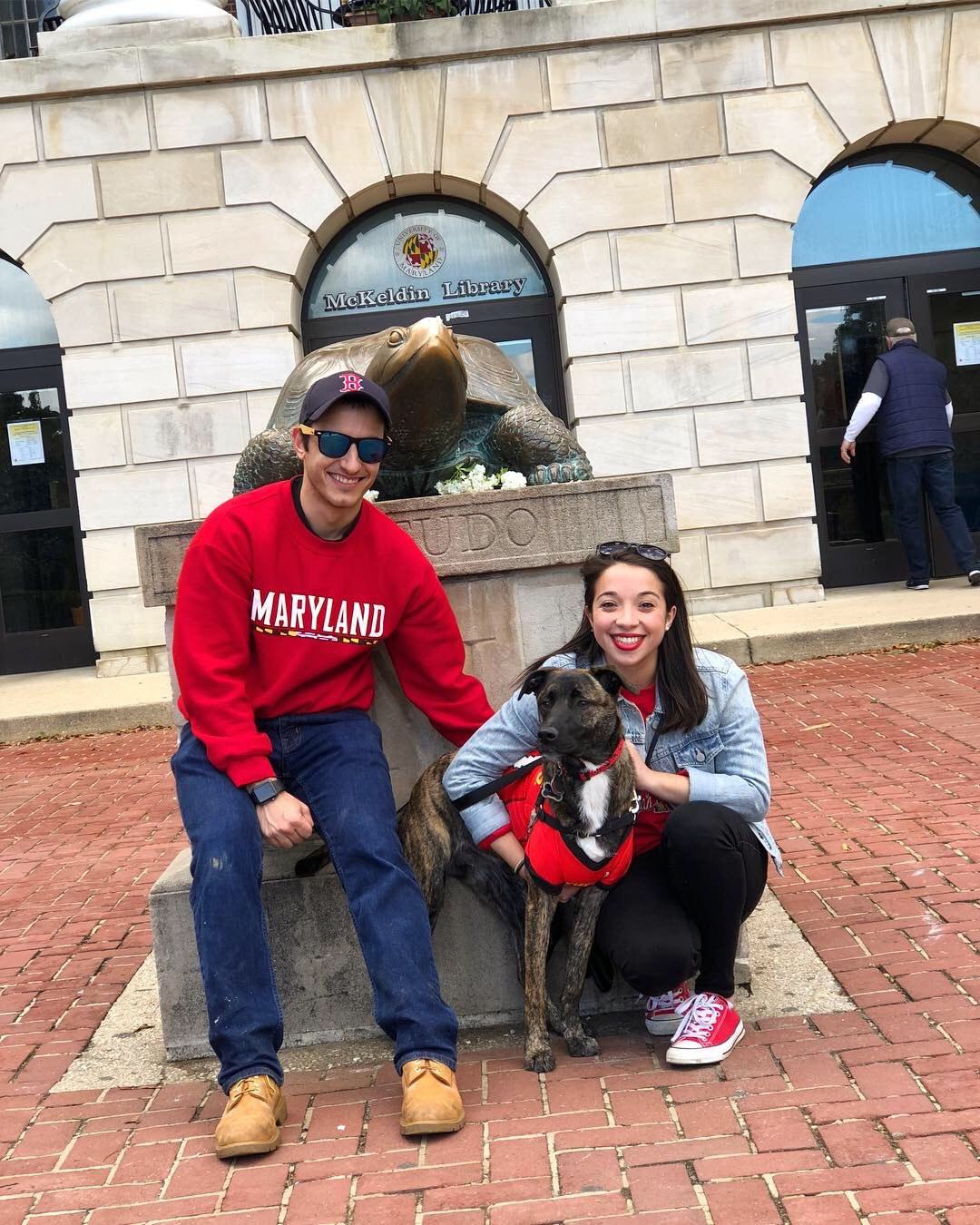 Evan Pappas '15 and Nicole Pappas '16
After living next door for some time at UMD, Evan and Nicole were finally introduced by a mutual friend. Ten years later, here they are married and proud Terp pup parents!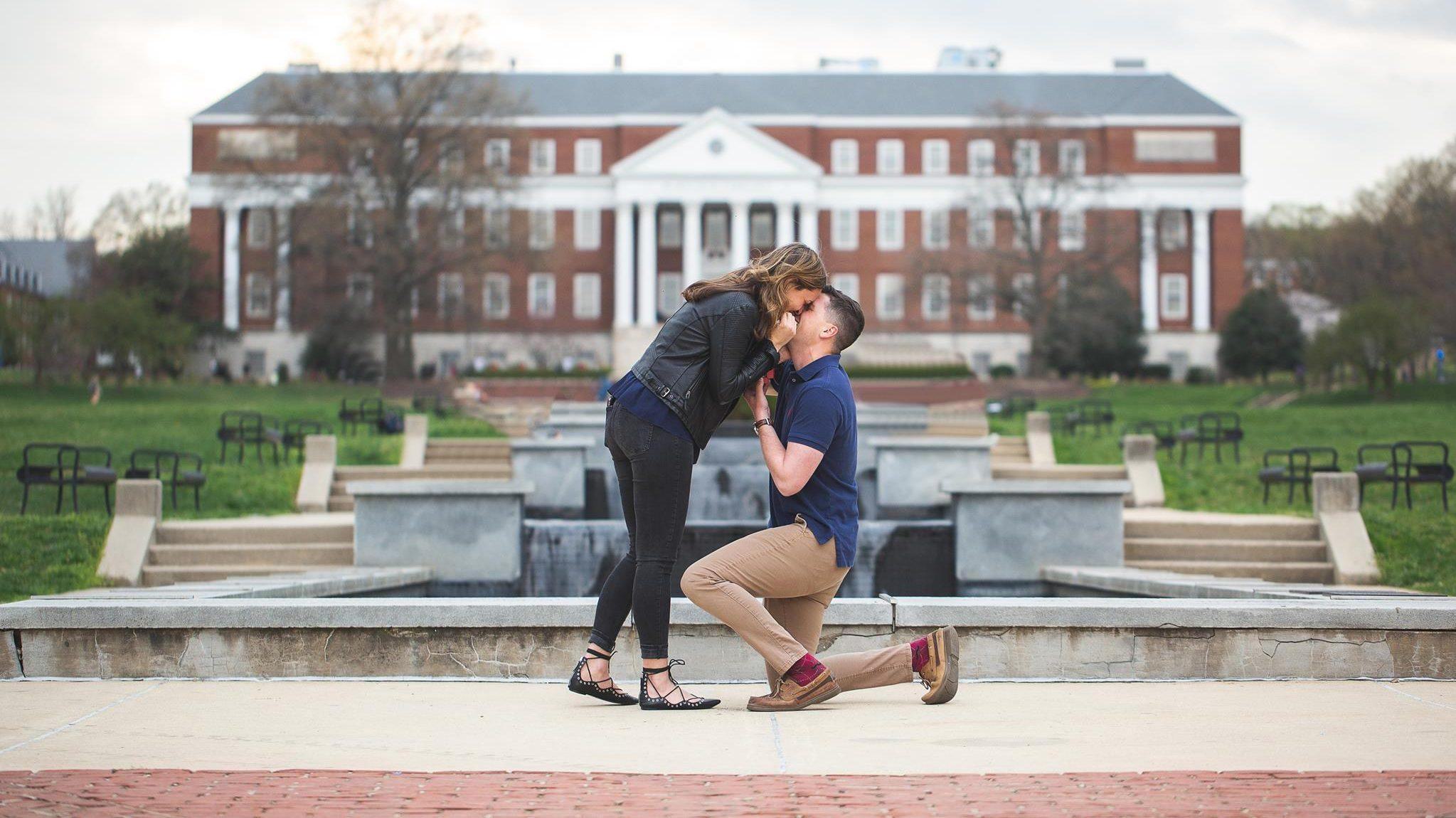 Christina (Germano) Danczuk and Josef Danczuk
"I met my husband Josef Danczuk at UMD in August 2011, our very first weekend of freshman year. Josef and I dated since our sophomore year, and we were engaged as alumni while visiting campus in April 2019. Attached is a photo of our engagement on McKeldin Mall." - Christina (Germano) Danczuk.
Christina and Josef were married in Newport, Rhode Island in September 2021! Way to go guys!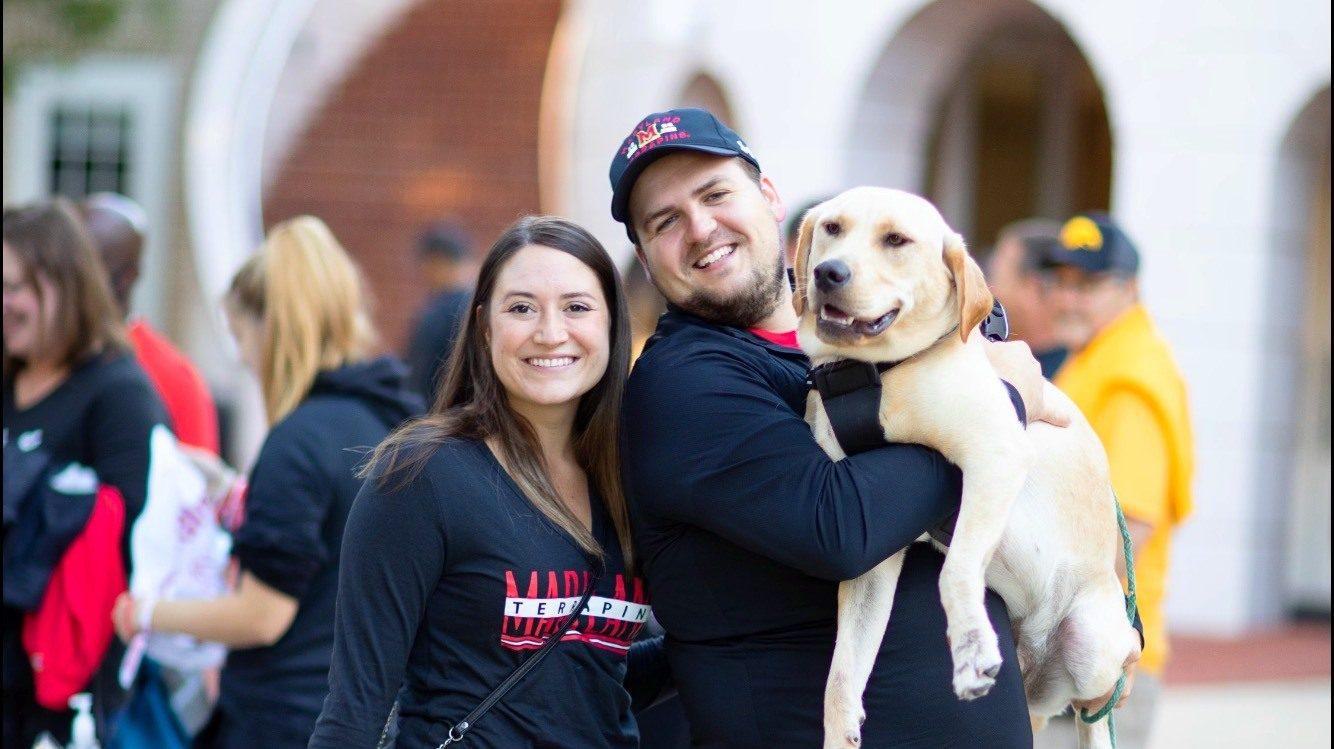 Joseph Oudin '14 and Elizabeth "Liz" Wasden '15
Joe and Liz met on campus during undergrad at UMD as tour guides for the Office of Undergraduate Admissions, but did not know each other well until Liz started working at the National Consortium for the Study of Terrorism and Responses to Terrorism (START) housed at the University of Maryland, where Joe had been working since graduation. Joe and Liz recognized each other from their tour-giving days at their office holiday party, and reconnected. After a few seasons playing in the faculty/staff intramural flag football league, Joe and Liz went on their first date in February 2018 and got married in October 2022. They live in Baltimore, MD with their dog Archie!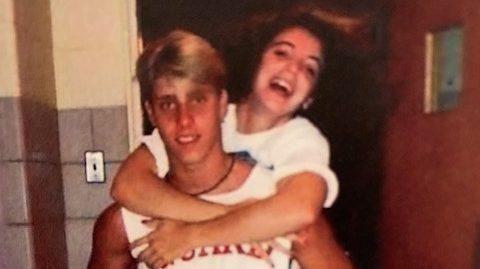 Nicole Wechter '95 and Brian Wechter '95
Nicole and Brian originally met on a tour of campus spring 1991, and then ended up living on the same floor of Easton Hall that Fall.
"It's been 32 years since our first kiss on the 50 yard line of Byrd Stadium!" - Nicole Wechter.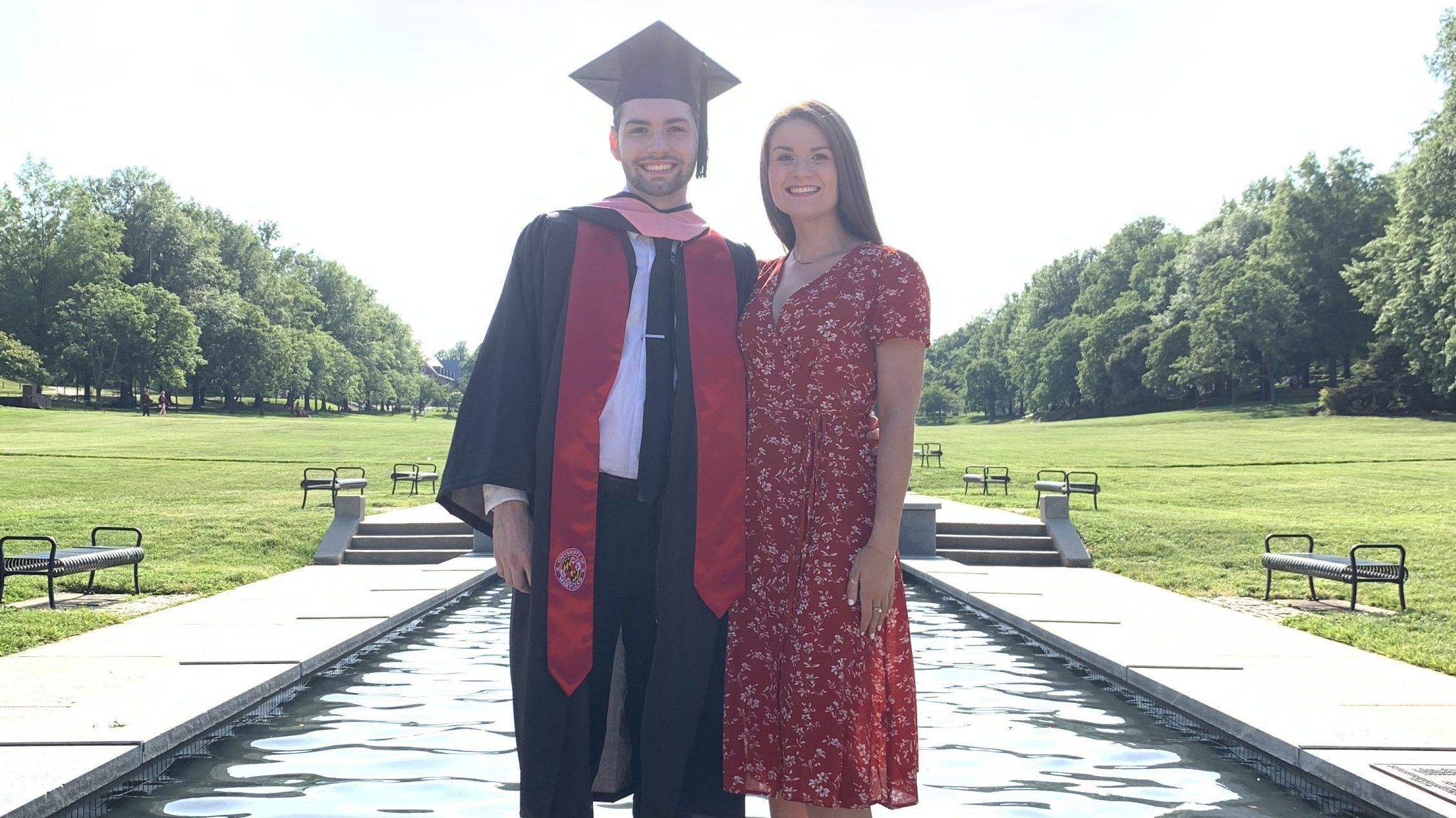 Brennan Rudy '21 and Alexandra "Alix" Gilbert '19
Brennan and Alix overlapped at UMD for one semester, fall 2019, as Alix was completing her student teaching, and Brennan was starting his master's. They are now engaged to be married in 2024, and they can't wait to have their wedding band play "Victory" in the special day!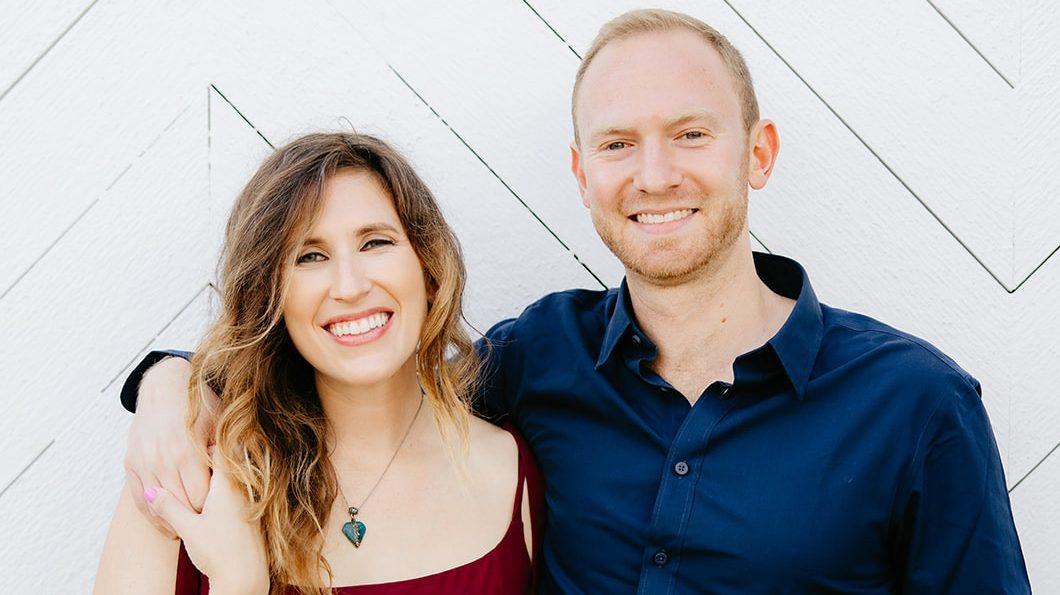 Yaniv Stern '14 and Melia Stuppy '14
Yaniv and Melia met while training to be tour guides for Maryland Images in the spring of 2011. They will be getting married later this year after 11 years together!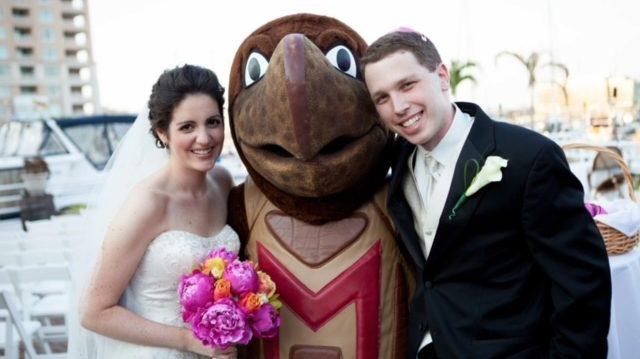 David Levitt '08 and Amy Levitt '07
David and Amy's first date happened thanks to a Maryland basketball game in 2005. 
"At the game, David danced his way onto the Jumbotron and won "Dance for your Dinner" and took me out to dinner for our first date with the gift card he had won!" - Amy Devitt.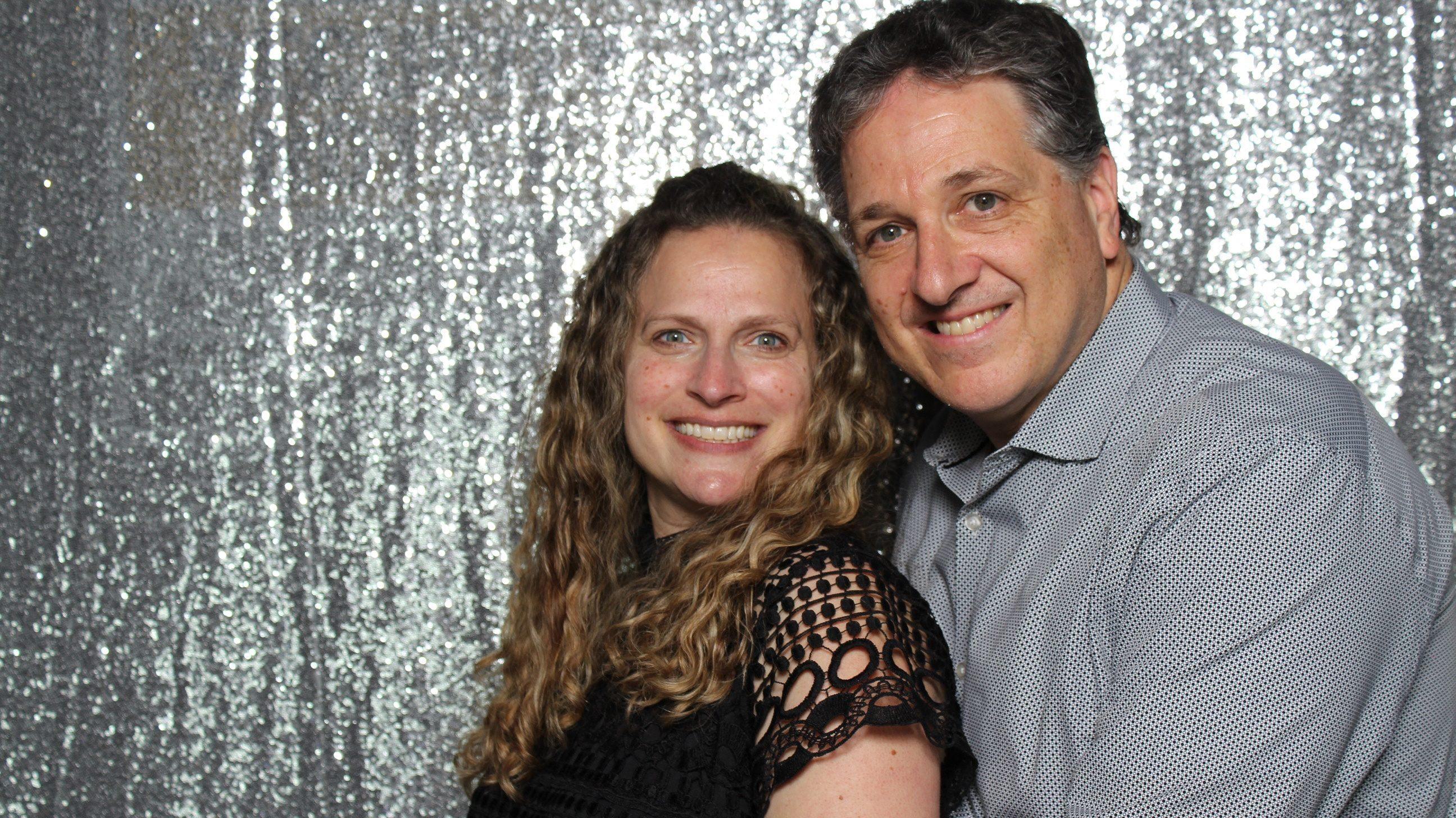 Brian Epstein '95 and Stephanie Epstein '96
Nothing like meeting your other half in weightlifting class! Brian and Stephanie are going on 25 years of marriage this year and still have Terp Pride!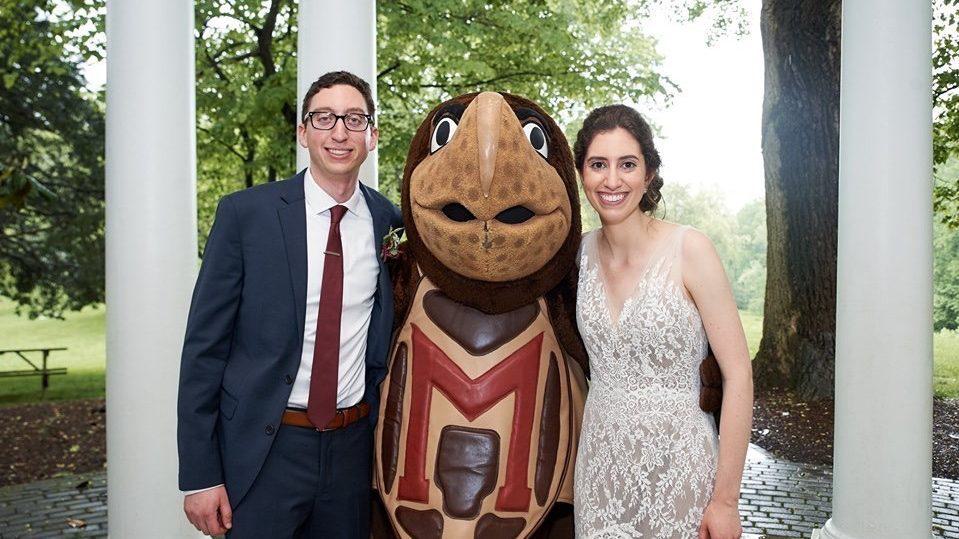 Tacy Lambiase '13 and Brian Moserowitz '15
"I met my husband, Brian Moserowitz, in 2013 when we were both undergraduates at UMD. He and his friends moved into the Commons apartment across the hall, and after exchanging a few friendly messages via sticky notes posted on each other's doors, the guys invited me and my roommates over for dinner. We've been a Terp couple ever since!" - Tacy Lambiase.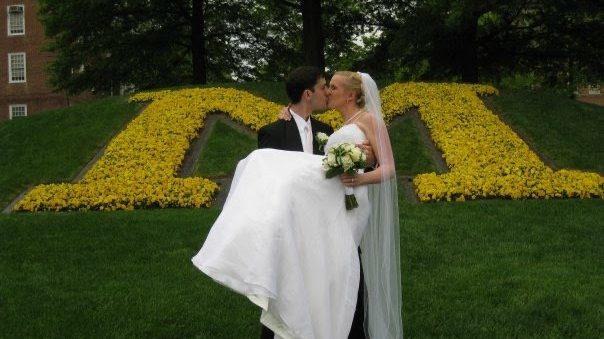 Justin Caruana '03 and Catherine Caruana '02
"When we met, we quickly learned that we had mutual friends at UMD and were often in the same place (and even pictures together) on campus before we ever knew each other! Testudo's spirit was clearly working hard to get us together, so we got married in 2009 at Memorial Chapel and held our reception at the, then, UMUC Marriott. We now have 3 future Terps!" - Catherine Caruana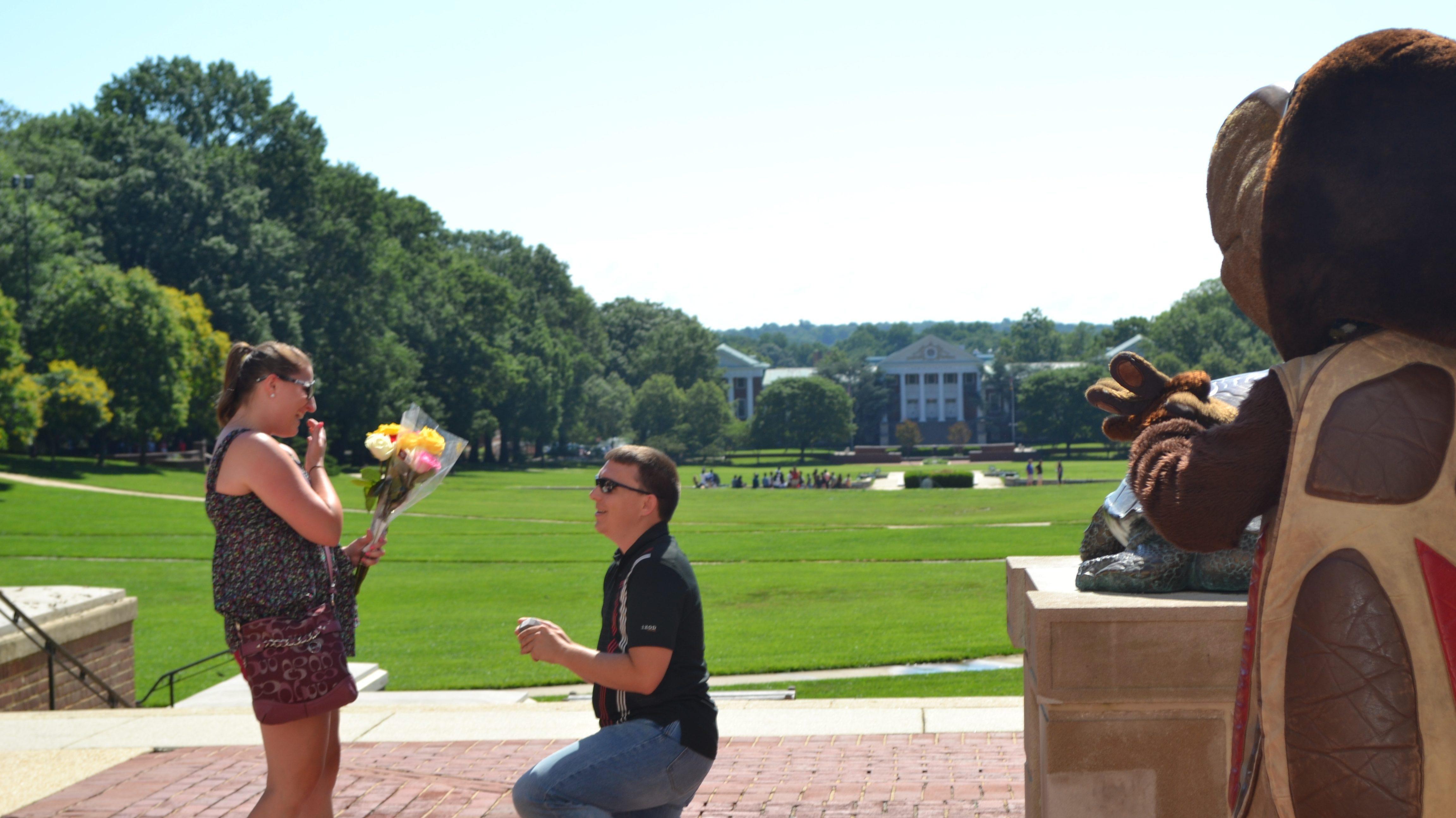 Amy Cordell '12 and Andy Wardyn
While Andy may not be a Terp himself, Amy wanted to showcase how much he loved her and her Terp pride!

"He (Andy) knew how much I loved being a Terp and the UMD campus is my favorite place. He proposed on campus and got Testudo involved. We made sure to include our favorite mascots on our wedding day!" - Amy Wardyn.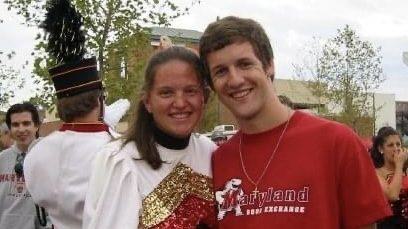 Greg Sydlowski '05 and Veronica Sydlowski '05
Greg and Veronica met during their freshman year through the Wesley Foundation. They then started dating sophomore year and later got engaged senior year at the ODK fountain.
"In June we'll be celebrating our 17th wedding anniversary!" - Veronica Sydlowski.
###
Congratulations to the winners of our Terp Time Warp - Love Edition Sweepstakes!
Ihuoma Abiamiri and Rob Abiamiri met while waiting for an elevator in Spring of 2005. And the rest, as they say, was history.

If you'd like to share your UMD love or friendship stories with us, feel free to email us at alumni@umd.edu to be featured in the future!
Looking for more Terp love stories? Check out Part Two of our Terp Time Warp Love Edition!
###
Publication of this article does not imply an endorsement by the Alumni Association. The Alumni Blog connects you with the latest at UMD. Check out articles on advancing your personal and professional goals, elevating your UMD pride, and celebrating Terp traditions, legacies and accomplishments. For even more content, follow the Alumni Association on Facebook, LinkedIn, Instagram and Twitter.