Home
About Us
News & Stories
Terp Writer's Corner: Briana A. Thomas M.A. '17
Terp Writer's Corner: Briana A. Thomas M.A. '17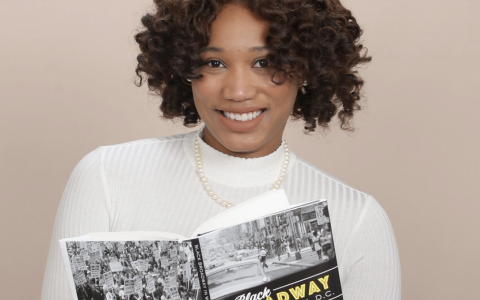 By Ellie Geraghty
Briana A. Thomas M.A. '17 has been published in Washingtonian Magazine, the historic Afro-American newspaper, and the Washington Post throughout her journalism career. She earned a Master of Journalism degree from the University of Maryland, and if you're interested in learning more about the history of Washington D.C. and the infamous U street corridor, read on below and check out her book, "Black Broadway."
Describe your book.
Before chain coffee shops and luxury high-rises, before even the beginning of desegregation and the 1968 riots, Washington's Greater U Street corridor was known as Black Broadway. From the early 1900s into the 1950s, African Americans plagued by Jim Crow laws in other parts of town were free to own businesses here and built what was often described as a "city within a city." My book narrates U Street's rich and unique history, from the early triumph of emancipation to the days of civil rights pioneer Mary Church Terrell and music giant Duke Ellington, through the recent struggles of gentrification.
What, or who was your inspiration?
My grandmother, Evelyn Thomas, who I dedicated my book to.
What is the #1 item you want people to take away from your story?
Black history is history. It's important to have hope for the future, and it's also just as necessary to pay homage to our past. The act of looking back can be inspiring, and I hope when people read my book they feel inspired.
What advice would you give to a new writer?
Don't give up! All of those quick thoughts and brainstorm moments are not a waste of time. Write everything that comes to your mind down, and watch how the dots (or sentences) begin to connect.
What book is on your nightstand right now?
"Believe Bigger: Discover the Path to Your Life Purpose" by Marshawn Evans Daniels.
What is your favorite book?
"Sula" by Toni Morrison.
What do you do in your non-writing free time?
I pastor my family church in Maryland, Open Bible Ministries.
What is your favorite alumni event or experience?
Black alumni homecoming tailgate.
As a student, what was your favorite spot on campus?
The Institute for Systems Research where I worked as a graduate assistant.
What's your Fearless Idea?
Share your story, it's history in the making!
###
The Alumni Blog connects you with the latest at UMD. Check out articles on advancing your personal and professional goals, elevating your UMD pride, and celebrating Terp traditions, legacies and accomplishments. For even more content, follow the Alumni Association on Facebook, Instagram, Twitter, LinkedIn and YouTube. Become a UMD Champion to receive monthly shareable pride points, news and more straight to your inbox.