Home
About Us
News & Stories
Terp Writer's Corner: Jason Kraus '10 and Sydni Cohen '14, M.Ed '15
Terp Writer's Corner: Jason Kraus '10 and Sydni Cohen '14, M.Ed '15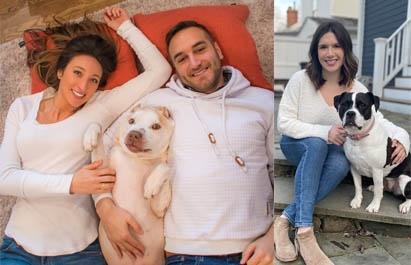 By Ellie Geraghty
When Sydni Cohen '14, M.Ed '15 and her husband saw the book "Belly Rubbins for Bubbins" they fell in love with the story and mission. Cohen, a special-education teacher, reached out to the author and was pleasantly surprised to find out that Jason Kraus '10 was also a Terp. These two Maryland alums (who to this day, have still never met in person) teamed up to rewrite the original story and create the first-of-its kind inclusive children's book, specifically designed to serve children with learning differences.
Describe your book.
"Belly Rubbins For Bubbins" teaches children about rescue dogs, animal shelters and the importance of kindness toward all living beings. It also highlights the resilience and the unconditional loving nature of rescue dogs. Kraus and Cohen '14,'15 interpreted the original book to create "The Accessibility Version," meeting the needs of readers with a variety of disabilities. Included throughout the book are features specifically created to support communication, vision, comprehension and attention.
"The Accessibility Version" brings to life the incredible journey of Bubbins the rescue dog. Although life was not always easy for him, Bubbins never gave up and always believed he would find a loving family one day. To support rescue dogs like Bubbins, 51% of book profits are donated to animal shelters and rescue organizations.
What, or who was your inspiration?
Jason: Gibbson Kraus (the rescue dog) and Sydni Cohen.
Sydni: My students, their families and my experience as a special educator.
What is the #1 item you want people to take away from your story?
Both: We want to educate folks about rescue dogs, animal shelters and the importance of being kind to all living beings. Also, we want to spread awareness that this book adaption is the first of it's kind, and our hope is that there will be more reading material for students with learning disabilities.
What advice would you give to a new writer?
Jason: Create a story that you are passionate about and never give up.
What book is on your nightstand right now?
Jason: "Start With Why" by Simon Sinek.
Sydni: "American Dirt" by Jeanine Cummins.
What is your favorite book?
Jason: "The Power of Now" by Eckhart Tolle.
Sydni: "The Great Alone" by Kristin Hannah.
What do you do in your non-writing free time?
Jason: Play tennis, volunteer at animal shelters and meditation.
Sydni: Walks with my dog Joie, exercising and spending time with family.
What is your favorite alumni event or experience?
Both: Homecoming.
As a student, what was your favorite spot on campus?
Jason: Mckeldin Mall.
Sydni: McKeldin Mall and Cornerstone.
What's your Fearless Idea?
Both: Education that changes the world for the better can and should be fun, engaging and accessible to all learners.
The Alumni Blog connects you with the latest at UMD. Check out articles on advancing your personal and professional goals, elevating your UMD pride, and celebrating Terp traditions, legacies and accomplishments. For even more content, follow the Alumni Association on Facebook, Instagram, Twitter, LinkedIn and YouTube. Become a UMD Champion to receive monthly shareable pride points, news and more straight to your inbox.